Wilkinson Honoured to Captain Team New South Wales for 2021 PBR Origin Events
By: Kacie Albert Thursday, April 8, 2021 @ 2:01 PM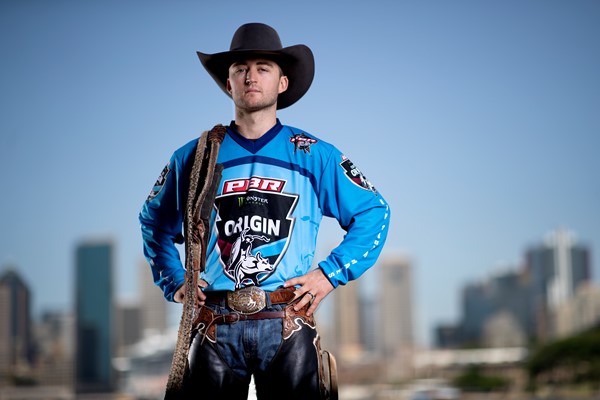 TOWNSVILLE, Queensland – In 2019, PBR Australia launched the league's own iteration of the famed State of Origin Ruby League event, pitting the best bull riders from New South Wales against those from Queensland in an epic showdown to determine which state is the supreme bull riding powerhouse.
Despite competing in front of a home state crowd at the inaugural event, riding inside the ICC Sydney Theatre in Sydney, Team New South Wales was unable to hold off a hard-charging Team Queensland, defeated 682.5-428.5.
However, with the 2021 iteration of the team event on the near horizon, slated to get underway on July 3 in Newcastle, New South Wales at Newcastle Entertainment Centre, 2017 PBR Australia Champion Troy Wilkinson is eager to avenge the bitter loss.
RELATED: PBR Australia Launches 2021 Origin Event in Newcastle, New South Wales July 3
"That was a little devastating, but it just fuels the fire for us this year," Wilkinson said. "And it's over three weekends, so I am sure we're going to step it up a notch this year and put Queensland to the test."
Following PBR Origin I in Newcastle, PBR Origin II will be held in Brisbane, Queensland on July 10 at Brisbane Entertainment Centre, and PBR Origin III will take place on July 17 in Cairns, Queensland at Cairns Convention Centre.
Wilkinson, who led Team New South Wales in 2019, was recently tapped to return as Captain for the Blues. He'll be rivalled by three-time and reigning PBR Australia Champion Aaron Kleier who will pilot Team Queensland.
RELATED: Queensland's Aaron Kleier and New South Wales' Troy Wilkinson Named Team Captains for 2021 PBR Australia Origin Events
"It's an honour really, it's a privilege," Wilkinson said. "I think it's great to be recognized as somebody that's capable of leading Team New South Wales, and I am looking forward to being a leader and playing my part in the team. We're going to give Queensland hell this year after our loss a couple of years ago."
In 2019, Nathan Burtenshaw led the charge for Team New South Wales, registering 173 points from two qualified rides, including his event-best 89.5-point score aboard POA Ray Ban. Cliff Richardson, Ethan Watts and Wilkinson all also contributed scores, with Wilkinson's qualified ride earned aboard POA Fully Locked & Loaded for 83 points. 
RELATED: Queensland Claims State Bragging Rights by Winning Inaugural PBR Origin in Sydney
"The only thing that is going to help us is staying on," Wilkinson said when asked what would be needed to win in 2021. "That's the goal, stay on, get a score."
"Just turn up, give everything you got, and I am sure the team we have is going to be ready to rollout and they are going to give everything they have to stay on. And that's what it comes down to. Whoever can stay on the most is going to win."
For each iteration of the 2021 PBR Origin, each team will be comprised of 10 riders, including the Captain. While the Captain will ride at each of the three events, the remaining nine positions will be filled based on world and national standings at preselected dates throughout the season. With more than $45,000 on the line, and crucial national points awarded to the competing athletes, the PBR Origins Champion will be the team that wins two or more events in the series.
I'm going to help all of the guys out, and they all are going to help me out," Wilkinson added. "It's the whole team and I am no one special, so it's going to be a team effort."
"We all have to stay on, we all have to play our part. I can't ride a bull for them, and they can't ride a bull for me. If we're there for one another, and that's what it's all about, we've just got to help each other out and make sure we can be there in the right mindset and be ready to win, and I guarantee you we will be."
And while the team-format is rarely seen in the sport of bull riding, Wilkinson has experience in the realm, not only captaining Team New South Wales in 2019, but also representing Team Australia at three of the four PBR Global Cups held to date.
"Because bull riding is such an individual sport, being a part of those events is a team environment and the camaraderie you build with your teammates and stuff like that is great. You saw that in the atmosphere in the change rooms, everyone gets motivated and wants to win as a team, and they also want to win individually against the bull, it's great.
"It's good to have the team aspect," Wilkinson continued. "It gives you something else to ride for. We're all going to step up and do each other proud as a team."
Wilkinson's selection to captain Team New South Wales comes on the heels of a season where he rode at just five events, limited due to injury.
However, Wilkinson's sidelining ailment was not sustained bull riding, but rather steer wrestling.
"During the COVID period, the time off when everyone was stuck at home, I started steer wrestling, just out of curiosity, and for a bit of fun," Wilkinson explained. "The day of the first PBR event back in Caboolture I was doing a jackpot steer wrestling in the morning, and I had a freak accident and dislocated my shoulder.
"So I didn't make the first event and I was out for the rest of the 2020 season. I got my shoulder reconstructed in December of last year and I have just been taking it steady, doing rehab, going to physio, going to the gym and working out, trying to get my strength back. I should be ready to go come June."
Looking forward Wilkinson forecasts that he will return to action on June 12 in Rockhampton, the last PBR event on the schedule prior to the launch of the Origin events.
"We've just got to make sure I'm fit, and ready to turn up," Wilkinson said. "And I will probably bring some ear plugs when we have to ride here in Queensland. I don't know if the crowd will be very welcoming."
And despite the mid-season start to the year, Wilkinson says he will be laser focused on one goal – earning his second national title.
"My goal every year is to make the finals and win the Australian title," Wilkinson said without hesitation. "If your goals don't scare you a little bit, then you sort of don't have anything to chase. So I set my goals a little big, and I try to achieve them."