QUEENSLAND CLAIMS STATE BRAGGING RIGHTS BY WINNING INAUGURAL PBR ORIGIN IN SYDNEY
By: Robert Verschuer Monday, June 3, 2019 @ 11:59 AM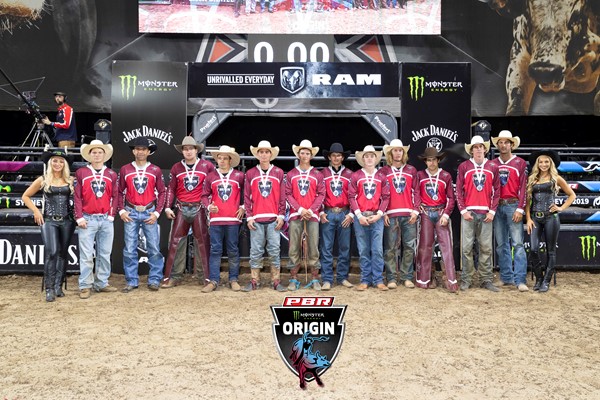 Highlights
QUEENSLAND CLAIMS STATE BRAGGING RIGHTS BY WINNING INAUGURAL PBR ORIGIN IN SYDNEY
Professional bull riding state bragging rights went to Queensland tonight, as the maroons took out the inaugural PBR Origin at the ICC Sydney Theatre in front of a capacity crowd.
The PBR Monster Energy Origin saw two 11-rider teams representing New South Wales and Queensland go head-to-head in an electrifying showdown that decided the title of toughest State on Dirt.
Despite a vocal home-town crowd cheering on NSW, Team QLD turned in a dominant performance, notching a combined total score of 682.5 from eight qualified rides, well ahead of Team NSW's total of 428.5 from five qualified rides.
The Team QLD charge was led by rider Mitch Paton (Nebo) who took out dual Cowboy of the event honours with NSW's Nathan Burtenshaw (Coonamble). Paton went a perfect 2-for-2 on the night to add 173 points to the maroon's total.
Paton was followed closely by Atherton teammate Kurt Shephard, who logged 172.5 points for QLD, Brady Fielder (Clermont) who scored 169.5 points, and 2018 PBR Australia Champion Aaron Kleier (Clermont) who notched 167.5 points. Kleier turned up the heat with an 86-point ride on Rock The House in the Championship Round.
Coonamble's (NSW) Nathan Burtenshaw took out Ride of the Night, making the eight on POA Ray Ban for a monster 89.5 points. His combined score of 173 points from two qualified rides also saw him tie Mitch Paton for Rider of the Night – and lead the individual point tally for Team NSW.
The blues' second highest scorer on the night was Cliff Richardson (Gresford), who made the whistle on Down Under for an 87.5-point qualified ride. Richardson was followed by Tamworth's Ethan Watts, who covered POA Palooka for 85 points, and Team NSW Captain Troy Wilkinson (Upper Horton) who notched an 83-point ride on POA Fully Locked & Loaded.
"Tonight, the fight for top Origin honours blew friendships apart and pitted many mates against one another as state lines were drawn. It was all about state pride, and the maroons underscored themselves as Australia's bull riding powerhouses by taking out the first ever PBR Origin. The battles were fierce, the rides were electric, and the crowds were on the edge of their seat right until the very last second," said PBR Australia, General Manager, Glen Young.
MEDIA ENQUIRIES
Kylie Edwards - Cardinal Spin
M: 0422 233 996  E: kylie@cardinalcomms.com.au
Robert Verschuer – Cardinal Spin
M: 0477 396 794 E: rob@cardinalcomms.com.au
EDITORS NOTES
About the PBR (Professional Bull Riders)
The world's premier bull riding organisation began as a dream of 20 bull riders 26 years ago and now operates in five countries. On its elite tour, the organization features the top 35 bull riders in the world and the top bulls in the business. The televised 25th PBR: Unleash The Beast, along with the PBR Real Time Pain Relief Velocity Tour (RVT), the PBR Touring Pro Division (TPD) and the PBR's international circuits in Australia, Brazil, Canada and Mexico have paid nearly $184 million in earnings to its athletes. Thirty bull riders have earned more than $1 million, including two-time PBR World Champion J.B. Mauney who is the top-earning athlete in Western sports history with more than $7.2 million in career earnings. PBR is part of the Endeavor (formerly WME | IMG) network. For more information on the PBR, go to PBR.com, or follow on Facebook at Facebook.com/PBR, Instagram at Instagram.com/PBR, and YouTube at YouTube.com/PBR.