Perfect Lachlan Richardson Wins PBR Australia Touring Pro Division's Deepwater Invitational
By: Kacie Albert Sunday, November 13, 2022 @ 2:47 PM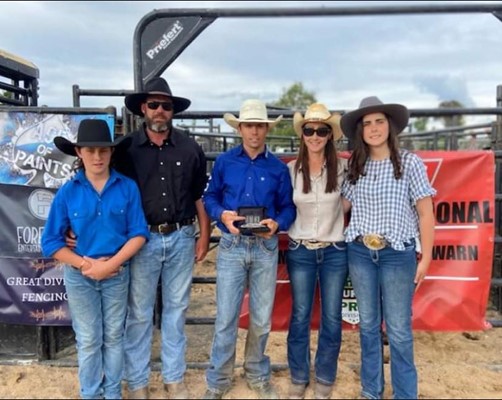 DEEPWATER, NSW – At the final regular-season PBR (Professional Bull Riders) Australia event of the year, there was no rider more dominant than Lachlan Richardson (Gresford, New South Wales). Going a perfect 2-for-2 at the Touring Pro Division event in Deepwater, New South Wales, Richardson was crowned the winner at the PBR Deepwater Invitational.
As action got underway with Round 1 at the Deepwater Race Course, the seven-time PBR World Finals qualifier climbed aboard Amigo (Lazy G Bucking Bulls). Reaching the requisite 8, Richardson was awarded 80 points, the fourth-best score of the round.
Richardson then went toe-to-toe with Double Dealings (ST Bucking Bulls) in Round 2. Conquering the bull, the home state hopeful was scored a round-winning 83 points to clinch the event win.
The golden finish earned Richardson a much-needed 27 national points. While he remained No. 4 in the race for the 2022 PBR Australia Championship, he climbed within 348 points of No. 1 Aaron Kleier (Clermont, Queensland).
As the only other rider to cover both of his draws, Jono Couling (Singleton, New South Wales) was second, collecting 16 national points.
Couling first rode Outback Cat (Lazy G Bucking Bulls) for 78 points in Round 1, before going the distance atop Hurricane Sandy (Lazy G Sharman Partnership) for 74 points in Round 2.
Lachlan Slade (Tamworth, New South Wales) finished third, earning 15 national points to crack the Top 10 in the standings.
Slade was sensational in Round 1, delivering the high-marked ride of the event when he bested Born For This (Throsby & Russell Bucking Bulls) for 84 points.
The 28-year-old, however, was unable to retain his position atop the leaderboard when he was bucked off by Say When (Throsby & Russell Bucking Bulls) in a quick 1.69 seconds in Round 2.
Ranked No. 12 prior to the event, Slade rose two positions to No. 10.
Fourth was Tyson Smith (Walcha, New South Wales).
Smith garnered 9 national points courtesy of his 81.5-point ride atop I'm Cool (Lazy G Bucking Bulls) in Round 1.  
Rounding out the Top 5 in fifth was Cody Heffernan (Singleton, New South Wales).
The 2016 PBR Australia Champion was scored 81 points on Thor (ST Bucking Bulls) in the opening round to net 6 national points.
Still No. 2 in the nation, he is now 72.5 points back of No. 1 Kleier.  
In the bull pen, No Deal (ST Bucking Bulls) was crowed the high-marked Bull of The Event. The powerful animal athlete was scored 43 points in Round 2 for his 3.34-second buckoff of Steven Carter (Wards River, New South Wales).
The 2022 PBR Australia season will conclude Nov. 25-26 in Townsville, Queensland for the 2022 PBR Australia Monster Energy Tour Grand Finals. Action inside the Townsville Entertainment and Convention Centre will begin at 8:00 p.m. on Friday, Nov. 25 and at 7:30 p.m. on Saturday, Nov. 26.
Stay tuned in to PBRAustralia.com.au and follow the tour on Facebook (PBR Australia), Twitter (@PBRAustralia), and Instagram (@PBRAustralia) for the latest results, news, stats and more.
PBR Australia Touring Pro Division
PBR Deepwater Invitational
Deepwater Race Course – Deepwater, New South Wales
Event Leaders (Round 1-Round 2-Event Aggregate-Event Points)
1. Lachlan Richardson, 80-83-163.00-27 Points.
2. Jono Couling, 78-74-152.00-16 Points.
3. Lachlan Slade, 84-0-84.00-15 Points.
4. Tyson Smith, 81.5-0-81.50-9 Points.
5. Cody Heffernan, 81-0-81.00-6 Points.
Thomas Hudson, 0-0-0.00
Trefor Sproule, 0-0-0.00
Chris Borghero, 0-0-0.00
Toby Leake, 0-0-0.00
JN Bennett, 0-0-0.00
Steven Carter, 0-0-0.00
Tylah Wilson, 0-0-0.00