PBR Joins Recast To Stream Live Bull Riding Action To Fans Outside The U.S.
By: Andrew Giangola Thursday, November 3, 2022 @ 11:21 PM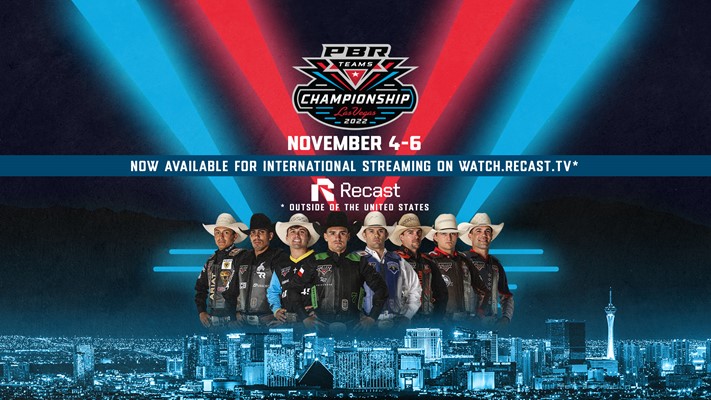 PUEBLO, Colo.– As the sports world turns its eyes toward the inaugural PBR (Professional Bull Riders) Team Series Championship this weekend in Las Vegas, Nevada, (Nov. 4-6), PBR has announced a new way for fans outside the U.S. to catch the bull riding action through Recast, a non-subscription, live and on-demand sports and entertainment platform.
Live PBR events currently not available to fans outside the U.S. will now be carried on Recast, a growing streaming platform with more than 150 channels, ranging from Manchester City and FC Internazionale Milano to British Fencing and World Curling.
The PBR Recast channel PBR Live, will offer to fans outside the U.S. live bull riding events owned and operated by PBR, including the PBR Team Series, elite Unleash The Beast individual competition, which begins its new season November 26, and PBR Challenger and Pendleton Whisky Velocity Tour events.
Recast is free for fans to join, easy to use, accessible from any device, and affordable. Fans can watch PBR Live by redeeming "Cast Credits" which can either be purchased or earned in-platform by watching ads, sharing videos or data, or by inviting friends to join. Fans who join Recast automatically receive 100 free Cast Credits.
For example, streaming Friday's opening night of the PBR Team Series Championship from T-Mobile Arena featuring four head-to-head, five-on-five bull-riding games will require 200 Cast Credits, the equivalent of $2.30 U.S. (currently, $3.60 AUD, $11.83 BRL, $3.14 CAD).
"As a growing, global sport, PBR is thrilled to join Recast to significantly increase our reach with an easy and affordable solution for fans to watch our live events," said Lawrence Randall, Senior Vice President, Head of Content for PBR. "While nothing changes for those in the United States, our fans abroad will now have live access to the marquee PBR events they've been asking for." 
To follow PBR's Recast Channel and watch all the action from the Team Series Championship, join Recast for free by visiting https://watch.recast.tv