Cody Heffernan Wins PBR Australia Monster Energy Tour's Tamworth Iron Cowboy
By: Kacie Albert Saturday, November 5, 2022 @ 3:47 PM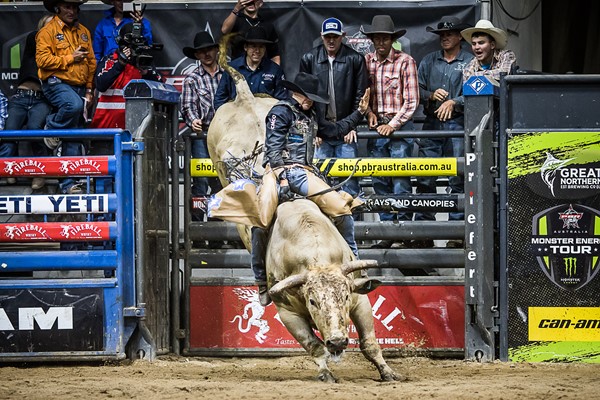 TAMWORTH, NSW – Compliments of a 2-for-3 effort Saturday evening inside AELEC Arena in Tamworth, New South Wales, Cody Heffernan (Singleton, New South Wales) won the PBR (Professional Bull Riders) Australia Monster Energy Tour's Tamworth Iron Cowboy, decimating the gap between him and the No. 1 rider in the race for the 2022 PBR Australia Championship.
At the penultimate regular-season event of 2022, Heffernan traveled to his home state event No. 2 in the nation, 258.5 points behind No. 1 Aaron Kleier (Clermont, Queensland).
In Round 1, the newlywed first went to work against Double Dealings (ST Bucking Bulls). Reaching the requisite 8, Heffernan was scored 85 points to surge to the top spot on the event leaderboard.
Heffernan then faced off against A Force (ST Bucking Bulls) in Round 2. Despite being upended in a quick 3.13 seconds, the 32-year-old's opening score was enough to punch his ticket to the championship round.
Seeking his third event win of the season, Heffernan drew Big Buck Hunter (ST Bucking Bulls) as his final bovine athlete opponent of the event. Quick to rebound, Heffernan matched Big Buck Hunter jump-for-jump en route to the whistle, awarded an event-best 86.5 points to clinch the victory.
The golden finish garnered Heffernan a much-needed 180 national points. While he remained No. 2 in the nation, he decimated No. 1 Kleier's lead to a mere 78.5 points.
Second was Thomas Hudson (Dungog, New South Wales), collecting 136 national points.
After bucking off Sting (Shultz Bucking Bulls) in Round 1 in a hear-breaking 7.48 seconds, Hudson returned with a vengeance as competition continued in Round 2. Covering Arm Chair (ST Bucking Bulls) for 51 points, Hudson secured his spot in the championship round.
Hudson continued his momentum in the final round, conquering Mayne Man (Throsby & Russell Bucking Bulls) for 83.5 points to surge to second in the final event standings.
The 22-year-old catapulted to No. 11 in the national standings.
Will Purcell (Merrijig, Victoria) was third courtesy of his Round 2-winning, 85.5-point ride on Told Ya So (Throsby & Russel Bucking Bulls).
The podium finish earned Purcell 110 national points allowing him to crack the Top 10 in the race for the 2022 PBR Australia Championship. Now No. 8 in Australia, Purcell trails No. 1 Kleier by 661 points.
Going 1-for-3, Lachlan Slade (Tamworth, New South Wales) was fourth.
Slade garnered 84 points compliments of his 84.5-point score aboard Yella Belly (Throsby & Russell Bucking Bulls). He is now No. 12 in Australia.
Rounding out the Top 5 in fifth seven-time PBR World Finals qualifier Lachlan Richardson (Gresford, New South Wales).
Richardson made the 8 atop Midnight Special (Diamond S Bucking Bulls – Brian Scott) for 84 points in Round 2.
He left AELEC Arena having earned 64 national points.
Richardson remained No. 4 in the national standings, closing within 375 points of No. 1 Kleier.
In the bull pen, Ambush (MJ/Keliher Bucking Bulls) was crowned the Bull of the Event. The powerful animal athlete was marked 43 points in the championship round for his 5.31-second buckoff of Richardson.
The 2022 PBR Australia season will continue Saturday, November 12 for the Touring Pro Division's PBR Deepwater Invitational in Deepwater, New South Wales. Action at Deepwater Race Course will get underway at 3:00 p.m. AEDT. The event will mark the final tour stop prior to the 2022 PBR Australia Monster Energy Tour Grand Finals in Townsville, Queensland, om Nov. 25-26.
Stay tuned in to PBRAustralia.com.au and follow the tour on Facebook (PBR Australia), Twitter (@PBRAustralia), and Instagram (@PBRAustralia) for the latest results, news, stats and more.
PBR Australia Monster Energy Tour
PBR Tamworth Iron Cowboy
AELEC Arena – Tamworth, New South Wales
Event Leaders (Round 1-Round 2-Round 3-Event Aggregate-Event Points)
1. Cody Heffernan, 85-0-86.5-171.50-180 Points.
2. Thomas Hudson, 0-51-83.5-134.50-136 Points.
3. Will Purcell, 0-85.5-0-85.50-110 Points.
4. Lachlan Slade, 0-84.5-0-84.50-84 Points.
5. Lachlan Richardson, 84-0-0-84.00-64 Points.
6. Brady Fielder, 0-82.5-0-82.50-38 Points.
7. Trefor Sproule, 81.5-0-0-81.50-28 Points.
8. Chris Borghero, 81-0-0-81.00-18 Points.
Qynn Andersen, 0-0-0-0.00
Jake Curr, 0-0-0-0.00
Braith Nock, 0-0-0-0.00
Jay Borghero, 0-0-0-0.00
Ben Moran, 0-0-0-0.00
Sam Woodall, 0-0-0-0.00
Beau Willis, 0-0-0-0.00
Taran Chirgwin, 0-0-0-0.00
Jack Keats, 0-0-0-0.00
Clint Glass, 0-0-0-0.00
Jono Couling, 0-0-0-0.00
Bradley Wheeler, 0-0-0-0.00
Dan Ruhland, 0-0-0-0.00
Oscar Leake, 0-0-0-0.00