PBR Maitland 2023 Post Event Game Notes
By: Sean Walsh Wednesday, September 20, 2023 @ 8:32 AM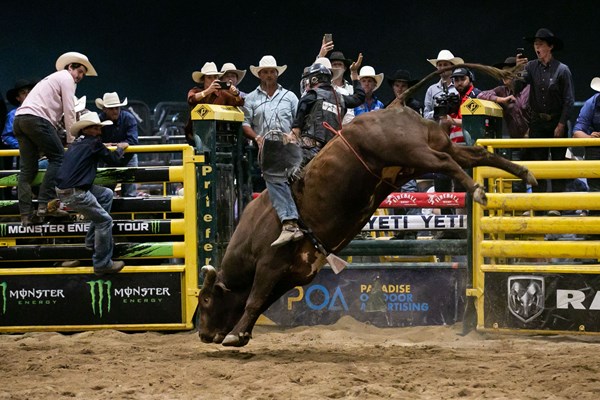 Round 1: 

The PBR Australia Monster Energy Tour made it's inaugural stop into Maitland on Saturday night and it was Kelsey Pavlou who was the first cowboy to successfully nod his head, when the Queenslander took Born For This (Throsby & Russell Bucking Bulls) away from his hand for a tidy 84-point trip. 

Local legend Lachlan Richardson took an early event lead when he was able to match Great White Hunter (Throsby & Russell Bucking Bulls) to collect 85 points and become the first PBR rider to cover the bovine. 
Clint Glass continued his great run of late, picking up another score for his eight second effort on Mr Bright Side (Throsby & Russell Bucking Bulls), on a difficult trip where the bovine came out backwards and then settled into the hand of Glass for a solid 84-point score. 
Brazilian Italo Aguilar was able to break a 5-out buckoff streak in Round 1, earning himself a 80.50 point marker from the judges taking Rusty Latoon (Lazy G Bucking Bulls) to the promised land.
Current PBR Australia No 1 ranked rider Macaulie Leather didn't disappoint the local crowd when he was able to match Taquito (Maynes Bucking Bulls) for 83 points and book another Short Go ticket for the leftie. 
Sam Woodall quickly followed the aforementioned Leather, to collect his 18th qualified ride of the season with Nemesis (Dunne Bulls) getting it's first black mark to date and handing Woodall an 84-point tally. 
Tresco, Vic cowboy Riley Eade troubled the scorers for the first time since Sydney in May, declining a re-ride opportunity and banking 79 points on board Hunting Ground (Maynes Bucking Bulls) and was then reciprocated on the next out by James Stockdale who nodded his head successfully on Night Fury (ST Bucking Bulls), to bank 82 points for his eight second trip. 
No Deal (ST Bucking Bulls) proved to be easy work for Romario Leite, giving the Brazillan 81-points away from his hand and the third consecutive event where he has achieved Short Go qualification.

Zane Hall was the last of the riders to cover his bull in Round 1, covering Fast & Furious (ST Bucking Bulls) for an impressive 85-point tally and shared the Round 1 win with Lachlan Richardson.  
Round 2: 
The bovines were on top early on in the Championship Round, with the first 5 cowboys to nod their head upended before the required time, with James Stockdale the first rider to cover multiple Bulls on the evening when he grabbed 83.5 points with Everest (Maynes Bucking Bulls) covered for the first time in 13 PBR outs. 
Macaulie Leather booked himself another trip to the pay window with a controlled and effortless trip on I'm Cool (Lazy G Bucking Bulls) to finish with an event aggregate of 167.5 points, placing him third for the evening with 29 national points to take home. 
G Shock (Maynes Bucking Bulls) has one of the best out of its PBR career to date, collecting a 43-point bull score and a three way tie for bull of the event when he ejected Clint Glass in 5.05 seconds. 
Sam Woodall's red hot hand continued into the Short Go round, with the Victorian earning the event win knocking down Bad Deal (ST Bucking Bulls) for a mammoth 88 points, giving Woodall a 172 point event aggregate and the event win on the way to 36.33 more PBRA points.

Lachlan Richardson fell agonisingly short of winning his hometown event, getting Wetzel (Throsby & Russell Bucking Bulls) to the whistle for the first time for a 86.5 point marker, only half a point short of Woodall's 172 event aggregate. Richardson ended the event with 30.5 PBRA points and moved to fourth on the season standings.