Parkinson Goes from Collegiate Practice Pen to Leading Team Australia to Fourth-Place Finish at Global Cup
By: Justin Felisko Saturday, March 5, 2022 @ 11:43 PM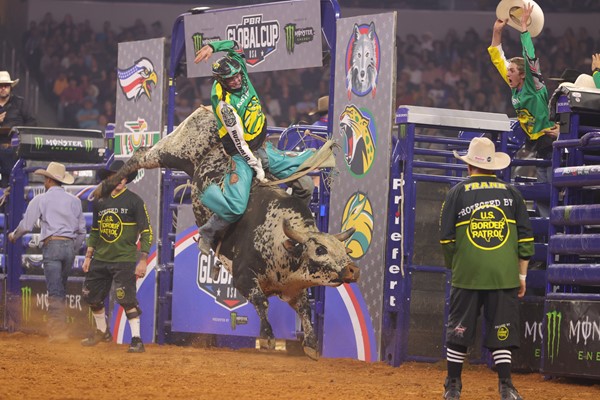 ARLINGTON, Texas – Luke Parkinson had just finished a practice pen session on Wednesday when he received an unexpected phone call from Team Australia head coach Eddie Fisher.
Fisher was scrambling to find a last-minute replacement for Callum Miller as travel issues prevented Miller from getting from Canada, where he has been competing at PBR Canada events, into the United States in time for the 2022 PBR Global Cup USA, presented by Monster Energy.
The first-time Global Cup coach knew Parkinson's family back in Australia. He was aware that Parkinson was a freshman at Western Texas College in Snyder, where he competes in the bull riding, saddle bronc riding, and team roping events for the Westerners.
"I was a bit surprised, but I was definitely ready," Parkinson, who is sitting Top 3 in his region, said of the call-up to ride for his country at the 2022 PBR Global Cup USA, presented by Monster Energy. "I had just gotten off practice bulls when he rang me on Wednesday. So, I was pretty pumped."
Parkinson was even more fired up inside AT&T Stadium when he rode Bread Basket for 88.5 points to win Round 2 and notch the first ride of his PBR career on American soil.  
The ride would go down as the only one for the Australian squad as the men from the Land Down Under placed fourth (1-for-7) at the fifth iteration of the PBR Global Cup.
"Yeah, it was unreal, eh?" Parkinson, 20, said. "Unreal for me to come over here and get it done. It was good."
Fisher was proud of the effort Parkinson put forth after not even expecting to be on the team.
"Wow, that was a brilliant ride," Fisher said. "He just got the job done, and he rode that bull with ease. What an excellent performance."
Parkinson is a fourth-generation rodeo competitor. He was one of the most talented up-and-coming Australian rodeo athletes in the past 10 or so years, winning multiple junior bull riding championships and all-around titles.
The 20-year-old had goals of competing in more PRCA rodeos and events in the United States once he turned 18, but the COVID-19 pandemic put his transition to the U.S. on a temporary hiatus.
"I know Luke's father and cousins," Fisher said. "He is from a family of bull riders, and I knew he had all of the goods we needed."
For the time being, Parkinson is focused on competing for Western Texas College and hitting up some PRCA rodeos before ultimately dipping his toe into the PBR on a more consistent basis.
"I've been doing a few PRCA rodeos," Parkinson said. "I will probably do more of them, and then I'd love to do a few PBRs."