Clash of Champions Tribology Nears as Aaron Kleier and Roid Rage Ready to Square-Off in First Bounty Matchup at Bull Pitt Event April 30
By: Kacie Albert Friday, April 29, 2022 @ 11:36 AM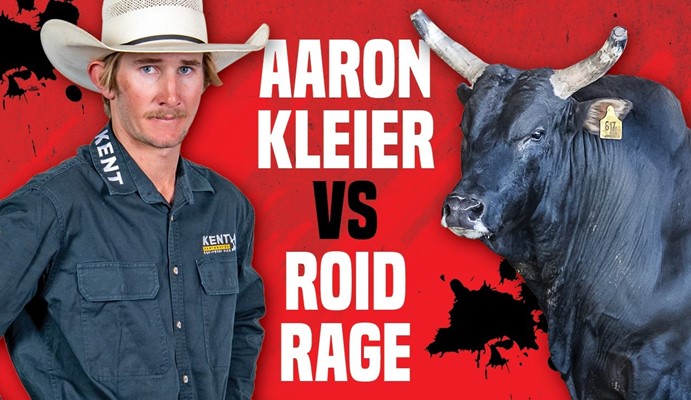 Starting April 30, famed stock contractor Jason Dittmann will host a trio of Touring Pro Division events at his state-of-the art Bull Pit. But they won't be your ordinary competition.
Not only is Dittmann putting a bounty on any of his bulls that will compete at the event, poised to pay out $1,000 to any rider that reaches the 8, but he has also architected a Clash of Champions Trilogy between four-time PBR Australia Champion Aaron Kleier and the immensely talented Roid Rage.
At the conclusion of each Bull Pit event, with the second two scheduled for July 2 and September 24, Aaron Kleier will attempt Roid Rage, with a collective $30,000 on the line. If he reaches the 8 in their first meeting, Kleier will earn $5,000. At the second event, a qualified ride will earn him an additional $10,000, and at the third event $15,000.
"Something different, we haven't done this over here," Dittmann said of his motivation for architecting the bounty matchups. "Roid Rage is a young bull, he is one of my superstars, and I reckon he is one of the best bulls going, but then you've got someone like Aaron Kleier who is a four-time Australian Champion. It will be good to see someone testing, or warm Roid Rage up, or ride him. It's an incentive for Aaron Kleier and I thought I would give something else a go."
"Two Champions going at it, it will be good to see. I've done this Aaron Kleier vs. Roid Rage for something different, spice things up a bit."
The rivalry, however, between Kleier and Roid Rage isn't new.
"Actually, when I made the short round at the first event I did at Dittmann's, they had the short round where you could pick it, and I picked Roid Rage," Kleier chronicle. "So, I have already been on him once, but he bucked me off."
"I'll be good to go and get on him. I usually don't worry about what I've got, or anything like that, but it'll be a bit different now because I know every time I go over there, that I will have him. I think it will be good for me. It will challenge me and make me ride better."
And that buckoff is something that both Dittmann, and Kleier, will make the upcoming trilogy even more intense.
"When Aaron Kleier gets beaten the first time, he comes back," Dittmann said. "When it comes down to it, I would like to see the kid ride him. Because he gets the money in the pocket, and I get satisfaction out of the bull score and the bull. I hope he actually rides him. It will be a good test."
"It makes me want to ride better, because I feel like I've failed when I fall off," Kleier said of his renewed rivalry with Roid Rage. "I obviously don't like falling off, I like keeping my percentage high and riding everything I get on. So, when one bucks me off it definitely gives me more drive and determination to ride him the next time.
"It'll be good that this is how it is set up," Kleier continued. "I have that next chance. And I'm hoping I don't fall off him the first time, but if I do, there is another chance after that."
But Kleier won't be the only rider with a bounty matchup.
To add another level of pizazz to the event, Dittmann has placed a bounty on all of his bulls that will buck at the Bull Pitt, slated to pay out $1,000 to anyone who reaches the 8.
This weekend, 12 bulls will come with he $1,000 bounty -  Mixed Culture (Round 1 vs. Brumby Brandenburg), Rambo (championship round), Cattle King Boogers Beach (championship round), POA Crack The Latch (Round 1 vs. Michael Smith), Comeback Kid (championship round), Vertical Limits (Round 1 vs. Qynn Andersen), Reload (championship round), Screaming Deamon (championship round), Hell Raiser (Round 1 vs. Kleier), Deadly Venom (championship round), Pandemic (Round 1 vs. Brody Woodard) and Buffalo Solider (Round 1 vs. Jack Keats).  
"I've got some good young bulls starting here," Dittmann added. "The bull riders travel a long way, and this sort of stuff is essential to get the young riders in here and see how they go."
By the luck of the draw, Kleier has been paired with a Dittmann bovine in the opening round of the main event. Slated to climb aboard Hell Raiser, Kleier will have the chance to earn an additional $1,000 as he readies to compete at just his fourth event of the new season.
Getting a late start to the 2022 campaign, Kleier didn't make his season debut until late March when he captained Team New South Wales to a win at PBR Origin I – Newcastle.
"It felt real good, especially to have Origin it pumps you up a little bit more, and you actually ride better, because you aren't just doing it for yourself," Kleier said of his return to competition. "It's for Queensland and the people watching at home and supporting you."
"I had a little bit of a break," Kleier added. "it made me fresh and keen again. Ready. So, when I came back I felt like I was back where I was, I was fresh and keen and ready to go."
Since returning in Newcastle, Kleier has ridden at three additional events, including the recent PBR Origin II – Tamworth when Team New South Wales narrowly bested his Blues.
Between his Origin appearances, Kleier competed at the two regular-season Monster Energy Tour event in Toowoomba and Rockhampton, registering event wins at both stops.
Kleier is now ranked No. 3 in the national standings ahead of this weekend's event as he seeks his unprecedented fifth consecutive PBR Australia Championship. He trails No. 1 Cody Heffernan by a mere 59 points.
"I'm ready to get back into the swing of things," Kleier said. "Get back used to travelling and going to the events and that again."
Tickets for the PBR Bull Pit are still available and can be purchased online at WhitSundayTickets.com.
"The people in this community they get behind this show, everyone loves it," Dittman concluded. "Everyone digs deep, everyone comes, and I just hope we can do this three times a year and everyone wants to come back."