Woodall Hopes to Continue Momentum into 2021 with Season Debut in Rockhampton in June
By: Kacie Albert Monday, May 24, 2021 @ 8:28 AM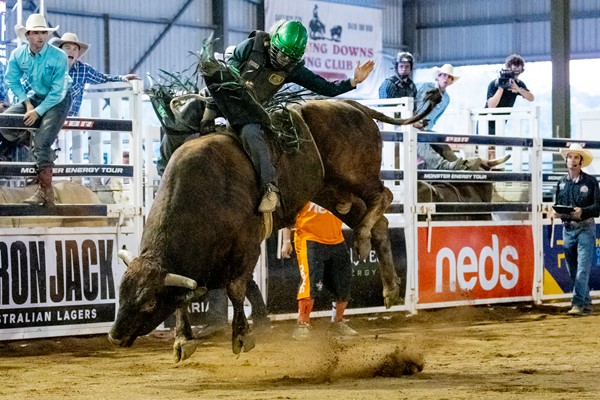 For Heywood, Victoria native Sam Woodall, the 2020 season was a breakthrough year.
While the now 23-year-old made his PBR debut in 2017, competing at league events throughout the subsequent seasons in 2018 and 2019, the most recent season bore witness to him reaching numerous career milestones.
After registering three Top-5 finishes at the PBR Australia Monster Energy Tour double-header events held following the onset of the COVID-19 (coronavirus) pandemic, Woodall captured his career-first victory on October 17 in Rockhampton, Queensland.
RELATED: Sam Woodall Captures Career-First PBR Event Victory with Win at Australian Monster Energy Tour's Rockhampton Invitational
"It was a great event," Woodall said as he reflected on the win. "I didn't have much luck in the first event that they had there. The whole time leading up to the next event, you just want to make the most of both, but I had a good bull drawn, and I just wanted to make the most of it.
"And that's what I did. I just went out there and tried to do my best as always. It was a great event, and it meant a lot to me."
Woodall, who was shutout at the first installment of the tour stop held earlier that afternoon, began the event at the Great Western Hotel on a high note, covering Iron Jacket for 86 points, the second-best score of Round 1.
Returning for the final round with his sights affixed on an event victory, Woodall cemented his career-first win when he recorded the high-marked of the championship round, an 87.5-point ride on Barn Yard.
"Always your first event win in PBR is always going to be a big thing for you," Woodall added. "So it meant a lot to me, and it helped my confidence and that to go through for the rest of the season."
Following his golden finish, Woodall registered an additional Top-5 finish, third in Airlie Beach, before qualifying for his first-ever PBR Australia Grand Finals as the No. 5 ranked rider in the national standings, 350.5 points behind then No. 1 Aaron Kleier.
However, despite qualifying, Woodall was unable to compete at the year-end event in Townsville after sustaining a groin injury in Airlie Beach.
"It's been a bit of a long process," Woodall said of his recovery. "But the moment that I got the chance to be able to start working out and get back fit again, I was straight into it."
"I actually just injured myself the other day at another rodeo, but I am feeling good now. I broke my scaphoid and tore all the ligaments in my hand."
"But I am still fit, and I'm working out, so when I get the chance to get back on I will be ready to go. I will be back for the next Rockhampton they have in June."
The groin injury, however, was not the lone ailment that sidelined Woodall in 2020, tearing his MCL at the start of the year prior to the onset of the pandemic.
"When COVID hit, I had a lot of time off, and I was actually injured at the time," Woodall said. "I hard torn my MCL and I spent all that time off really just training and getting back fit, and real keen for when it started back up."
And it is one of Woodall's training and recovery regiments he maintained during the unprecedented off time that he credits as being a major influence on his successful season.
"I was practicing a lot all through the off season, and all through COVID," Woodall added. "I ended up travelling up to Dittmann's and practicing on all their good bulls.
"I was just going anywhere and everywhere to keep it improving. And I think that was the biggest help really leading into that season."
When all was said and done, Woodall concluded the 2020 season a career-best No. 6 in the national standings, 437.5 points behind eventual champion Kleier.
"All the round wins I had, and then eventually winning Rockhampton for my first PBR event win, that would definitely be highlights," Woodall said when reflecting on the year. "I just love every moment, just being there and making bull rides really."
Forward looking, Woodall is eagerly awaiting his return to the PBR, slated for June 12 in Rockhampton for the PBR Rockhampton Invitational at Great Western Hotel.
"I have done a few rodeos, and I practice all the time," Woodall said of how he's been occupying his time in the off season and throughout his recovery. "Probably every weekend, or through the week, when I get the chance to, I always practice.
"I did a few events, won a couple events, and been riding pretty good, so it's all still looking good."
"And I have been working and that. I have couple jobs. With one I work with my dad, we build stockyards, fencing and all that. And then at another one I drive bobcats and dozers down at a wharf in Portland, and oversee ships getting loaded."
And while Woodall will return to PBR competition with the 2021 season in full swing, his goal remains simple.
"Pretty well just ride every single bull I get on and wherever that leads to, that's all I can do."
Tickets for the PBR Rockhampton Invitational are on sale now and can be purchased at www.tix.pbraustralia.com.au. Fans can also watch all the action LIVE on RidePass.
Stay tuned to PBRAustralia.com.au for the latest event information.