Rookie Leather Makes Statement in Rockhampton to Become Early Front-Runner for National Title
By: Kacie Albert Thursday, June 17, 2021 @ 10:38 AM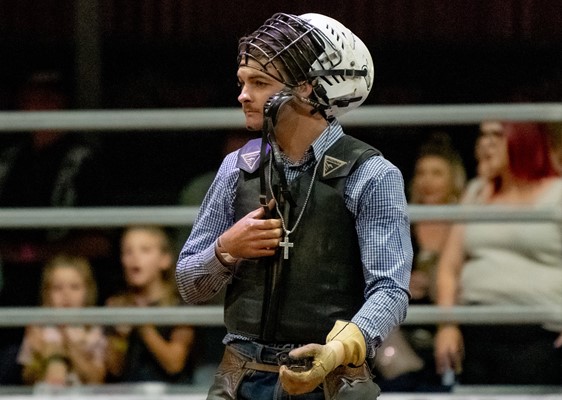 For the 2021 PBR Australia season-launch event in early May in Rockhampton, Queensland, the draw featured numerous new names.
And while fans may not have known who Macaulie Leather was prior to the events, the Calliope-native made sure his name was known when the dust settled inside the Great Western Hotel.
In his PBR debut, Leather got off to a hot start, covering his first ever draw with the league when he rode Iron Jacket for 86 points to finish third in the opening round of the Back to the Heartland Series event.
"It was pretty good," Leather said of the trip. "The bull sort of came our backwards and gave me a rough start, but I got him rode which was a big highlight."
While Leather was bucked off in the championship round, dispatched by the powerful Cattle King Boogers Beach in a hard-fought 6 seconds, the surging young gun finished fourth overall.
Netting a crucial 29 national points, Leather not only climbed to No. 4 in the early national standings, but catapulted to the top of the 2021 PBR Australia Rookie of the Year race.
However, he was only just getting started.
With the elite Monster Energy Tour remaining in Rockhampton to hold the second event of the new season the very next day, Leather was on the precipice of further greatness.
He began the second iteration of the PBR Rockhampton Invitational winning the first round of his career, marked 88.5 points on Dance Monkey.
"It was a pretty cool ride," the soft-spoken Leather said. "He is just a young bull of BK Bucking Bulls, and he was sort of right there in my hand. Like one of the coolest feeling little bulls I have been on."
Despite being unable to end the event having made the 8, once again dispatched by Cattle King Boogers Beach in the championship round, this time in a quicker 2.49 seconds, Leather's opening ride was enough to clinch his career-first PBR victory.
RELATED: Rookie Sensation Macaulie Leather Wins Career-First Event at PBR Rockhampton Invitational
"It was a pretty good feeling," Leather said of the win. "It was good to know where you stand, that you can do it if you put your mind to it."
For his efforts, Leather collected 65 national points and was sling-shotted to the top of the national standings. Erasing the 48-point gap between him and then No. 1 Aaron Kleier at the start of the event, Leather exited Rockhampton as the No. 1-ranked rider in Australia with a 17-point lead over new No. 2 Kleier.
With success fresh on his mind, and despite knowing the mountain of events that stand between him and qualifying for his first PBR Australia Grand Finals, scheduled for Nov. 26-27 in Townsville, Queensland, Leather's goal for 2021 is clear.
"To finish the way I started, on top," Leather said without hesitation.
Leather's dominant performance in Rockhampton also caught the eye of his fellow competitors, including three-time PBR Australia Champion Kleier who used to compete with him in the junior ranks.
"I've ridden with Macaulie a fair bit," Kleier added. "He's a bit younger than me so he's been a junior, but he rides real good and definitely one to watch out for this year. He's really consistent and rides a lot of bulls."
However, one bull Leather has yet to crack the code aboard is Cattle King Boogers Beach. Drawing the bull for the championship round of both Rockhampton events, Leather was bucked off in both trips as Cattle King Boogers Beach posted head-turning scores, both in excess of 45 points, to earn bull of the event honors.
"He's a bucky bull," Leather said. "He's pretty cool, one everyone wants to get on really. He hangs in the air, has the kick, is right there. He just got the better of me, and I have got to try and do better next time."
En route to Leather actualizing his goal of the 2021 PBR Australia Championship, the young rider has the chance to qualify to compete for Team Queensland at the prestigious PBR Origin event.
Modeled after the internationally renowned State of Origin Rugby event, considered Australian sport's greatest rivalry, the PBR Origin is a state vs. state showdown where riders will ban together in teams of 10 to determine which state is the supreme bull riding powerhouse.
A three-part event, PBR Origin I will be held in in Newcastle, New South Wales, on July 3, followed by PBR Origin II in Brisbane, Queensland on July 10, and PBR Origin III on July 17 in Cairns, Queensland.
"I grew up playing footie and stuff, so the Origin was always pretty big in my family," Leather said. "So to compete in it as a sport I love, it would be a pretty good feeling to make it."