Game Notes – Rockhampton
By: Kacie Albert Friday, June 11, 2021 @ 12:16 AM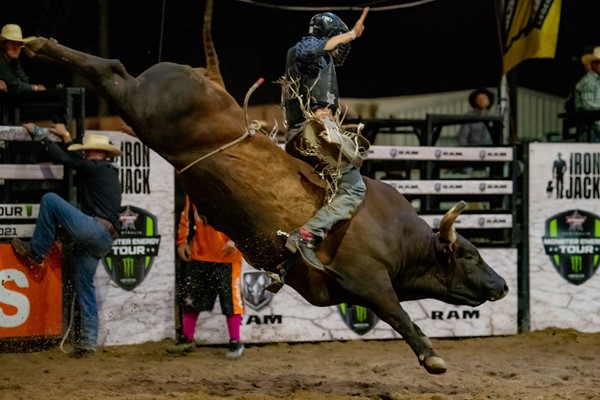 ROCKING OUT IN ROCKHAMPTON – This weekend, for the third time in 2021, and 26th time in league history, PBR Australia travel to Rockhampton, Queensland. Marking the third iteration of the Monster Energy Tour's PBR Rockhampton Invitational, action at Great Western Hotel for the Back to the Heartland Series event will get underway Saturday, June 12 at 7:00 p.m. AEST.  
RELATED: For the complete Game Notes, click here.
THIS WEEKEND'S FORMAT – The PBR Australia Monster Energy Tour's Rockhampton Invitational at Great Western Hotel will feature two rounds of bull riding. After each of the 27 competing riders attempt one bull each in Round 1, the 10 bull riders with the top ride scores will then advance to the championship round where they will attempt one final bull in an effort to be crowned the event champion.
LAST CHANCE TO QUALIFY – This weekend's event in Rockhampton will mark riders' last chance to earn a berth to compete for Team New South Wales or Team Queensland at the 2021 iteration of PBR Origins, beginning July 3 in Newcastle. Team New South Wales will be captained by 2017 PBR Australia Troy Wilkinson, while three-time, and reigning, PBR Australia Champion Aaron Kleier will lead defending event winners Team Queensland. Each team will be comprised of 10 riders, including the captains, with the remaining nine positions filled by the current national and world standings prior to each Origin event. While Wilkinson and Kleier have their spots locked for each of the three installments of the state vs. state tournament, the remaining nine positions can fluctuate. Following the PBR Rockhampton Invitational, each state's roster will be set for the opening event, PBR Origin I – Newcastle, at Newcastle Entertainment Centre.
FLAWLESS NOBBS WINS IN ALICE RIVER – At the first-ever PBR Australia event held in tandem with the prestigious North Queensland Elite Jr. Rodeo, Lawson Nobbs delivered a perfect 2-for-2 performance to capture his first victory of the 2021 season. The 24-year-old got off to hot start in Round 1, earning one of the six spots in the championship round after he made the 8 aboard Hot Spot for 85 points. Facing Gangster's Retreat in the final round, Nobbs remained flawless when he covered the fierce bovine athlete for a championship round-winning 84.5 points.
Nobbs's golden finish earned him a critical 39 national points, propelling him from unranked to No. 8 in the national standings. The Queensland native is now within 62 points of the No. 1 ranking as he seeks his first national title in 2021. No stranger to success in Rockhampton, Nobbs has twice ridden to victory in the Queensland city. In May 2019, Nobbs earned his first-ever Australian event win at the Great Western Rocky PBR, and followed that with his second victory in Rockhampton in December 2019 when he topped the field at the Great Western New Years Eve PBR. In his return to Rockhampton and the Great Western Hotel, Nobbs has drawn Sin Wagon as his Round 1 opponent.
LEATHER REMAINS NO. 1 – For the second consecutive PBR Australia event, rookie sensation Macaulie Leather will begin the tour stop as the No. 1 man in the nation. When the 2021 season got underway in early May in Rockhampton, Leather made his PBR debut, finishing fourth, and surging to No. 4 in the early national standings. Going 1-for-2, Leather's Top-5 finish was headlined by his 86-point effort aboard Iron Jacket in Round 1, which also marked his first-ever trip at a PBR event. As the season continued the very next day at Great Western Hotel, Leather began the event 48 points behind then No. 1 Aaron Kleier. In an effort that won't soon to be forgotten, Leather dominated Round 1, topping the leaderboard with an 88.5-point score on Dance Monkey, to catapult himself to the event victory. Earning a crucial 65 national points, Leather catapulted to the top of the national standings, propelled 17 points ahead of No. 2 Kleier. As the season continued in late May at the first-ever Touring Pro Division event held in conjunction with the North Queensland Elite Jr. Rodeo, while Leather maintained is lead atop the standings, it was decimated. Again going 1-for-2, Leather finished sixth, however coupled with Kleier riding to a third-place finish, had his lead shrink to a mere two points. For Leather, his lone qualified ride was earned atop Chasing Dragos in Round 1, marked 81 points.
In each of his three events to date, only one bovine athlete has been able to get the better of Leather – Cattle Kings Boogers Beach. After the Dittmann Bucking Bulls' bovine athlete bested Leather in 6 seconds at the season-launch tour stop in Rockhampton, marked 45 points, Boogers Beach once again bucked off Leather in the second Rockhampton event's championship round, this time dispatching him in a quicker 2.49 seconds to earn a 45.5-point score. In Alice River at the North Queensland Elite Junior Rodeo, Boogers Beach bested him in 3.66 seconds to earn a 45-point score. All three trips earned Boogers Beach the High-Marked Bull of the Event honor.
Leather will attempt to extend his lead atop the national standings when he attempts Comeback Kid in Round 1 of the PBR Rockhampton Invitational from the Great Western Hotel.  
KLEIER AMID HISTORIC PURSUIT – In 2021, Aaron Kleier is attempting to accomplish a feat that has never been done – win the PBR Australia Championship in four consecutive seasons. Additionally, should he win his fourth title in 2021, Kleier would also tie David Kennedy for most Australian Championships won by one rider in league history. A four-time Australian Champion, Kennedy won his titles in 2009-2010, 2012 and 2014.  
The Clermont-native took an initial step forward towards actualizing this dream, winning the season-launch event in Rockhampton in early May. As one of two riders to go a perfect 2-for-2, Kleier's victory was headlined by his first-ever 90-point ride in the PBR, winning Round 1 of the PBR Rockhampton Invitational when he covered Black Tuxedo for 90.5 points.  The qualified ride, which brough the Queensland crowd to its feet, was Kleier's first aboard the powerful bovine athlete after his two prior attempts ended in a buckoff. With the top position on the event leaderboard, Kleier drew his second familiar opponent of the event -- Call Me Joe – for his championship round showdown. Having first matched up against the bull in December 2018, Kleier covered Call Me Joe for 82 points that year en route to his victory in Adelaide. In a repeat of history, Kleier once again made the 8 aboard the bull to clinch an event win, this time marked 88 points to cement his victory. Earning 77 national points, Kleier briefly surged to the No. 1 position in the national standings, leading then No. 2 Lachlan Richardson by 16 points. With the season continuing the very next day, Kleier surrendered the No. 1 ranking to Macaulie Leather after being shutout, going 0-for-2, exiting the Great Western Hotel No. 2 in the standings, 17 points removed from the top spot.
However, at the third event of the year, a Touring Pro Division event in Alice River, Queensland, Kleier decimated Leather's lead, inching within a mere two points of the young gun. Kleier concluded the event third overall, riding Meet Ya Maker for a second-best 86 points in Round 1, only to be bucked off by Bezerk in a heart-breaking 7.12 seconds in the championship round. With his position already locked for PBR Origin I – Newcastle, set to captain Team Queensland, Kleier will look to reclaim the No. 1 ranking in the national standings when he first attempts Midnight Hour in Round 1 of the PBR Rockhampton Invitational.
FIELDER RISES TO NO. 3 – In 2021, reigning PBR Australia Grand Finals event winner Brady Fielder is seeking his first national championship. At the most recent event on Australian soil, Fielder inched closer to actualizing that dream, finishing fifth, and earning enough points to rise from No. 4 to No. 3 in the national standings. Competing at the first-ever PBR event held in tandem with the North Queensland Elite Junior Rodeo, Fielder went 1-for-2. He rode El Camino for 83 points in Round 1 to earn one of the coveted six positions in the championship round. Fielder, however, was unable to continue the momentum, brought down by Reloaded  in 5.87 seconds in the final round. Earning 10 national points, Fielder leap-frogged Lachlan Richardson in the standings, rising to No. 3, and closing within 39 points of No. 1 Macaulie Leather. The Top-5 finish was Fielder's second of the season, logging a runner-up effort at the second event of the year in Rockhampton. As the tour prepares to return to the Queensland city, Fielder will attempt Scooby Doo in Round 1 as the second man out of the chutes.
FAMILIAR WATERS – At the PBR Australia Monster Energy Tour's Rockhampton Invitational, five riders will face rematches in Round 1, with none having found prior success. Set to make his 2021 season debut, Sam Woodall will once again attempt Makin 8 Bucksnort. A renewed rivalry from last season, Woodall was bucked off by the bull in 4.64 seconds during the opening event of the Toowoomba double-header. Lane Mellers and Zane Hall will also attempt bulls they first faced off against in 2020. For Mellers, he was bucked off by Bang and Grind in Rockhampton, dispatched in 3.35 seconds, while Hall was bested in 4.2 seconds in Mackay.
The remaining rematches are:
            Bailey Woodard vs. Freckles Brown (2017 PBR Australia Cairns, Queensland – 4.76 seconds)
Joshua Jones vs. Roam Aviation High Risk (2019 PBR Australia Burnett Heads, Queensland – 6.37 seconds)
PAST ROCKHAMPTON EVENT WINNERS – One of the longest tenured events in PBR Australia history, since the Queensland city welcomed the league for the first time in 2006, PBR has held a total of 25 events in Rockhampton, including two tour stops already held in 2021. The complete list of past winners is as follows:
Macaulie Leather (2021)
Aaron Kleier (2021)
Sam Woodall (2020)
Aaron Kleier (2020)
Lawson Nobbs (2020)
Lawson Nobbs (2019)
Ryan Storey (2018)
Jason Mara (2018)
Bailey Woodard (2017)
Lachlan Richardson (2016)
Fraser Babbington (2015)
Roy Dunn (2015)
David Kennedy (2009)
Kevin "Jock" Connolly (2009)
Cody Heffernan (2008)
Ben Seeds (2008)
Ben Jones (2007)
Budd Williamson (2007)
Ben Keliher (2007)
Denny Farley (2006)
Ben Jones (2006)
Steven Clark (2006)
Ryan Storey (2006)
Wayne Brokenbrough (2006)
Heath Shrimp (2006)
BULL PEN – At this weekend's PBR event in Rockhampton, Fred Kleier's bucking bulls will make their 2021 league debut. With eight bovine athletes competing in Round 1, the outfit's lineup includes: Top Deck (vs. Beau Willis), Scooby Doo (vs. Brady Fielder), Bang and Grind (vs. Lane Mellers), Onion Head (vs. Caiden Sandilands), Cody Blue (vs. Joseph Down), Sing Wagon (vs. Lawson Nobbs) and Run For Your Life (vs. Cody Heffernan). The event will also feature the first ever outing for the new partnership between Mitch James at MJ Mucking Bulls and Troy and Holly Keliher. Their quartet of bulls includes: Midnight Hour (vs. Aaron Kleier) and Chemical Weapon (vs. Lachlan Slade) who were both purchased from Maynes Bucking Bulls, in addition to Ambush (vs. Troy Wilkinson) who will be making his PBR debut after progressing through the ABBI ranks, and Breaking Bad (vs. Kurt Shephard).
Headlining the championship round will be 2021 PBR Australia Bull of the Year contenders Cattle King Boogers Beach, who has three times been marked the bull of the event this season, in addition to Fully Locked & Loaded.
PROVIDING PROTECTION – This weekend's bullfighters are Clint Kelly of Gracemere, Queensland; Gus Roberts of Yeppoon, Queensland; and Shane Simpson of Marian, Queensland. For Shane "Mad Dog" Simpson, who is perhaps the highest acclaimed Australian protection athlete, the PBR Rockhampton Invitational will mark his return from retirement.
NEXT UP – Following a three-week break, the 2021 PBR Australia season will continue with the first installment of the three-part PBR Origin event, a showdown between Queensland and New Castle to determine which state is the supreme bull riding powerhouse. PBR Origin I – Newcastle will be held Saturday, July 3 at 7:30 p.m. AEST at the Newcastle Entertainment Centre in New Castle, New South Wales. PBR Origin II – Brisbane will be held the following weekend on July 10, with the prestigious tournament coming to a climatic end with PBR Origin III – Cairns July 17.
ROCKHAMPTON COMPETITORS BY COUNTRY
Australia (27) – Eli Bee, JN Bennett, Josh Cavanagh, Taran Chirgwin, Joseph Down, Brady Fielder, Zane Hall, Cody Heffernan, Joshua Jones, Aaron Kleier, Oscar Leake, Macaulie Leather, Lane Mellers, Wyatt Milgate, Lawson Nobbs, Mitchel Paton, Kelsey Pavlou, Lachlan Richardson, Dan Ruhland, Caiden Sandilands, Kurt Shephard, Lachlan Slade, Sam Spencer, Troy Wilkinson, Beau Willis, Sam Woodall, Bailey Woodard
BREAKDOWN BY STATE –
New South Wales – Cody Heffernan, Oscar Leake, Lachlan Richardson, Lachlan Slade, Troy Wilkinson; Northern Territory – Eli Bee; Queensland – Josh Cavanagh, Taran Chirgwin, Brady Fielder, Zane Hall, Joshua Jones, Aaron Kleier, Macaulie Leather, Lane Mellers, Wyatt Milgate, Lawson Nobbs, Mitchel Paton, Dan Ruhland, Caiden Sandilands, Kurt Shephard, Sam Spencer, Beau Willis, Bailey Woodard; Victoria – JN Bennett, Joseph Down, Kelsey Pavlou, Sam Woodall.