Consistency Key in Kleier's March to Historic Third Australian National Title in 2020
By: Kacie Albert Thursday, February 18, 2021 @ 10:16 AM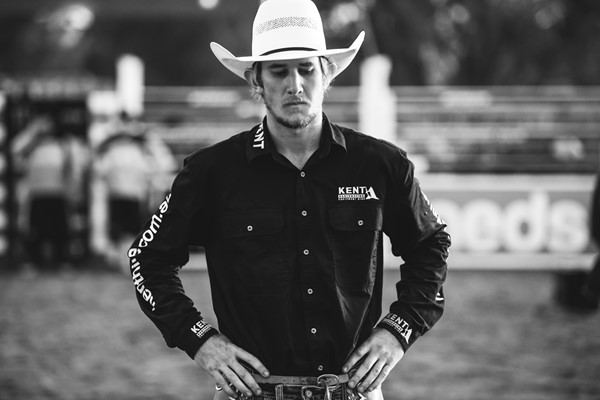 Highlights
Covering 59% of his bulls on home soil throughout the season, the Queensland sensation became the first rider in league history to win the PBR Australia Championship in three consecutive years.
For the past three years, when the PBR Australia season has wound to a close in Townsville, Queensland following the Grand Finals, one rider has reigned supreme – Aaron Kleier.
After becoming just the second rider in league history to be crowned the PBR Australia Champion in consecutive seasons in 2019, the Queensland native ascended to rarified air in 2020, becoming the first rider to capture the honor three times in a row.
"It means a lot to me," Kleier said after winning the 2020 PBR Australia Championship. "At the start of a season I'm always big on setting goals, and I was trying to stay consistent and get my riding percentage up, and keep it up. I suppose I've proved that by winning Australia three years in a row, I've stayed consistent."
Kleier, the 2018-2020 PBR Australia Champion, holds the second most Australian titles of any rider, trailing only David Kennedy (Kyogle, New South Wales) who was four times the nation's champion in 2009-2010, 2012 and 2014.
"I'm probably a little bit different, I don't really think about that side as much, like winning titles," Kleier said of potentially tying Kennedy in 2021 for most national titles earned by one rider. "I suppose it might come when I'm a bit older, and realize a bit more what the titles mean."  
"I look more at the other side, trying to stay on every bull I get on, rather than focusing on trying to win titles and that sort of thing. I feel like that will come if I stay on my bulls."
For the 23-year-old his 2020 campaign began on a high note, logging three consecutive Top-5 finishes on home soil, headlined by a runner-up effort in Melbourne, Victoria, before travelling to the United States to compete on the premier Unleash The Beast.
However, after a three-month stint competing abroad, which included representing runner-up Team Australia at the 2020 PBR Global Cup USA, Kleier returned home in March at the onset of the COVID-19 (coronavirus) pandemic.
Kleier, who finished 10th at his final Unleash The Beast event in Duluth, Georgia in mid-March, would not return to competition for more than six months as the Australian division chartered a safe and responsible continuation of the season.
However, despite the off time, when PBR Australia returned to action, holding seven double-header events throughout Queensland all leading to the Grand Finals in Townsville in mid-November, Kleier was quick to pick off where he left off.
After an uncharacteristic 0-for-2 showing at the initial two elite tour events in Caboolture, Kleier found his rhythm the very next weekend in Bundaberg, recording his first event win of 2021, along with an accompanying third-place finish.
RELATED: Two-Time PBR Australia Champion Aaron Kleier and Rookie Jackson Gray Split Victory at PBR Australia's Bundaberg Invitational
While he remained No. 2 in the nation, the podium finishes allowed Kleier to decimate then No. 1 Lachlan Richardson's lead atop the standings, shrinking the gap to 44 points.
Kleier then registered a fourth and sixth-place result at the subsequent tour stops in Mackay, before he found himself back atop the leaderboard in Rockhampton.
RELATED: Two-Time PBR Australia Champion Aaron Kleier Wins Monster Tour's Rockhampton Invitational to Hone in on Nation's No. 1 Ranking
However, his second victory of the year still was not enough to thrust him to the No.1 ranking, remaining No. 2 in the national standings, and concluding the weekend 102.5 points back of Richardson who rode to two runner-up efforts throughout the weekend's action.
Kleier and Richardson remained locked in a heated battle atop the national standings as the season progressed.
In the subsequent weeks, as Australia's elite tour travelled through Beaudesert and Toowoomba, Richardson remained in control of the No.1 ranking, despite Kleier registering and additional event victory and two Top- finishes.   
However, in Airlie Beach for the final regular-season event of the year, a seemingly unstoppable Kleier was able to overtake Richardson, earning his third berth to the PBR Australia Grand Finals as the nation's No. 1 ranked rider.
RELATED: Aaron Kleier Concludes 2020 Regular Season No. 1 in the National Standings with Victory at the Monster Energy Tour's Airlie Beach Invitational
Kleier, who left the Airlie Beach event with a 56-point lead, earned the ground in the standings large in part due to his fourth event victory of the year.
And that victory was earned after he avenged a three-out buckoff streak against POA Fully Locked & Loaded.
Drawing the bull in the championship round of the second installment of the Airlie Beach Invitational double-header, Kleier covered the powerful bovine athlete for the first time in four outings, marked a monstrous 89 points.
"The biggest thing about Airlie Beach was riding my short round bull, POA Fully Locked & Loaded," Kleier recalled. "Just because I had been on him three times before, and he had thrown me off. So to do that in the pressure time at the end of the year when I sort of needed to make that ride, and to get it done, that was a big thing for me, a big confidence boost more so."
Once in Townsville for the Grand Finals, one of the league's tightest national title races continued to intensify.
While Kleier retained his No. 1 ranking, going 1-for-2 in the opening rounds, Richardson decimated his lead to a mere 29 points compliments of a perfect 2-for-2 effort.
But as quickly as the heat was dialed up, the race came to a heartbreaking end. On the opening night of action, Richardson sustained a back injury which sidelined him from the remaining rounds.
Finishing third overall at the 2020 PBR Australia Grand Finals, Kleier cemented his third national title.
RELATED: Aaron Kleier Wins Historic Third Consecutive PBR Australia Championship
"I was sad for him more so because he couldn't compete," Kleier said of Richardson's injury. "He had worked hard all year."
Overall, Kleier went 22-for-37 on home soil in 2020, covering 59% of his draws in Australia.
And despite the significance of his achievement, and impressive riding average, Kleier is keen to continue improving that number, and remains more focused on consistency rather than titles.
"Getting my consistency up, and making sure my riding percentage stays higher up in the percentages so I am not falling off too many bulls," Kleier said of his goals for 2021. "But another thing is you don't really know what's really going to happen for the year, even just travelling overseas. So the biggest thing for me this year is to not worry about too many titles, or that side of things, just worry about every rodeo I go to, staying on my bull."
With the 2021 season still yet to be determined, Kleier is making sure he stays ready when the call is made for the start of events.
"I have been going to the odd rodeos that pop up and then just practicing here at home," Kleier said. "Pretty much just doing what I usually always do, I always get on heaps of practice bulls and doing work around the house, riding horses and just staying ready. "