Jake Curr Punctuates Season of Firsts with 2020 PBR Australia Rookie of the Year Honor
By: Kacie Albert Thursday, April 29, 2021 @ 12:31 PM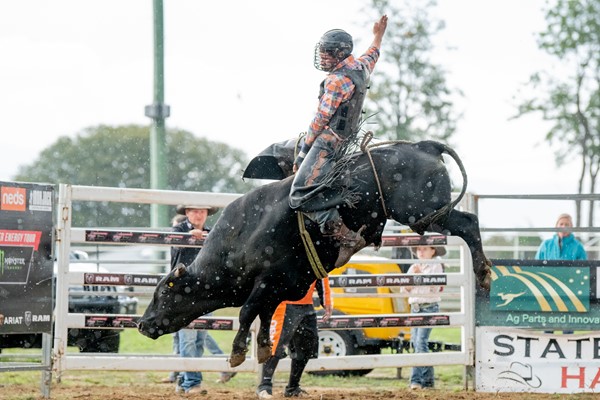 With the 2021 season on the near horizon, set to get underway on May 7-8 in Rockhampton, Queensland, 21-year-old Jake Curr is eager to get back to work, hopeful that the momentum that earned him the 2020 PBR Australia Rookie of the Year honor will carry over into the new year.
RELATED: PBR Australia's Elite Monster Energy Tour Returns to Rockhampton in 2021 with Six Fan-Attended Events
While Curr was active in the PBR ranks in both 2018 and 2019, competing in the United States and Canada, the 2020 campaign marked his first full year on home soil.
And despite the unique trajectory of 2020, the Mount Isa-native completed a season that established him as a rider to watch for years to come.
"It was a bit of a different year, compared to what everyone expected," Curr explained. "But I tried to go to work, as much as I could, for the whole year. I don't remember going to work out heaps, but when I go to work I work the same muscles anyways. I live out on cattle property and do day-to-day stuff, branding, fencing, you got to do a little bit of everything."
Curr made his 2020 season debut during the 2019 calendar year, competing at three of the tour stops held throughout November and December. Despite being shutout in both Tamworth and Rockhampton, Curr's fourth-place finish in Melbourne was an early indicator of his future successes.
While he would not ride at a PBR event again until late September, when the league returned to competition following the onset of the COVID-19 (coronavirus) pandemic with a series of double-header events, Curr was quick to find his rhythm.
On the heels of going 0-for-2 in Caboolture, Curr registered back-to-back Top-10 finishes in Bundaberg.
After a sixth-place result at the first installment of the Queensland double-header, Curr completed his outing at the Bundaberg Invitational with a third-place result later that evening courtesy of his first-ever, perfect 2-for-2 effort at a PBR Australia tour stop.
As a result, Curr earned a collective 33 national points to crack the Top 5 in the national standings and establish himself as a front-runner for the Rookie of the Year honor.
Curr went on to record back-to-back Top-5 finishes in the subsequent two weekends, loggin a runner-up finish in Mackay and a fourth-place result in Rockhampton, before travelling to Beaudesert where he would reach a critical career milestone.
Once again going a flawless 2-for-2 Curr captured his first-ever PBR event win, victorious at the opening installment of the Monster Energy Tour's Beaudesert Invitational.
RELATED: Young Gun Jake Curr Captures Career-First PBR Victory at Australian Monster Energy Tour's Beaudesert Invitational
Curr's march to the win began with a 79.5-point ride on Socket, tying for the fifth best score of Round 1.
He then punctuated his perfect effort in the championship round when he reached the requisite 8 seconds on Back in Business for 85.5 points.
Earning 68.5 national points, the victory allowed Curr to solidify his position atop the Rookie of the Year standings, and inch close to his career-first PBR Australia Grand Finals qualification as he climbed from No. 4 to No. 3 in the national standings, trailing only then two-time PBR Australia Champion Aaron Kleier and seven-time PBR World Finals qualifier Lachlan Richardson.
"It was a massive deal for me," Curr said of the win. "I was very lucky, and it came at an awesome time. I had gone down there for my 21st birthday party, and all my family decided to come to the event, so it couldn't have come at a better time."
"It's been one of my goals for a long time and doing it in front of my family was awesome."
As the regular-season wound to a close, Curr registered back-to-back fourth-place finishes in Toowoomba and Airlie Beach before he earned a berth to his first-ever PBR Australia Grand Finals as the No. 3-ranked rider in the nation.
"It was definitely a bit of a difference than to everything we had done all year, and that I have been to in Australia," Curr said of the Grand Finals.
Competing inside Townsville Entertainment Centre for the first time, Curr went 1-for-5 to finish 8th at the Grand Finals.
Curr register his lone qualified ride of the event in Round 1 when he made the 8 aboard Iron Jacket for 84 points. A rematch, Curr had attempted the bull twice prior during the regular season, covering him in both Mackay and Queensland.
"I was pretty lucky to get on Iron Jacket in the first round," Curr added. "I had been on him twice already that year, and he's a good one to get all the nerves out and get it all kicked off in the right way.
"And I did, so I was pretty happy with that. I should have finished it a lot better, but it was a cool event to be able to go to."
Compliments of his Top-10 finish in Townsville, Curr concluded the year No. 5 in the nation and clinched the PBR Australia Rookie of the Year honor.
"It was unreal," Curr said. "I didn't have any pressure on myself to sort of aim that high. Going into the Finals sitting third, I was sort of aiming to stay in that position, I knew I didn't have enough points to catch Lachlan and Aaron, but I wanted to stay up in the Top 5. So, to finish in the Top 5 I was very happy with it. Keep going up from here hopefully."
"It's a big one for me," Curr detailed when asked specifically of what it meant to be crowned the 2020 PBR Australia Rookie of the Year. "That was my main focus that year, it was my main goal, and I was in a field of rookies that I knew were very talented, and there were plenty of them."
"It was decent to follow in the footsteps of all the other great Australian bull riders that have come through the same path as me. It was pretty cool, so hopefully we can keep on rolling."
Looking forward, Curr now has his sights set on another title – 2021 PBR Australia Champion – and he knows key to accomplishing that goal will be consistency.
"My goal for 2021 is obviously to win the Australian title," Curr concluded. "I want to win the Australian title, and I think that is everyone's goal, but the thing I want to focus on more this year is that I am going to need to get my riding percentage up a little bit higher, and I can't really make many mistakes."
"If you're trying to catch guys like Lachlan Richardson and Aaron Kleier and Brady [Fielder] and Kurt [Shephard], you can't really make mistakes like that if you want to stay up with them all the way through the year. Hopefully just capitalize on every opportunity I get."
The 2021 PBR Australia season begins on May 7-8 in Rockhampton, Queensland, at the Great Western Hotel.
The bull riding action for each iteration of the Rockhampton Invitational begins at 7:00 p.m. AEST. At each event, all riders will attempt one bull each in Round 1. The Top 8 will then advance to the championship round for one more out and a chance at the event title. In addition to competing for points towards the Australian national standings, riders will also vie for crucial points towards the World Finals.
Tickets are on sale now and can be purchased at www.tix.pbraustralia.com.au.