PBR Australia Sits Down With Jody Ruhland
By: Interviewed by Sharntele Davies, Words by Jody Ruhland Wednesday, April 22, 2020 @ 2:34 PM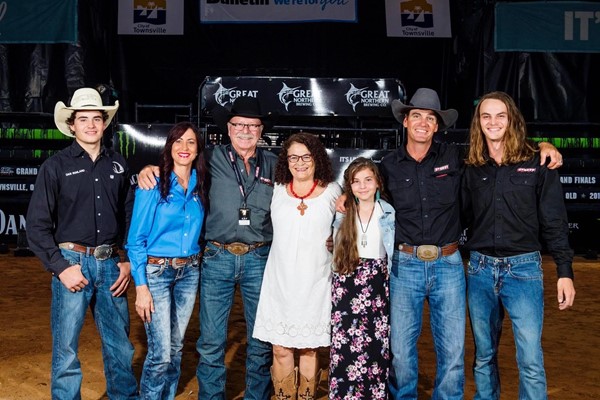 In what is widely considered a male-dominated industry, there are several key players paving the way for women in the sport. We caught up with Jody Ruhland to ask her some of our most burning questions.
What is your official job description?
Well I don't have an official title, I guess I run under many banners like most of us at PBR Australia - jack-of-all-trades, PBR Mum, secretary, competition. Take your pick.
What does your typical day look like?
When I'm not at an event, I am a farmer and a mum of 3 great kids (Jack 21, Dan 18 & Piper 13).  We are kept very busy on our 3000 acres in South East Queensland.  We run beef cattle, breeders and way too many bucking bulls (I tend to become very attached).  We are also a home away from home to many international & Australian riders.
What do your event weekends look like?
On event weekends we will fly out early on a Thursday or Friday (I'm very lucky to have my parents Darryl and Shirley living on our property to hold down the fort while we are away).  We generally go straight to the venue to set up.  We have a very small crew that covers everything, from the dirt going in to the setup up of the arena and back yards, merchandise, signage etc. - basically everything you see on the night.  On that first day I will wash down all the chutes (yes washing bull sh*t by hand is a requirement!) & put all the chute stickers on, we clean and lay out signage, wash down grandstands and I have carted more than enough arena panels in my day.  Everyone in our crew has a can-do attitude and we all pitch in to get the job done.  Fridays are spent getting as much finished off as we can before event day. Di and I help out tech guru Pete set up our judging system and ensure everything is running correctly for the event. Event day is an early start, last minute fine tuning and cleaning up.  Bulls will start arriving around lunchtime. Contractors will check in with me and provide me with their travel permits and NLIS numbers.  It is a requirement that we sight each animal and record it on the NLIS (National Livestock Identification System) database. Riders will start arriving anywhere from around 4pm where they will check in with me and pay their entry fees.  Di and I will get all the paperwork sorted for our judges and officials and operate our judging system throughout the event.  When an outdoor event is over we get as much packed down as we can and try to leave the venue by midnight to give everyone some rest after a big day. We are back in the morning where Rick and the arena crew get the arena loaded on the trucks before we fly out on a Sunday afternoon. At our indoor events the arena crew will work right through the night in order to clear the venue as quickly as possible.
How did you get into the bull riding industry?
My dad (Darryl Doyle) rode all 3 rough stock events so my first rodeo was when I was 2 weeks old. I then went on to marry a bull rider (Rick) and my middle child (Dan) now rides bulls so I guess the sport chose me and I really didn't have much say in the matter.  When Rick retired from riding we started to breed some bucking bulls which has become a real passion of mine. PBR Australia General Manager, Glen, then asked us to come on board and work with PBR and its honestly been the most rewarding job I've ever had apart from being a mum. 
What is it like being a female in such a male-dominated industry? Do you face any particular challenges?
I've honestly never known any different.  I grew up an only child but we always had cowboys staying with us so I had many "adopted" big brothers.  As the sport of bull riding has grown and evolved over the years a lot more women have become involved, especially as contractors.  I feel very privileged to have the job that I do and I believe there is mutual respect between the sexes in our sport.  Our sport is not one where there has ever been a lot of barriers whether it be age, race or sex. 
What does it mean to you to be a part of the PBR family?
I feel so blessed to have made friendships with people all over the world through our mutual love of the sport. No matter where you are from in the world if you are involved in the sport you have a strong sense of mate ship and that is why there is a PBR family.
Family is everything, whether they are blood related or not. We pick each other up when we are down and we kick each other in the butt when we need to, what could be more family than that?  So what does it mean to be part of the PBR family? it means they are your home away from home and with everything going on in the world at the moment with the Coronavirus, I am definitely very homesick for my PBR family!