PBR Australia Sits Down With Di Hallam
By: Interviewed by Sharntele Davies, words by Dianne Hallam Wednesday, April 8, 2020 @ 8:39 AM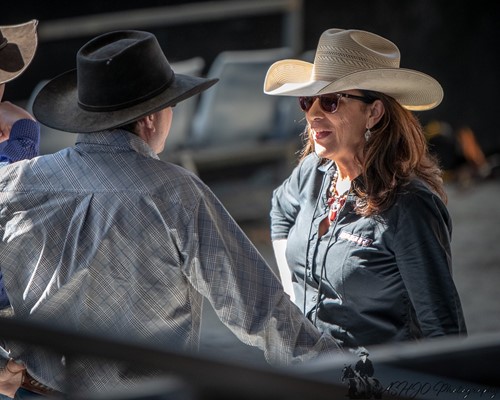 In what is widely considered a male-dominated industry, there are several key players paving the way for women in the sport. We caught up with our Competition & Initiative Director to ask her some of our most burning questions.
So, tell us about your official job description? What does it entail?
PBR Australia's Competition & Initiative Director, which essentially covers anything involving competition (i.e coordinating personnel bookings, riders, stock contractors, bulls, draws and memberships), ABBI (American Bucking Bull, Inc.), establishing and managing new programs (such as the Rising Stars Program) and also managing Rider and Animal Welfare Policies and Protocols.
What does your typical day look like?
That depends a lot on whether we are going into an event or not, because in the lead up to events, I work on entries/draws/sorting bulls and so on. However, on a normal day, I will typically start early (usually around 6.30am) and this could be communicating with the US team or members who will reach out before they start work or their day gets too busy. What time I finish for the day depends on what is going on but sometimes, it is well into the evening. I do try to go for a long walk around the lake at home at some stage throughout the course of the day to clear my head.
What do your event weekends look like?
Usually I head to an event on a Friday morning, and once we arrive in town, we always head straight to the venue and start setting up. For me, this means setting up the on-site competition office, assisting (still learning lol!) with the technical side of things (e.g. running cables etc for challenge buttons/judges pads), working alongside my cool nerdy offsider Pete Williams and my right hand Jody Ruhland. Once all my areas are covered, I'm free to jump in and help the rest of the team in any areas that may need assistance. This could be signage or merchandise, or even washing seats down for our outdoor stadium. We usually finish at site around 6pm. Saturday morning usually starts by no later than 7.30am and basically I work through till around midnight, once pack up is completed. Because we have such a small team, there is none of "well that's not in my job description…", we do whatever it takes to get the event done. So many of us are a 'Jack of all Trades', which I believe is a good thing. It doesn't matter if you are out the back yards, out the front or somewhere in between – every role is important; if one area is not in sync it puts pressure on the whole team. Sunday mornings we're sometimes on the go by 5am (especially if we have early flights booked, definitely not a fan!) and once I get home, I'll do a little work on post event reports so I can get prize money and stock contractor invoices in first thing Monday morning!
How did you get into the bull riding industry?
I have a long rodeo background lol! Like almost 40 years!! As a young teenager, a family friend's son rode bulls - Steve Thorn - undoubtedly one of the best riders this country has ever produced. Around this time I wanted to go from showriding (hacking) to showjumping but my dad wouldn't allow it as he thought it was too dangerous. With encouragement from the Thorn's, I entered the Rodeo Queen contest at our local rodeo and it all went from there. I've qualified for numerous National Finals Rodeos in Team Roping (Heading), Breakaway Roping and Barrel Racing, and I have two younger brothers (John and Dean Pace), that both rode bulls. Dean competed at the PBR World Finals and after retiring has stayed involved as a judge.
Career-wise, I started out with the Australian Bushmen's Campdraft & Rodeo Association (ABCRA) on an 6 week contract, just to help out with some promotion work leading into the National Finals Rodeo one year; I closed that door many years later as the General Manager. 
What is it like being a female in such a male-dominated industry? Do you face any particular challenges?
Cool and no not really! My dad taught me from a very young age to stand my ground, and both my parents taught me how to work, so you could say I've never been one to back off too much when I believe in, or am passionate about something. I have mellowed a little over the years but I think because I have been involved in the industry as a competitor and an administrator, its perhaps makes it easier in some ways. Overall everyone treats everyone with respect; we enjoy what we are doing because we choose to be a part of it.
What does it mean to you to be a part of the PBR family?
My tribe… my people… The PBR family includes friends that I have had for many years. We have celebrated weddings and the birth of our children together, supported each other in sudden insurmountable grief. It includes riders that I've watched grow up, starting out on poddy calves to competing at PBR's elite level, and it extends to PBR family on the other side of the world…. It's where I feel at home.