Barbosa Credits Australia Trip For Early Top-5 Ranking
By: Justin Felisko Tuesday, January 15, 2019 @ 1:05 PM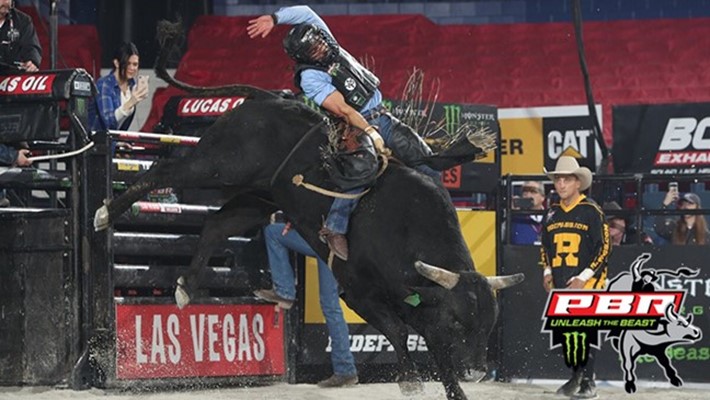 CHICAGO – Rubens Barbosa has 11 qualified rides at all levels of competition this season, and six of those rides have gone for round victories.
Barbosa now has first round win at the premier series level this year by conquering Arctic Assassin for 88.5 points in Round 2 of the Chicago Invitational at Allstate Arena Sunday afternoon.
The 35-year-old has been historically a much better rider into his right hand vs. away, and Arctic Assassin turned right into Barbosa's wheelhouse.
"I am so happy to have a good ride," Barbosa said. "It is very important for me. This score. I just say thanks God for helping me."
Rounding out the Top 5 in Round 2 was eventual event winner Jess Lockwood (88 points on Deaconator), Chase Outlaw (87 points on Lethal Larry), Marco Eguchi (87.5 points on Beast of Burden) and Keyshawn Whitehorse (87.5 points on American Gangster).
Two-time World Champion and CBS Sports analyst Justin McBride was happy to see Barbosa bounce back.
"This is a really good ride," McBride said. "This guy is so exciting to watch. He is a little bitty guy. He gets reared back every time and just goes for it. I love to see a guy that goes down early in Round 1, fixes the problem and comes back successful for a big score.
"Bull riding is not always going to be perfect for you, but you have to figure out what went wrong and fix it."
Barbosa went 1-for-3 in Chicago, bucking off Smooth Operator in 1.46 seconds during the championship round, but Barbosa's Round 2 win helped propel him to a fifth-place finish overall.
The 105 world points Barbosa earned pushes him to No. 5 in the world standings.
Barbosa began his season by heading down to Australia for four PBR Australia events.
It was in the Land Down Under that Barbosa won five rounds of competition despite his ongoing chronic back injury.
Barbosa went 9-for-13 in Australia, and is 2-for-6 on the premier series ahead of next weekend's Ak-Chin Invitational, presented by Cooper Tires, in Glendale, Arizona. 
"I went over there and it helped me a lot because I got a lot of points there," Barbosa said. "It can help me for the start of the year here. It is a good place to ride."
Barbosa is next headed to Denver for the Denver PBR Chute Out at the National Western Stock Show on Monday night.
Fans can watch the three-day Velocity Tour event on RidePass beginning at 9 p.m. ET.
The Top 30 riders from Monday and Tuesday night will qualify for the Wednesday performance.