ROCKY'S OWN ONE OF THE UNSUNG HEROES OF PROFESSIONAL BULL RIDING
By: PBRA Monday, September 17, 2018 @ 10:01 AM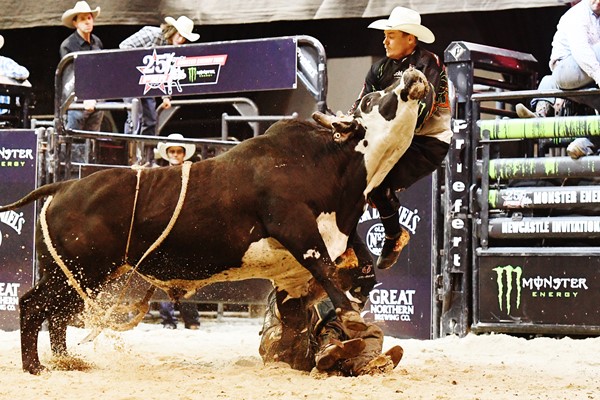 Highlights
PBR Monster Energy Rockhampton Invitational hits Browne Park this Saturday.
Tickets available at www.pbraustralia.com.au, with reserved seating selling fast.
Some of the bravest unsung heroes of professional bull riding will put their bodies on the line this Saturday, September 22, when the Professional Bull Riders (PBR) Monster Energy Tour: Rockhampton Invitational hits Browne Park.
Rockhampton local Clint Kelly (Gracemere, Qld), was recently selected, along with New South Wales cowboys Mitch Russell (Melville, NSW) and Geoff Hall (Aberdeen, NSW), to form the Bullzye Protection Team – a year-round post that now sees the trio providing protection athlete services to all of PBR Australia's national tour events, including this weekend's Rockhampton Invitational.
The role of the protection athlete is a unique and sometimes overlooked one, beginning as soon as the job of the bull rider ends. As a rider is bucked off their bull, the protection athlete springs into action, defending the fallen rider by any means necessary.
This might mean distracting the bull and making themselves a target, or laying across the rider to take the impact of the bull's horns or hooves. They will also often tag-team with their fellow protection athletes to separate the bull and rider in a swift and safe way.
"When you're working in the arena, there's a lot on the line. You're not only conscious of protecting the bull rider, but also yourself and your fellow protection athletes. You've got to try to stay calm and clear-minded, but you also need to be super dialled in and think quickly on your feet. It can be a very tricky physical and mental balance, but it's all part of being a protection athlete" says Clint Kelly.
"We take a bit of a battering sometimes; there's loads of adrenaline and definitely some scary moments, but we love this sport and wouldn't trade our job for anything. It's risky, but the payoff is well worth it."
And the risks are multiplied when you consider that a protection athlete can come between bull and cowboy up to 60 times in one night of competition.
Indeed, Clint is well aware of the injury risks. The quietly-spoken 25 year-old is the youngest member of the Bullzye Protection Team and has already sustained a broken collarbone, jaw, foot and ribs, as well as an ACL replacement.
Fellow team members Mitch and Geoff have also taken their fair share of breaks and bruises. The pair's collective injury tally includes more than 10 broken bones, knocked out teeth, three knee reconstructions, a horn to the neck, ruptured ACLs and concussions – to name just a few.
Clint started his career riding bulls – but says he wasn't very good. At a country rodeo, he was asked to help out as a protection athlete – and he hasn't looked back since.
Clint prepares for the physical demands that come with life as a protection athlete by hitting the gym regularly, with a focus on cardio work.
Clint and Geoff will team up this Saturday when the PBR Rockhampton Invitational bucks into Browne Park with a new state-of-the-art mobile stadium.
Debuting earlier this year, the stadium will allow Rockhampton fans to experience home-turf professional bull riding on a scale they never have before, with every seat no more than 14 metres away from the arena.
The stadium boasts a 3,500-capacity, which includes seating for 2,500 and 18 arena-side corporate boxes. It also features a custom-built mega screen to take the audience behind-the-scenes – inside the bucking chutes – and to give slow motion replays for each ride, as well as the infrastructure needed to host a full after-party event headlined by Dee Jaye Bux.   
Tickets are on sale for the Rockhampton Invitational are available at www.pbraustralia.com.au, with reserved seating selling fast.