PACHECO RIDING WINNING MOMENTUM AS WORLD TITLE RACE HEATS UP
By: Darci Miller Thursday, September 13, 2018 @ 10:46 AM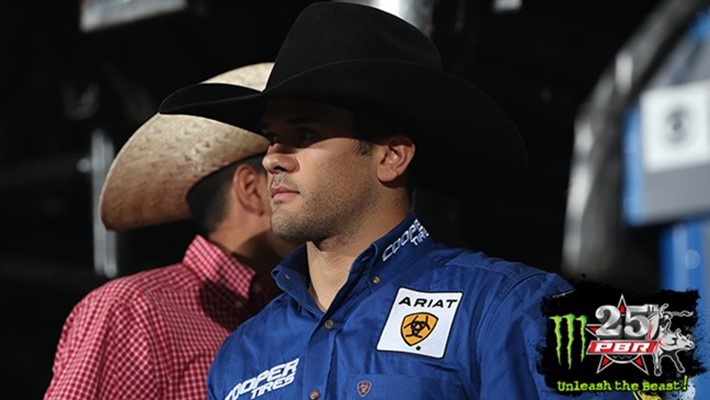 Highlights
After coming up empty in the first two premier series events after the summer break, Kaique Pacheco got back to his winning ways at the PFIWestern.com Invitational.
The world No. 1 bull rider used two weekends of Real Time Pain Relief Velocity Tour events to get himself back on track.
Pacheco is now 826.67 points ahead of No. 2 Claudio Montanha Jr. as he chases what would be his first career world title.
PUEBLO, Colo. – Kaique Pacheco insists that nothing was wrong.
The No. 1 bull rider in the world standings, who had been riding hot before the summer break of the 25th PBR: Unleash The Beast, just couldn't get it done.
When the premier series returned to action, Pacheco simply didn't look like himself.
He put up a goose egg at the Express Employment Professionals Classic, presented by Osage Casino, failing to make the 8 seconds in both the event and the 15/15 Bucking Battle. He struck out again at the Music City Knockout, presented by Cooper Tires, bowing out in Round 2 (after a Round 1 bye).
No rides means no placements, which means no world standings points earned. Pacheco had to watch as his lead shrunk.
"There was really nothing wrong," Pacheco said with the help of Paulo Crimber translating. "Everything was fine. I was healthy. Every time I nod my head, I give my 100 percent to do a great job, but for some reason it didn't work out."
Following those two disappointing events, the premier series schedule took a two-week break.
Pacheco did not.
Taking advantage of the opportunity to earn more points, he kept his foot on the gas and decided to ride at two Real Time Pain Relief Velocity Tour events.
First up was Salinas, California, where Pacheco went 2-for-3 and split the event win with Alex Marcilio.
Then he headed to Window Rock, Arizona, for PBR Bucking on the Rez. He went 2-for-2, finishing second.
In the two weeks with no premier series events, when most cowboys took time off to rest, Pacheco earned himself 165 world points to pad his lead.
Three days after Window Rock, he was in Springfield, Missouri, riding Uncle Gangster for 91 points to a Round 1 win. He would go on to make the 8 on Sitting Bull and Pennywise in Rounds 2 and 3, respectively, to clinch the event win before he even climbed aboard his championship round bull.
"I think the two weekends I went to the Velocity events helped me," Pacheco said. "I work out every day to try to keep up my body, but it's not the same thing as when you keep riding through. Those two weekends I went, I feel like I didn't slow down at all. I just kept going with it and I got here in the same rhythm and it just helped me a lot."
In the championship round, Pacheco drew Jack Shot. He had a 5-for-8 record on the bovine, including qualified rides in his last three outs, and none of his scores were below 86 points.
As the final rider to nod his head, Pacheco already knew he'd won the event before taking his ride, but nonetheless looked to put up a big score.
However, he managed 6.71 seconds before being bucked off.
"He's a great bull, but every day is a new day," Pacheco said. "I rode that bull before. I knew exactly what he was going to do. I did my best to finish the ride, but I guess I was a little bit short today.
"If I get the opportunity again, I'd pick him another 10 times if I have to."
Despite the buckoff, Pacheco earned $38,776.19 and, more importantly, 700 world points. He's now 826.67 points ahead of No. 2 Claudio Montanha Jr., who finished 14th in Springfield.
Before Springfield, Pacheco and Montanha had been locked in a back-and-forth battle. In Nashville, where Pacheco was knocked out in Round 2, Montanha made it all the way to the Final 4, making up 280 points in the standings and closing the gap to just 21.67 points.
The showdown continued on the Velocity Tour, where Montanha was one of the few premier series riders to compete and challenge Pacheco. Montanha went 2-for-3 in the two events, forcing Pacheco to be perfect if he wanted to maintain his No. 1 position. (He was, going 4-for-4.)
Pacheco has been in this position before. In 2015 and 2016, he held the No. 1 spot late before eventually finishing No. 2 to eventual world champions J.B. Mauney and Cooper Davis, respectively. In 2017, he was No. 1 in August before a lingering groin/pelvis injury dropped him to No. 5 behind eventual champion Jess Lockwood.
RELATED: In a familiar position, is this Pacheco's year?
There's been some speculation that maybe Pacheco can't take the pressure, but in 2018, he has yet to cave to it.
He says his ranking is not something he thinks about.
"I really never plan to be where I want to be," Pacheco said. "I always just want to do my best. As long as I do my best, everything else is going to come with it.
"I just kind of clear my mind off of everybody else and just focus on my ride, my bull, and just get my deal done and not worry about everybody else."
It's a mindset he plans to hang onto as he makes his final push for that elusive world title.
"Without a doubt it's great winning this event this weekend with a bunch of points on the board and get me a little ahead in the race for the world title," Pacheco said. "I'm just focused on my next event, one by one, and just continuing to be healthy and keep going with it."