BRANDENBURG BUCKING BULLS TAKE OUT PBR AWARDS
By: PBRA Tuesday, July 3, 2018 @ 1:52 PM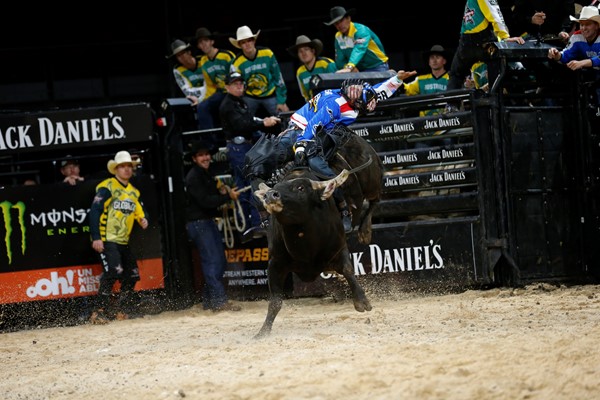 The Brandenburg name is synonymous with champion – Darren Brandenburg, better known simply as Brandy, is a former Australian Bull Riding and All Round Champion cowboy.  His wife Bridget, again an Australian All Round Cowgirl & Barrel Racing champion. Their three children Dakota, Brumby and Dylan have all inherited that no fuss, set your goals and "do whatever it takes" attitude. Together they are Brandenburg Bucking Bulls – Proudly one of the PBRA's leading Stock Contractors.
At the recent PBR Global Cup held in Sydney, Brandenburg Bucking Bulls dominated centre stage.  Top Country Take The Gamble was the standout – Everyone eagerly watched the match up between the bull, that to date had not had a qualified ride made on him, up against reigning PBR World champion Jess Lockwood.  At 4.65 seconds "The Banger" unceremoniously and convincingly offloaded the world champ – His record remained intact. Over the two nights of competition the five judges (one from each of the participating countries) awarded Top Country Take The Gamble the highest accumulative bull scores, resulting in this bull being awarded PBRA Bucking Bull of the Year.
"You just don't know what he is going to do" commented Darren recently, "he can go left, right, leap up in the air, each trip is different "he added – And that is the challenge for the PBR bull riders.
It didn't stop there however for Brandenburg Bucking Bulls. Each of the stock contractors eligible at Global Cup, nominated a Bull Team and with a $10,000 bonus up for the winner, there was not only pride on the line for the worthy contenders in the mix.
Brandenburg's team consisted not only of the Bucking Bull of the Year but also Unbroken and two bulls that originated from George Hempenstall's breeding program -Top Country Slam N Jam and Top Country Blossum. The Brandenburg Bull team's average score over the two nights, 42.83 collected the top honours. Next in line were highly respected contractors Throsby & Russell - TNR Bucking Bulls have so much depth in their pen of bulls, that  most will only dream of achieving.  TNR's team average 41.88 ahead of Wallace Bucking Bulls, who are really starting to see the results of their own breeding program, rounded off the top three Bull Teams.
"They are just good bull people – You only have to watch them work with their bulls in the backyards" that was the comment made by one of the most regarded contractors in the business, George Hempenstall.  It is a sentiment shared by many – Brandenburg's are passionate about their livestock and have shown that they will do whatever it takes to ensure their care and wellbeing.  Event after event, Brandenburg's Bull Team is always hovering at the top end of the PBR leader board – Congratulations Brandy and Co, we all look forward to seeing you at upcoming PBR events for many years to come.