Shephard went from mechanical bull to Global Cup glory
By: Justin Felisko Sunday, December 23, 2018 @ 10:03 AM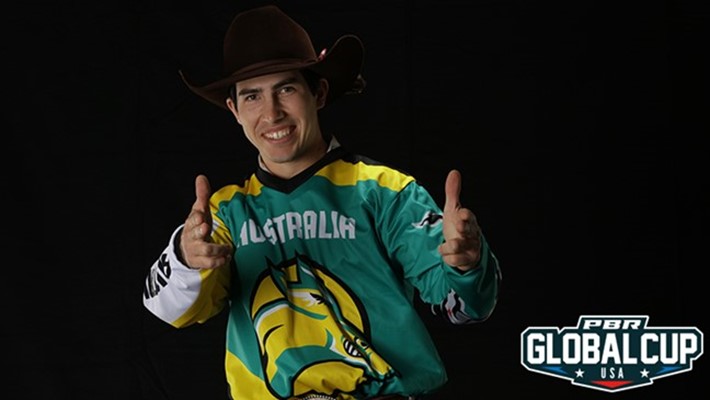 PUEBLO, Colo. – When Kurt Shephard slides on his white and green Team Australia Global Cup jersey in less than two months, the 24-year-old will have come a long way from his first payday as a bull rider.
Shephard was around 14 years old when he attended a small rodeo a few hours north of Cairns, Australia, when the curious teenager noticed there was a mechanical bull riding competition taking place.
"I won like 200 bucks and beat all these bull riders that were entered in it," Shephard said with a laugh this past season in Sacramento, California. "It was just a bit of fun. So that got my curiosity up, and I was like, 'I wonder if I would be any good at it?'"
The "it" Shephard was referring to was getting on a real bull – not just a hundred pound metal machine with some nuts and bolts and fake horns.
Shephard was curious about the real thing.
A year earlier, he had broken his arm as a 13-year-old attempting a large calf.
"That was it," Shephard said. "I was done."
However, that silly mechanical bull piqued his interest to give bull riding another shot.
The Atherton, Queensland, bull rider had grown up in rural Australia – his father and mother would work/manage various farms, some as large as 30,000 acres.
Shephard's dad's side of the family was heavily involved in the horse and cattle industry, and some of Kurt's cousins are bareback riders and compete in Australian rodeos.
Kurt's father also was an avid horseman, and still competes today in campdrafting  – a unique sport involving a horse and rider working cattle, similar to American Western riding, cutting, team penning and ranch sorting.
Now the ranch-raised Shephard is slated to ride for his home country on Feb. 9-10 at the 2019 WinStar World Casino & Resort Global Cup in Arlington, Texas.
Shephard was named to Team Australia on Wednesday as one of three PBR Australia national standings qualifiers.
2018 PBR Australia champion Aaron Kleier, Jason Mara and Shephard were the Top 3 performers at PBR Australia events between August's bull riding in Newcastle, New South Wales, through the most recent stop this December in Adelaide.
The trio joins Nathan Burtenshaw, Lachlan Richardson and Cliff Richardson on Troy Dunn's Australian unit.
Dunn has one more spot to publicly announce for the third edition of the Global Cup. Team Brazil is the reigning champion, while Team USA won the inaugural event in Edmonton.
Shephard missed the Sydney Global Cup because of a broken back (T12), which he sustained at the April Velocity Tour event in Wichita, Kansas, this past season.
He has nodded his head over 250 times on American soil and is a career 49.15-percent bull rider in Australia.
Shephard has gone 7-for-17 (41.18 percent) with five Top-5 finishes in Australia since returning to competition on Sept. 8.
The No. 28-ranked rider in the world is slated to return to the United States in 2019 and is looking to qualify for his first PBR World Finals. Shephard finished 2016 40th in the world standings and bucked off in one round at the 2016 PBR World Finals as an alternate.
He has already entered the Reno, Nevada, Velocity Tour event on Jan. 11-12 and the Denver PBR Chute Out at the National Western Stock Show Velocity Tour event on Jan. 14-16.
That will give him a month to begin to readjust to American-caliber bulls before the Global Cup.
The two-time Global Cup qualifier went 2-for-3 for the fourth-place Aussies at Rogers Place. Shephard was one of three Australian bull riders (Shephard, Lachlan Richardson, Cliff Richardson) to post two qualified rides in Edmonton.
Only two riders (Burtenshaw and Richardson) had two or more rides in Sydney at the last Global Cup.
Shephard said earlier last season that there was nothing like riding for his country in Edmonton.
"It was the best thing I have ever been a part of," Shephard concluded. "Just that team aspect."