Dunn: "Winning breeds confidence, but that can take time'
By: Justin Felisko Wednesday, December 26, 2018 @ 10:10 AM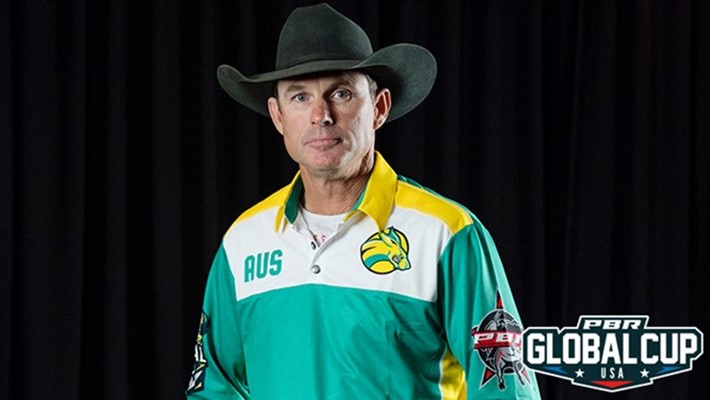 PUEBLO, Colo. – Team Australia coach Troy Dunn was sitting on the porch of his cabin at the Big4 Ingenia Holiday Cairns Coconut Resort in Woree, Australia, this past June.
The 1998 PBR World Champion had just gotten done putting the 2018 Team Australia Global Cup squad through a day's worth of training at the Aussies' Training Camp for the Sydney Global Cup competition.
One goal of the training camp for Dunn was to help instill confidence in his riders.
Dunn knew for Team Australia to have any shot at being victorious in Sydney that his team needed to be fearless and confident regardless of the bull riding talent invading their shores from the United States, Brazil and Canada.
As he leaned back in his chair, Dunn explained that he was well aware that there was no magic potion to instill confidence in a bull rider.
That takes time.
In some cases, it can take years before a bull rider truly has unwavering confidence in his abilities.
Dunn recalled his own self-confidence each time he climbed aboard the back of a bad son-of-a-gun bucking bull in the 1990s.
"The thing with confidence in bull riding," Dunn said before pausing. "There was a mad thing inside me that said I had to be confident. I would walk around telling meself how confident I was. That takes a long time to get that immovable confidence to where if you do have a bad run, and you do get back slammed 10 times in a row, that you get back up and you get on the next one and say, 'Look out bastard.'"
Dunn, though, did not just one day wake up with the swagger of a champion or the inner belief that nothing could throw him off.
That confidence came with due time.
It started as a young boy getting on calves in Queensland, and then throughout his teenage years as he began to progress onto junior bulls.
It then continued for five years as he pro rodeoed throughout Australia, eventually winning the 1989 Australian Pro Rodeo Association all-around championship and bull riding title.
Dunn was 23 years old when he first came to North America.
By the time the PBR was founded in 1994, Dunn was a well-seasoned bull rider.
"All of those guys in my generation – (Michael) Gaffney, Adriano (Moraes), Jerome (Davis), Tuff (Hedeman) and Jim (Sharp) and all of us. We did PRCA before the bull ridings got going, but we were all seasoned. We were seasoned riders before we started getting on rank bulls every weekend."
That isn't always the case nowadays, regardless of what country a bull rider is from.
Some riders are not fully developed when they get their first taste of competition at the PBR's premier level.
"How can you learn anything if you are getting dusted all the time?" Dunn asked. "Do those young fellows get that kind of confidence every kind of weekend before they get that confidence that high? It takes a long time to get that confidence up high."
Only time will tell how confident Team Australia will be at the 2019 WinStar World Casino & Resort Global Cup USA on Feb. 9-10 in Arlington, Texas.
The seven-man Australian squad will have the confidence in their back pocket of knowing they finished Sydney in second place – 0.75 points shy of a victory.
However, in the United States they will not have a seven-man rider advantage on the opposing countries as they are no longer the host country.
Therefore, the margin of error will be extra slim for Team Australia, who will have to rely on three of their national qualifiers to make an impact in Arlington.
As part of the 2019 PBR USA Ground Rules, Team Australia, Team Brazil, Team Canada and Team Mexico are required to fill three of their seven-man roster based on national standings qualifiers.
Team Australia announced on Wednesday that the team's three qualifiers are reigning PBR Australia champion Aaron Kleier, Jason Mara and Kurt Shephard.
The trio was selected via their combined finish in the national standings with points earned at events between August's bull riding in Newcastle, New South Wales, through the most recent stop this December in Adelaide.
They join Nathan Burtenshaw, Lachlan Richardson and Cliff Richardsonon the Australian squad. Dunn has yet to publicly announce his final coaches' selection.
RELATED: Kleier taking his time to develop
In Sydney, Kleier and Richardson – two of Australia's best – bucked off each of their first two bulls and finished 1-for-3.
Dunn expects Kleier, who is 2-for-5 in two Global Cup competitions, to have more confidence in Arlington than his first two Global Cups because of his Australian championship.
Kleier, 20, was only 19 years old when he made his North American debut at the Edmonton Global Cup last year.
"I have a great deal of faith in Aaron," Dunn said. "Winning Australia will really boost his confidence and belief."
Kleier led PBR Australia in 2018 with 46 qualified rides in 80 attempts (57.6 percent).
He won six events and had 20 Top-5 finishes on his march to his first Australian title.
"His parents own and supply bulls for PBR Australia, so I think his training is just riding bulls," Dunn said. "I personally think specific physical training is a huge benefit, and I am not sure if Aaron is a big one to work out at a gym, but I guarantee he'll be putting in the hours on the ranch, which can be really physical anyway."
The Clermont, Australia, native is the No. 1 bull rider in the early 2019 world standings courtesy of his 8-for-13 (61.54 percent) start to the season in Australia.
Kleier has previously turned down the opportunity to ride on the premier series the last two seasons after qualifying. Instead, he has opted to stay home.
Team Australia should be boosted in Arlington with the addition of Kurt Shephard.
Shephard missed the Sydney event because of a broken back (T12), which he sustained at the April Velocity Tour event in Wichita, Kansas.
The 24-year-old has nodded his head over 250 times on American soil and is a career 49.15 percent bull rider in Australia.
Shephard has gone 7-for-17 (41.18 percent) with five Top-5 finishes in Australia since returning to competition on Sept. 8.
Mara won the PBR Australia Melbourne Invitational on Dec. 1 and went 1-for-2 in Sydney. He is also the oldest rider on the team at 32 years old.
The Cloncurry, Australia, native has also qualified for the WCRA Windy City Round Up in Chicago on Jan. 11.
Fans can watch the $1 million rodeo exclusively on RidePass.
Mara says he is planning on competing in the United States more in 2019.
"I'm trying to get to a few more in the states this year hopefully," he said.