LOCAL BULLS AND RIDER SET TO STAR WHEN PBR RETURNS TO MACKAY NEXT MONTH
By: PBRA Tuesday, August 28, 2018 @ 9:25 AM
Highlights
PBR Monster Energy Mackay Invitational presented by DBCT - Queens Park, Saturday, September 8, 2018.
Mitch Paton (Nebo) will fly the flag for locals.
New PBR Stadium boasts a 3,500 capacity. Reserved seating selling FAST!
Bull riding star Mitch Paton (Nebo) will fly the flag for locals when the Professional Bull Riders (PBR) Monster Energy Tour: Mackay Invitational presented by Dalrymple Bay Coal Terminal hits Mackay on Saturday, September 8, 2018.
Currently on the comeback from injury, Paton will attempt to stay atop some of the best bulls from across Australia, including superstar bovines from top local stock contractor Dittmann Bucking Bulls.
Mackay will be a crucial stop leading into PBR Australia's Grand Finals in November, with Paton looking to use his hometown stop as springboard up the National Standings, where he currently sits just shy of the top 20.
"I had a shoulder reconstruction earlier in the year, as well as a broken wrist, so I missed nine months of riding which has put me behind in the rankings. If I can do well in Mackay, it will help me get back on track – and I'd love to do it in front of a hometown crowd," said Mitch Paton.
The 28 year-old bull rider come boilermaker grew up on a property at Nebo, and says his mum is responsible for both him and his younger brother Justin (current PBR Australia #5) getting into one of the most dangerous action sports on the planet.
"Mum signed Justin and I up to ride our first poddy calf when we were young, and we haven't looked back since. Dad rode bulls, and so do our cousins and uncles, so I guess it's in our blood. I've had lots of injuries, and both shoulders have had reconstructions, but bull riding is something I hope to keep doing for a few years yet. Representing Australia in the Global Cup in Sydney back in June was an awesome experience, and I hope there's more opportunities like that to come," added Paton.
Mitch's brother, Justin, who also represented Australia at the Global Cup, will miss the PBR Mackay Invitational due to competition commitments in the USA where he is currently trying to qualify for the PBR World Finals in Las Vegas.
On the other side of the fence is local stock contractor Jason Dittmann. "I'd love to see Mitch do well in Mackay….but then I also love to see my bulls get one up on riders," said larrikin Dittmann with a chuckle.
Dittmann is renowned in an industry that prides itself on going the extra mile to ensure its animal athletes are cared for and conditioned to perfection.
"Our bulls are like pets. I run them each afternoon for about 1 km – just as you would a pet dog. The difference is, I need a buggy to keep up with them – and I keep them along a soft conveyer belt fence so there's no barbs they can get caught on and hurt themselves. They know there's a good feed at the end of it, so they're usually pretty keen to run for me," explained Dittmann.
The feed Dittmann gives his prize bull team of 18 is a special nutritionally-balanced blend.
"Cattle King in Sarina have a nutrition program specifically for my bulls to keep them healthy and to bulk their weight. I hand-feed all 18 of my bulls 10 kg a day – so that's a tonne of feed every week. Then, they also get B12 injections and heaps of vitamins. I'm sure I take better care of them than I do my own diet at times," added Dittmann.
With a decorated team of bucking bulls in place, and 82 young bulls on his property at Bloomsbury near Mackay, Dittmann is looking to the future and starting his own breeding line.
"I want to continue to grow the business, and that's the next step. It's early days but I'm excited to see where it take us, and I hope to build a business that my kids might want to work in one day," said Dittmann, who also runs the Whisper Mining Company.
"Right now, things are run with a lot of help from my neighbours Kelvin Tippen and Kerry Bentley. I travel a lot for my mine work and, without them, I couldn't keep the bull business going."
The Dittmann bulls, including stars of the sport like POA Fully Locked & Loaded, Palooka and POA RayBan, will buck into a new venue and state-of-the-art mobile stadium when the Mackay Invitational hits Queens Park for its biggest and best ever local event.
"My bulls haven't been at a PBR event since the Global Cup in Sydney in June, so they're well rested and ready to compete.   The new stadium seating that PBR are bringing to Mackay means that anyone in the crowd is only ever about 14 metres away from all the action, so we're all looking forward to seeing the new set-up on home turf," said Dittmann.
The new stadium boasts a 3,500-capacity, which includes seating for 2,500 and 18 arena-side corporate boxes.
It also features a custom-built mega screen to take the audience behind-the-scenes – inside the bucking chutes – and to give slow motion replays for each ride, as well as the infrastructure needed to host a full after-party event headlining DJ Buxe with a rock concert backdrop.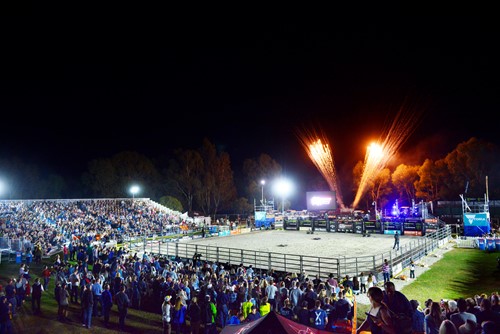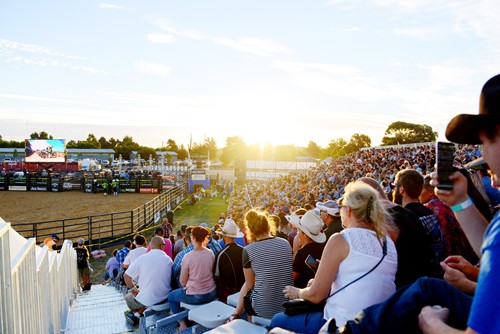 It's time to buckle up Mackay! Tickets available NOW.