The son of a boxer, Schafferius fighting his way back
By: PBRAdmin Sunday, June 25, 2017 @ 4:00 PM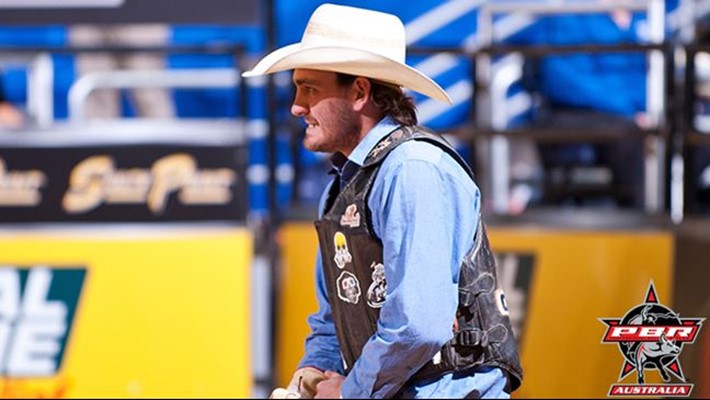 The Built Ford Tough Series certainly knocked Sonny Schafferius down multiple times this season, but the son of a boxer knows that you never stay down on the mat for too long.
Schafferius was relegated from the BFTS following his 10th consecutive buckoff this past March, but the 28-year-old rookie returned home to Australia after his visa expired with every intention of getting back to the BFTS before season's end.
The Dysart, Australia, native helped his case big time by going 4-for-5 and winning the Mount Isa PBR Australia Touring Pro Division event last weekend.
Schafferius sealed the victory with an 80.5-point ride on Ricky Bobby to earn 60 points toward the world standings.
The No. 37 ranked rider in the world standings is now only 25.41 points behind No. 35 J.W. Harris.
Meanwhile, No. 36 Reese Cates underwent surgery for a broken arm on Tuesday morning and will be out for 12 weeks.
"It was important," Schafferius said. "Moved me up in the Australian standings, as well as the world. That's what I've set out to do this year is win the Australian title and make the World Finals."
Schafferius is currently second in the PBR Australia national standings with three events remaining until the PBR Australia Finals on July 22.  He trails PBR Australia No. 1 Aaron Kleier by 20 points.
2017 has been Schafferius' first full season in the PBR.
He competed in four PBR Australia events last year after primarily focusing on competing in the Australian Pro Rodeo Association.
Schafferius used two PBR Australia victories this past fall to propel him to his first BFTS event when he made his debut in Kansas City on Feb. 11. He went on to compete in four more BFTS events and bucked off all 10 of his opponents.
Schafferius stayed in the United States, competing at Real Time Pain Relief Velocity Tour events, until March.
He was a combined 4-for-19 at events on American soil, but his 62.07-percent riding average (18-for-29) in PBR Australia events has him still on the cusp of being in the Top 35 after a rough first go-around in the U.S.
"It felt great to make the Top 35," Schafferius said. "It was a goal I set for myself at the start of the season last year before heading over. Coming home, even though my visa was up, made me hungrier to get back and stay on tour.
"I am thankful I got a shot."
Schafferius has continued to compete in APRA events this year, as well, and is seventh in those standings.
"Yeah, I got straight back into it after getting home," he said. "I'm doing PBR's and Pro Rodeos. I got run over a couple times a couple weeks ago, but just a few bumps and bruises."
Schafferius grew up in a small town of roughly 3,000 people in Central Queensland, Australia, and followed in the footsteps of his older brother, Tad, and attempted his first steer when he was 6 years old.
"We were a Western-style family," Sonny explained. "Country folk. Country people. My older brother rode bulls so I followed him riding steers, junior bulls and now bulls here."
Their grandfather was a bull rider, but their father, Shane, was a prizefighter in Queensland.
"My dad was a boxer and fought for 10 years," Sonny said. "He was a champion in his region."
Sonny laughs when asked if he ever thought about giving up his bull rope for a pair of red boxing gloves.
At 5-foot-11 and 184 pounds, Sonny may be a closer to the size of a boxer than a bull rider.
Still, he never even seriously considered boxing outside of a few jabs at a punching bag.
Sonny didn't chase chickens around in the backyard to get in shape or do any other Rocky Balboa type of exercises for his bull riding career, either.
"I don't like fighting," Schafferius said. "My (dad) made me a run a lot on the road and stretch. I maybe hit the bag a little. I would mess around and stuff, but nothing serious."
Sonny honed his bull riding skills by riding on horseback and bareback on the outskirts of town. He then competed with some of his childhood pals on the Dysart High School rodeo team.
Like most American bull riders, Sonny looked up to two-time World Champion Justin McBride, as well as Jim Sharp.
McBride qualified for the PBR World Finals 10 consecutive years.
Schafferius hopes 2017 will be his first.
"Yeah, (I'm) looking at coming back after our PBR (Australia) Finals," Schafferius said. "Not sure on a date yet. (My visa) is in the works now of getting sorted out."