THE SWEETEST BULL OF THE PBR HEADS TO GRAFTON
By: PBRAdmin Friday, August 4, 2017 @ 11:00 AM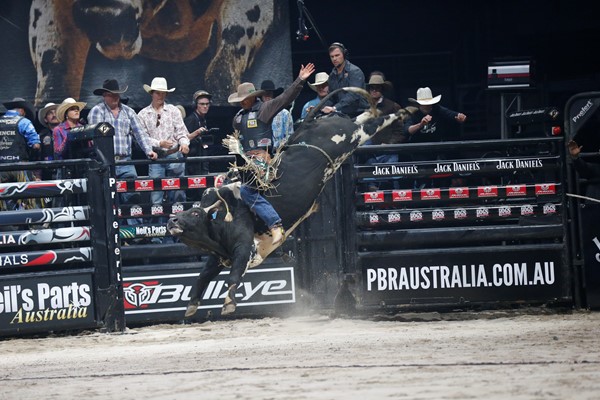 GRAFTON, NSW – One of the largest athletes of the sport will feature Saturday September 2 at Grafton Showgrounds. He may not be the sweetest bull in the game, but Cookies n Cream owned by Dan Klabe is heading into town to make himself known. 
Cookies n Cream made his PBR debut in Tamworth last year and remained unridden until the PBR Australia National Finals at Sydney in July.  Mexico's Jorge Valdiviezo rode him for a whopping 88.50 points in round one.
"This bull made a solid impression on his debut performance last year," PBR general manager Glen Young said.
"However he was even more impressive at the Sydney National Finals in July, where he was the third highest marked bull at the event," Mr Young said.
"He is going from strength to strength with each out he has, yet it is the explosive action of this bull that will see him as one of the top ten bulls in the Championship Round in Grafton plus a bull that most contestants will be hoping to draw, as he will undoubtedly take you straight to the pay window - if you can get him covered."
Bulls account for half of a rider's score, and so cowboys typically want to be paired against the toughest ones. They're very much a part of it. If you don't have a strong enough bull, you're not going to place, or someone is going to place ahead of you. 
The PBR is fully committed to ensuring the health, safety, welfare and respect of the animal athletes in the sport. The care and treatment of PBR bulls is a top priority for the organisation, and operate under a zero tolerance policy for any mistreatment of an animal associated with the PBR.
Every seat at the Grafton Showgrounds will be prime viewing and the big screen displays, live visual and replays, will ensure not one piece of the action is missed.
This is the toughest sport on dirt and no wonder why when the objective is to ride 800 kilos of pure athlete.
Gates open at 5:00 pm with the main event at 7:00pm on Saturday, September 2. Three hours of gripping man versus beast action will have you on the edge of your seats. But it doesn't stop there, be sure to pack your dancing shoes as the bull ride will be followed by live music by the sensation rock band, Occarock until late.
Tickets are now on sale, head to pbraustralia.com.au or visit The Daily Examiner office at 55 Fitzroy Street.