Kurt Shephard Aspiring for Comeback at PBR Cairns Invitational
By: Georgie Desailly Friday, March 11, 2022 @ 12:08 PM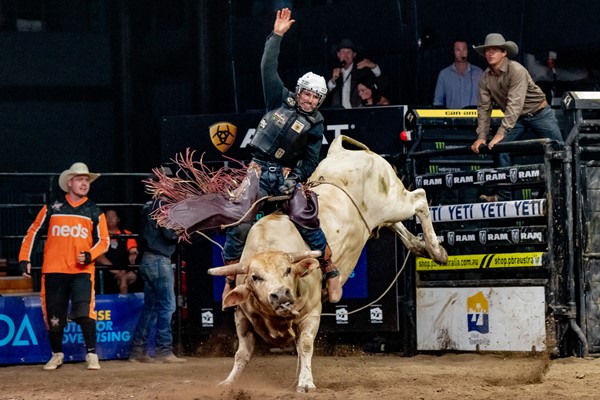 Tickets are now on sale for one of Far North Queensland's premier sporting events, the Monster Energy PBR Cairns Invitational, which will transform the Cairns Convention Centre into a world-class bull riding arena on July 16.
Riders will go-head-to-head at the Cairns Invitational to determine the supreme bull riding powerhouse, with the event also set to see Mareeba PBR rider, Kurt Shephard, make his comeback on home soil after a neck injury last month has him temporarily ruled him out of the competition.
Mr Shephard, who has been one of the nation's most consistent riders, says he is "biting at the bit" to get back into the competition, particularly since the Cairns Invitational offers essential bonus points that will provide him with the opportunity to make up for lost ground.
"Slow and steady at the moment but hoping to definitely be back by the Cairns event," says Mr Shephard.
"But it's all about consistency. Once I come back, just need to consistently show up every weekend and ride every bull I get on and try and take advantage of the events I do get to go to."
Prior to his injury, Mr Shephard dominated the dirt at the Monster Energy Tour's PBR Rockhampton Invitational on New Year's Eve, which secured his spot as the current No.3 in the 2022 National Standings. 
Mr Shephard says he is hoping to leverage off his home advantage to pull off an event win and surge him back in the race for the coveted Monster Energy PBR Australia Championship title in November.
"There is a lot of family and friends that do come and watch (in Cairns) and it's always that bit louder cheer for you, so it's pretty cool and a nice feeling," says Mr Shephard.
"I always hope to do better than the previous season. I've had a bit of a slow start this year, but I'll try and go hard and do as good as I can." 
PBR General Manager, Glen Young, says the Cairns PBR Invitational is always a rousing success, and with international borders now opening, they're looking forward to bringing back some international flavour to the event.
"Considered as one of Australia's top tourist locations, Cairns would have to be one of the most picturesque locations where we stage a PBR event," says Mr Young.
"The town has always embraced the Cairns Invitational and we are proud that this is one of our key destination events for PBR fans worldwide."
Mr Young says the Cairns invitational will play a crucial role in determining who will qualify for the Monster Energy PBR Australia Grand Finals in Townsville in November, which is the richest bull riding event not only in Australia but in the entire southern hemisphere.
"Season-long, riders will have had the opportunity to compete across Australia at more than 20 events, spanning the Monster Energy Tour and Touring Pro Series, to earn points towards the Australian National Standings," explains Mr Young. 
"All up, at the Monster Energy PBR Australia Grand Finals, over $120,000 in riders prize money and bonuses will be up for grabs combined with another $70,000 in bull bonuses and buckout fees for our stock contractors.
"With only fourth months separating the Cairns Invitational and the Monster Energy PBR Australia Grand Finals, and bonus points up for grabs at this event, the Cairns invitational has the potential to really shake up the national standings.
"We're looking forward to bringing the PBR back to Cairns again, where the support is unwavering and the atmosphere is always electric, so encourage fans to book early to secure their seat for this fantastic event."

Tickets for the Monster Energy PBR Cairns Invitational are now on sale.