Missouri Thunder Narrowly Defeat Austin Gamblers with Crucial Ride from Petri
By: Kacie Albert Saturday, June 25, 2022 @ 1:16 PM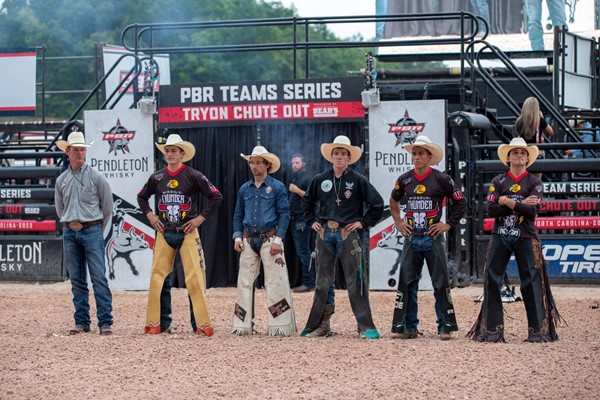 TRYON, N.C. - As the inaugural preseason for the PBR (Professional Bull Riders) Team Series continued in Tryon, North Carolina, at the Tryon Chute Out, the world's best bull riders showed up and showed out in fiercely contended games all evening long.
With the game decided by less than one point in the aggregate, the Missouri Thunder narrowly bested the Austin Gamblers 85.75-85.
"Well, we won today," said Missouri Thunder Head Coach Ross Coleman. "We'll take it any way we can get it. I'll tell you what, our guys had a little bit of hell today in the riding department, but Petri pulled through, and he made a good ride. Happy to have a win."
After each team logged a buckoff in its opening out, Dakota Louis (Browning, Montana) was first to strike, giving the Austin Gamblers an early 85-point lead as he reached the requisite 8 atop Hard Labor (Addi Drury/Nothin' But Try Ranch/Diggers). Eager to rebound, the Missouri Thunder could not deliver an immediate response as Leandro Machado (Nova Esperanca, Brazil) was bucked off by Hey Bartender (JQH Bucking Bulls-Skip & Elaine Jones) in a swift 1.72 seconds. While neither Conner Halverson (Gordon, Nebraska) nor Callum Miller (Warwick, Queensland, Australia) were successful against their draws, the game was decided in the next set of outs. Ezekiel Mitchell (Rockdale, Texas) was bested by Side Street Stepper (Blake Sharp/Floyd Lowery), but Jesse Petri (Dublin, Texas) reignited the Missouri Thunder's fuel to win. Matching Major Nelson (UTC/Sellers Bucking Bulls) jump-for-jump, fifth-round draft pick Petri was scored a crucial 85.75 points. As the Missouri Thunder pulled ahead by a mere 0.75 points, the Austin Gamblers' chances of winning were left in the hands of Elijah Mora (Wiggins, Colorado). Despite appearing in control, Mora was ultimately bested by Keep 'em Guessin (UTC/Sellers Bucking Bulls) in 5.79 seconds, cementing the win for the Missouri Thunder. With Nate Hoey (Montrose, Colorado) unable to convert, the final scoreboard read 85.75-85, earning the Missouri Thunder the team's second preseason win. When competition for the PBR Team Series preseason event in North Carolina continues, the Missouri Thunder will seek their second win when they play the Kansas City Outlaws, and the Austin Gamblers will attempt to rebound versus the Texas Rattlers.
The PBR Tryon Chute Out Team Series Preseason Event continues Saturday, June 25 at 7 p.m. ET.