Callum Miller Returns to Missouri Thunder Roster for Second Team Series Preseason Event in Tryon, North Carolina
By: Kacie Albert Friday, June 24, 2022 @ 2:36 PM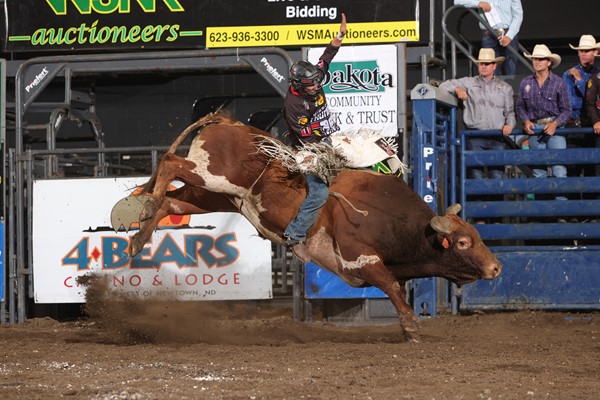 TRYON, N.C. – Ahead of the opening night of games for the PBR (Professional Bull Riders) Team Series second 2022 preseason event in Tryon, North Carolina on June 24-25, the starting lineups have been announced for each of the eight competing teams.
When the preseason continues in Tryon, North Carolina, the game matchups for Friday, June 24 are:
Arizona Ridge Riders vs. Nashville Stampede
Austin Gamblers vs. Missouri Thunder
Kansas City Outlaws vs. Texas Rattlers
Carolina Cowboys vs. Oklahoma Freedom
After making a splash for the Thunder at the opening preseason event in Bismarck, North Dakota, Aussie sensation Callum Miller (Warwick, Queensland) will return to the lineup for the Missouri team in their game against the Austin Gamblers. He will match up with Church Bells.
In Bismarck, as the Thunder faced off against the Cowboys, after Miller covered his bull, the Australian sensation was tapped to represent the Missouri Thunder in the bonus round. Matched with Two Socks (Dakota Rodeo/Mark Baker/Clay Struve/Chad Berger), Miller matched the animal athlete jump-for-jump en route to an 89.25-point score, the second-best of the Bonus Round.
The PBR Team Series revolutionizes the sport of bull riding, as riders compete via teams for a national championship to be awarded in November in Las Vegas. The league is comprised of eight founding teams: the Arizona Ridge Riders, Austin Gamblers, Kansas City Outlaws, Missouri Thunder, Nashville Stampede, Oklahoma Freedom, Texas Rattlers and the Carolina's own Carolina Cowboys.
During the preseason event in Tryon, each of the eight founding teams for the PBR Team Series are competing in a head-to-head, five-on-five bull riding game each day of competition. The team with the highest aggregate score will be the game winner, and ties will be allowed. Following the team's initial game on Friday, the same process will be repeated on the second night of competition, with each team facing a new opponent. While the rosters have been set for their first game on June 24, teams have the ability to change their roster on the second day of action.
Following the second round of games, the final day of the preseason event will feature a Bonus Round with each team selecting one rider attempting one more bull. This rider does not have to be one of the five riders who competed earlier in his team's respective games and instead can be an alternate (bench) rider. The Bonus Round is independent of the results of that weekend's previous games and only applies to the overall event standings in the case of a tie. Teams receive bonus points based on their rider's placement in the Bonus Round: 1st (8 points), 2nd (7 points), 3rd (6 points), 4th (5 points), 5th (4 points), 6th (3 points), 7th (2 points), 8th (1 point). Teams will be placed via ride score and then buckoff time. 
The overall event-winning team at each preseason stop will be the team with the best overall win-loss record. In the event of a tie in the event standings, a team's bonus points will be the first tiebreaker. If there is still a tie, the second tiebreaker will be the team's total aggregate score from its two games. The next and final tiebreaker will be combined buckoff time from a team's games.  
The starting lineups for the opening round of games in Tryon are:
| | |
| --- | --- |
| Arizona Ridge Riders | Nashville Stampede |
| Alisson De Souza (Taubate, Brazil) | Fernando Henrique Novais (Pereira Barreto, Brazil) |
| Tyce Willis (Alvord, Texas) | Mason Moody (Letcher, South Dakota) |
| Koltin Hevalow (Smithville, Missouri) | Thiago Salgado (Navirai, Brazil) |
| Ross Freeman (Kountze, Texas) | Aaron Williams (Pismo Beach, California) |
| Josh Steele (Stephenville, Texas) | Jaxton Mortensen (Coolidge, Arizona) |
| | |
| --- | --- |
| Austin Gamblers | Missouri Thunder |
| Austin Richardson (Dallas, Texas) | Callum Miller (Warwick, Queensland, Australia) |
| Conner Halverson (Gordon, Nebraska) | Colten Fritzlan (Rifle, Colorado) |
| Dakota Louis (Browning, Montana) | Jesse Petri (Dublin, Texas) |
| Elijah Mora (Wiggins, Colorado_ | Leandro Machado (Nova Esperanca, Brazil) |
| Ezekiel Mitchell (Rockdale, Texas) | Nate Hoey (Montrose, Colorado) |
| | |
| --- | --- |
| Kansas City Outlaws | Texas Rattlers |
| Bob Mitchell (Steelville, Missouri) | Ednelio Almedia (Cacoal, Brazil) |
| Dustin Martinez (Canjilon, New Mexico) | Rafael Jose de Brito (Potirendaba, Brazil) |
| Cole Melancon (Sour Lake, Texas) | Ednei Caminhas (Indaiatuba, Brazil) |
| Tate Pollmeier (Fort Scott, Kansas) | Jake Morinec (Mokena, Illinois) |
| Marcus Mast (Middlebury, Indiana) | Marco Juarez (Anthony, New Mexico) |
| | |
| --- | --- |
| Carolina Cowboys | Oklahoma Freedom |
| Cannon Cravens (Porum, Oklahoma) | Trevor Kastner (Ardmore, Oklahoma) |
| Nathan Hatchel (Hennessey, Oklahoma) | Deklan Garland (Foster, Oklahoma) |
| Lane Nobles (West, Texas) | Eli Vastbinder (Statesville, North Carolina) |
| Cody Casper (Newport, Washington) | Briggs Madsen (Tremonton, Utah) |
| Boudreaux Campbell (Crockett, Texas) | Dawson Branton (Jefferson, Oregon) |
As the preseason event continues Saturday, June 25, the game matchups are:
Missouri Thunder vs. Kansas City Outlaws
Oklahoma Freedom vs. Arizona Ridge Riders
Texas Rattlers vs. Austin Gamblers
Nashville Stampede vs. Carolina Cowboys
Action for the PBR Tryon Chute Out Team Series Preseason event begins at 8:00 p.m. ET on Friday, June 24 and 7:00 p.m. ET on Saturday, June 25.
Stay tuned to PBR.com/teams for the latest event results, roster updates and more.