PBR Australia Travels to Tamworth, New South Wales April 23 for Second Leg of 2022 Origins Event as Team Queensland and Team New South Wales Battle for Bull Riding Supremacy
By: Kacie Albert Saturday, February 12, 2022 @ 9:58 PM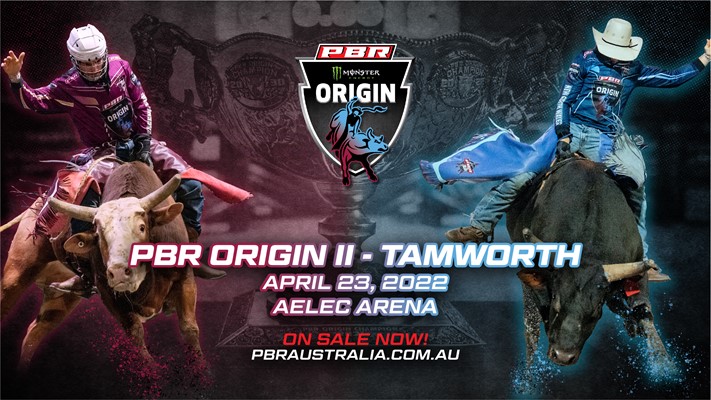 In 2022, for the third time in history, PBR (Professional Bull Riders) Australia will again stage its highly anticipated state vs. state Origin tournament, pitting Team Queensland head-to-head against Team New South Wales in a three-part series to determine which state is the supreme bull riding powerhouse. The second installment of the western sports showdown will be held April 23 in Tamworth, New South Wales, at AELEC Arena.
Modeled after the State of Origin rugby event, considered Australian sport's greatest rivalry, the PBR Origin tournament has been held twice prior. In 2022, more than $45,000 and crucial national points awarded to the competing athletes are on the line.
PBR Australia held its first Origin event in 2019, when Team Queensland (682.5 points) defeated Team New South Wales (428.5 points) inside Sydney's ICC Theatre. The iconic tournament was once again held in 2021, expanding to its current three-event format, with Team Queensland again dominating, sweeping their rivals in back-to-back events.
For each iteration of the 2022 PBR Origin, each team will be comprised of 10 riders, including a Captain, who will be announced in the coming weeks.
While the Captain will ride at each of the three events, the remaining nine positions will be filled based on world and national standings at preselected dates throughout the season. The PBR Origins Champion will be the team that wins two or more events in the series.
The 2022 PBR Origin event will get underway in Newcastle, New South Wales on March 26 at Newcastle Entertainment Centre. Following PBR Origin II in Tamworth, the event will conclude with PBR Origin III on May 21 in Brisbane, Queensland at Brisbane Entertainment Centre.
Historically, the PBR last travelled to Tamworth in Nov. 2019 as Brady Sims (Holt, Missouri) rode to the event win at the Tamworth Iron Cowboy. Outlasting the other 27 competing riders, the American cowboy parlayed an 83.5-point score atop Wrangler's Volatile (Kasper Bucking Bulls) in the championship round into his 14th career PBR event victory across all levels of competition.
Justin Paton (Nebo, Queensland) was the last Australian to claim the title of Tamworth Iron Cowboy, earning the title in 2018. The Queensland native rode to the golden finish compliments of an 81-point score on Western Ways (Diamond S Bucking Bulls/Brian Scott), an 83.5-point effort aboard Super Natural (Colin Fry), and a clutch 88-point ride atop POA Palooka (Dittmann Bucking Bulls) to cement the victory.
In both 2009 and 2010, Tamworth hosted the season-culminating PBR Australia Grand Finals, won by Rocky McDonald (Chihuahua, Mexico) and Ben Jones (Goulburn, New South Wales), respectively.
Other past winners at PBR events in Tamworth include: Lucas Divino (2018 – Nova Crixas, Brazil), Matt Triplett (2017 – Columbia Falls, Montana), Cristiano Cunha (2016 – Santa Rita do Passo Quatro Brazil), Dave Mason (2015 – Bulahdelah, New South Wales), Jared Farley (2014 – Kempsey, New South Wales), Nathan Burtenshaw (2013 – Coonamble, New South Wales), Lachlan Slade (2013 – Tamworth, New South Wales), David Kenney (2012 – Kyogle, New South Wales), and Beau Willis (2012 – Bowen, Queensland). 
The bull riding action for PBR Origin II – Tamworth begins at 7:30 p.m. AEDT on Saturday, April 23 at AELEC Arena. The event will feature three rounds of competition. After each of the 10 competing bull riders for both teams attempt one bull each in Round 1 and Round 2, the Top 4 riders from each team will advance to the bonus round for one final out. The event winner will be the team with the highest combined score in the event aggregate.
In addition to vying the title of PBR Australia Origin Champion and their share of the event purse, riders will also be competing for points towards the Australian national standings and broader PBR World standings.
Tickets for the PBR Origin II – Tamworth go on sale Friday, February 11, starting at $47, standard fees may apply, and can be purchased at pbraustralia.com.au.  
All future PBR Australia events are subject to change, planned in accordance with directives issued by relevant government and health authorities given the evolving regulations during the COVID-19 (coronavirus) pandemic.