Brady Fielder Wins PBR Rockhampton Invitational to Further Stronghold on No. 1 Rank in the Australian National Standings
By: Kacie Albert Saturday, February 12, 2022 @ 12:21 PM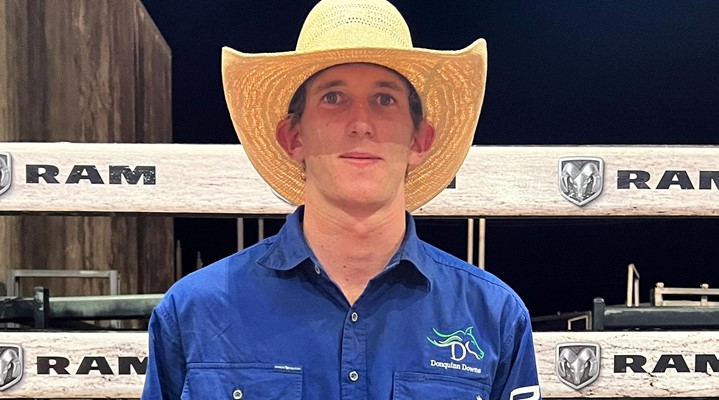 ROCKHAMPTON, Qld. – Seeking his first PBR Australia Championship in 2022, Brady Fielder's (Clermont, Queensland) dominant campaign continued Saturday evening as the elite Monster Energy Tour returned to Rockhampton, Queensland, and the Great Western Hotel for the second time this season. Delivering the high-marked ride of the PBR Rockhampton Invitational, Fielder clinched his second consecutive event win, furthering his stronghold on the No. 1 rank in the national standings.
While Fielder's event began in less-than-ideal fashion, bested by Territory Ringer (Troy Keliher) in a hard-fought 6.55 seconds in Round 1 and by Black Tuxedo (Peter Wallace) in a swift 3.31 seconds in Round 2, the resilient cowboy returned determined in the championship round.
Drawing Freckles Brown (Peter Wallace), Fielder matched the powerful animal athlete for an event-best 87.5 points, propelling him to the top of the event leaderboard.
Fresh off his third selection to Team Australia for the prestigious 2022 PBR Global Cup USA, scheduled for March 5 in Arlington, Texas, at AT&T Stadium, Fielder's latest golden effort earned him 65 national points.
Fielder extended his lead atop the race for the 2022 PBR Australia Championship, now 76.5 points ahead of No. 2 Cody Heffernan (Singleton, New South Wales).
Heffernan parlayed his own 8-second effort in the championship round into a runner-up finish, garnering 52 national points.
The 2016 PBR Australia Champion earned the silver result after covering King Kong (Fred Kleier) for 87 points.
Also recently named to the Team Australia contingent for the 2022 PBR Global Cup USA, Heffernan overtook an injured Kurt Shephard (Mareeba, Queensland) for the No. 2 rank.
Third was Round 2 winner Bailey Woodard (Dingo, Queensland).
Woodard rode Cursor (Peter Wallace) for a commanding 84.5 points to earn 45 national points.
Unranked prior to the tour stop, Woodard is now No. 5 in the nation, 147.5 points behind No. 1 Fielder.
As the only other contender to make the 8, Round 1 winner Kelsey Pavlou (Toora, Queensland) was fourth, taking home 35 national points.
Pavlou's 82-point ride aboard Midnight Hour (MJ/Keliher Bucking Bulls) propelled him from No. 5 to No. 3 in the national standings. He is now within 115.5 points of the top position.
Surrendering just four qualified rides, the bull power at the PBR Rockhampton Invitational was unmatched. 
Scored 45.5 points in the championship round, Roid Rage (Dittmann Bucking Bulls) was the high-marked Bull of the Event. He earned the dominant marks after besting Woodard in a quick 2.5 seconds in the championship round.
The PBR Australia Monster Energy Tour next travels to Mildura, Victoria, on Saturday, February 19. Action for the PBR Mildura Invitational will begin at 7:00 p.m. AEDT.
PBR Australia Monster Energy Tour
PBR Rockhampton Invitational
Great Western Hotel – Rockhampton, Queensland
Event Leaders (Round 1-Round 2-Round 3-Event Aggregate-National Points)
1. Brady Fielder, 0-0-87.5-87.50-65 Points.
2. Cody Heffernan, 0-0-87-87.00-52 Points.
3. Bailey Woodard, 0-84.5-0-84.50-45 Points.
4. Kelsey Pavlou, 82-0-0-82.00-35 Points.
Lawson Nobbs, 0-0-0-0.00
Lane Mellers, 0-0-0-0.00
Caiden Sandilands, 0-0-0-0.00
Dan Ruhland, 0-0-0-0.00
Taran Chirgwin, 0-0-0-0.00
Wyatt Milgate, 0-0-0-0.00
Harry Bridges, 0-0-0-0.00
Joey Buckingham, 0-0-0-0.00
Brumby Brandenburg, 0-0-0-0.00
Eli Toby, 0-0-0-0.00
Luke Smith, 0-0-0-0.00
Ben Moran, 0-0-0-0.00