Lachlan Richardson Wins Round 1 of PBR Australia Monster Energy Tour Event in Toowoomba, Queensland
By: Kacie Albert Friday, April 8, 2022 @ 9:21 AM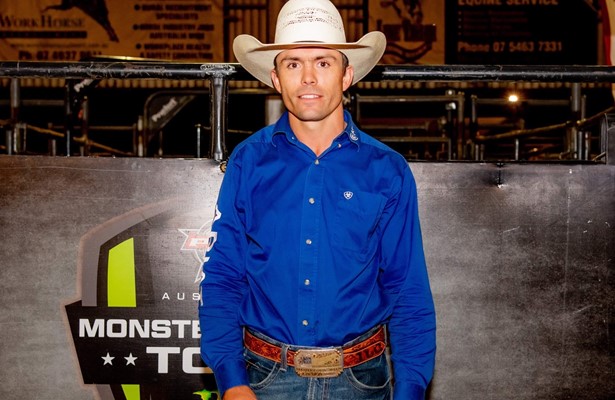 TOOWOOMBA, Qld. – In front of an electric crowd Friday night at the Toowoomba Showgrounds, no rider was more dominant than seven-time PBR (Professional Bull Riders) World Finals qualifier Lachlan Richardson (Gresford, New South Wales). As one of seven contenders to deliver a qualified ride, Richardson's score reigned supreme, earning him the Round 1 win at the PBR Australia Monster Energy Tour's Toowoomba Invitational at Meatstock.
Richardson was a picture of perfection aboard Holy Poly (Peter Wallace), matching the animal athlete jump-for-jump en route to an 85.5-point score.
In addition to propelling him to the event lead, Richardson earned 15 national points, allowing him to crack the Top 10 in the race for the 2022 PBR Australia Championship. Now ranked No. 8 in the nation, Richardson is within 135.5 points of No. 1 Brady Fielder (Clermont, Queensland).
In Round 2, Richardson will look to continue his quest for his first event win of 2022 when he climbs aboard Fast & Furious (ST Bucking Bulls).
Qynn Andersen (Koumala, Queensland) was second, netting 12 national points.
Fresh off an electric performance at PBR Origin I – Newcastle where he helped lead Team Queensland to victory, Andersen continued his chart-topping ways, covering Seven Eleven (Peter Wallace) for 84 points.
While the 18-year-old young gun remained No. 3 in the standings, he climbed within 54.5 points of the top position.
Andersen has drawn Foot Rots (BK Bucking Bulls) when action continues Saturday afternoon with Round 2.
Third was 2016 PBR Australia Champion Cody Heffernan (Singleton, New South Wales).
Heffernan went the distance atop Night Fury (ST Bucking Bulls) for an 83-point score, garnering him 9 national points.
Seeking his second PBR Australia Championship, Heffernan solidified his No. 2 rank, now within 12.5 points of overtaking the No. 1 position.
The Team New South Wales captain for the 2022 PBR Origin tournament has drawn Holy Poly in the second round.
Tying for fourth was Will Purcell (Merrijing, Victoria) and Nathan Burtenshaw (Coonamble, New South Wales), each registering 82.5-point scores.
Purcell covered Rifleman (BK Bucking Bulls) and Burtenshaw bested Houston Calling (Ruhland Ranch Bucking Bulls), to each collect 5 national points.
In Round 2, Purcell will attempt Slink E Malinki (JD Bucking Bulls), and Burtenshaw will face Pied Piper (Ruhland Ranch Bucking Bulls).
Two additional riders also registered scores in the opening round of the PBR Australia Monster Energy Tour stop in Toowoomba.
Kelsey Pavlou (Toora, Queensland) rode White Weapon (Ruhland Ranch Bucking Bulls) for 80.5 points to finish sixth, and Ben Moran (Yeppoon, Queensland) covered Rip Slinger (MJ/Keliher Bucking Bulls) for 78.5 points to finish seventh.
Action for the PBR Toowoomba Invitational at Meatstock will continue on Saturday, April 9. Round 2 will get underway at 12:30 p.m. AEST, and Round 3 and the championship round will begin at 4:30 p.m. ASET.
PBR Australia Monster Energy Tour
PBR Toowoomba Invitational at Meatstock
Toowoomba Showgrounds – Toowoomba, Queensland
Event Leaders (Round 1-Round 2-Round 3-Round 4-Event Aggregate-National Points)
1. Lachlan Richardson, 85.5-0-0-0-85.5-15
2. Qynn Andersen, 84-0-0-0-84-12
3. Cody Heffernan, 83-0-0-0-83-9
4. Will Purcell, 82.5-0-0-0-82.5-5
(tie) Nathan Burtenshaw, 82.5-0-0-0-82.5-5
6. Kelsey Pavlou, 80.5-0-0-0-80.5-3
7. Ben Moran, 78.5-0-0-0-78.5-2
Aaron Kleier, 0-0-0-0-0.00-0
Beau Willis, 0-0-0-0-0.00-0
Brumby Brandenburg, 0-0-0-0-0.00-0
Chris Wilson, 0-0-0-0-0.00-0
Braith Nock, 0-0-0-0-0.00-0
Michael Smith, 0-0-0-0-0.00-0
Lachlan Slade, 0-0-0-0-0.00-0
Caiden Sandilands, 0-0-0-0-0.00-0
Jackson Gray, 0-0-0-0-0.00-0
Brody Woodard, 0-0-0-0-0.00-0
Jono Couling, 0-0-0-0-0.00-0
Joey Buckingham, 0-0-0-0-0.00-0
Oscar Leake, 0-0-0-0-0.00-0
Toby Leake, 0-0-0-0-0.00-0
Clay Hall, 0-0-0-0-0.00-0
Bryn Francis, 0-0-0-0-0.00-0
Steven Carter, 0-0-0-0-0.00-0
Lane Hindmarsh, 0-0-0-0-0.00-0