Three-Time Australian Champion Aaron Kleier Inches Closer to PBR History with Monster Energy Tour Victory in Mackay
By: Kacie Albert Saturday, October 9, 2021 @ 11:46 AM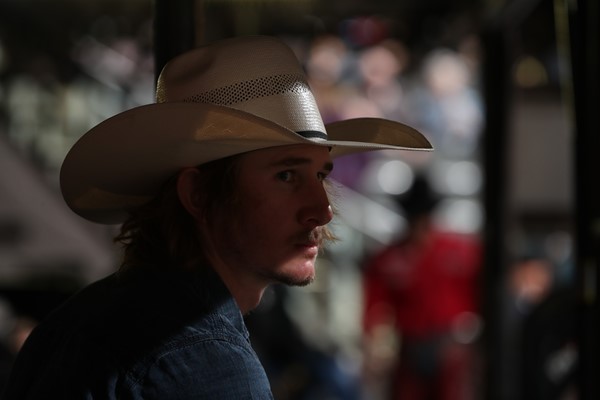 MACKAY, Qld. – In front of a raucous crowd at BB Print Stadium Saturday evening, three-time, and reigning, PBR (Professional Bull Riders) Australia Champion Aaron Kleier (Clermont, Queensland) inched closer to league history. Backed by a dominant, Round 1-winning ride, Kleier won the PBR Mackay Invitational, presented by Kent Hire, furthering his stronghold on the No. 1 ranking in the race for the 2021 PBR Australia Championship.
Attempting to make history in 2021, should Kleier win the national title an unprecedented fourth consecutive time, the Queensland sensation would tie David Kennedy (Kyogle, New South Wales) for most Australian national titles won by one rider in league history. Kennedy topped the national standings in 2009-2010, 2012 and 2014.
Kleier surged to the golden-finish in his home state after covering Meet Ya Maker (Brandenburg/MJ Bucking Bulls) for an event-best 84.5 points in the opening round of competition.The qualified ride was the second of Kleier's career aboard the powerful bovine athlete.
The duo first went head-to-head this May during the Touring Pro Division held in tandem with the North Queensland Elite Junior Rodeo. Kleier finished second in Round 1 of the event after covering Meet Ya Maker for 86 points en route to a third-place overall finish at the tour stop.
As the event continued, Kleier was unable to accept his re-ride after Red Flash (Fred Kleier) fell, sustaining an injury during the out which relegated him to the sidelines.
Kleier's opening round score, however, was enough to clinch the Clermont-native his league-leading third event win of the year. Kleier is also now tied for most round wins by one rider in 2021 with four.
For his efforts Kleier earned a critical 65 Australian points, allowing him to extend his lead atop the national standings. Kleier now leads No. 2 Kurt Shephard (Mareeba, Queensland) by 136.33 points.
On the spurs of his event win last weekend in Rockhampton, Shephard was unable to keep pace with Kleier in Mackay, going 1-for-2 to finish seventh. After decimating Kleier's lead last weekend to a mere 84.33 points, Shephard lost ground in Mackay, earning just 13 national points.
Shephard began the PBR Mackay Invitational, presented by Kent Hire, in less-than-ideal fashion, dispatched by Flyin Hippie (Peter Wallace) in 3.78 seconds.
The World Finals qualifier, however, returned composed in Round 2, going to distance atop Drag Iron (Dunne Bulls) for 82.5 points. The score avenged a buckoff from the 2020 season when Drag Iron bucked off Shephard in 6.22 seconds in Beaudesert, Queensland.
Troy Wilkinson (Upper Horton, New South Wales) rode to his third consecutive Top-10 finish at BB Print Stadium, concluding the electric night of competition a season-best second. He tied for runner-up alongside Queensland contender Joshua Jones (Kingaroy, Queensland).
Going 1-for-2, 2017 PBR Australia Champion Wilkinson clinched the silver finish courtesy of a Round 2-winning, 84-point ride aboard Roam Aviation High Risk (Dunne Bulls). Jones delivered his matching score in the opening round of action, covering Bang and Grind (Fred Kleier).
Wilkinson left Mackay having earned a crucial 50 national points. After travelling to the event ranked No. 19 in the Australian standings, Wilkinson surged seven positions to No. 12. He is now within 355.33 points of No. 1 Kleier.
For Jones, he collected 47 points, propelled from unranked to No. 16 in the race for the 2021 PBR Australia Championship which will come to a climatic end Nov. 26-27 at the PBR Australia Grand Finals in Townsville, Queensland at the Townsville Entertainment & Convention Centre.
Rounding out the Top 5 was reining PBR Australia Grand Finals event winner Brady Fielder (Clermont, Queensland), Caiden Sandilands (Rockhampton, Queensland) and Qynn Andersen (Koumala, Queensland) who all tied for fourth compliments of matching 83-point rides.
Sandilands and Andersen registered their scores in Round 1, making the 8 aboard Bad Moon (Dunne Bulls) and Chilli Hit (Fred Kleier), respectively, to each earn 19.16 national points.
Fielder brought the Mackay crowd to its feet in Round 2 when he outlasted Random Assault (Dunne Bulls), collecting 23.66 national points.
In the heated battle for the season's national championship, Fielder remained No. 3, now 174.51 points behind No. 1 Kleier, while Sandilands surged from No. 13 to No. 10, and Andersen rose from unranked to No. 21.
While all eyes were on the race for the 2021 PBR Australian Championship, the league's bovine athletes also wowed at BB Print Stadium as the battle for the 2021 PBR Australia Bull of the Year honor also intensified.
For the first time in 2021, Cattle King Boogers Beach (Dittmann Bucking Bulls) bucked, but did not conclude the tour stop with the coveted Bull of the Event honor. Snapping the powerful animal athlete's eight-event win streak, Razor Sharp (Peter Wallace) delivered the top marks of the PBR Mackay Invitational, presented by Kent Hire.
Bucking in Round 2, Razor Sharp earned an event-leading 44.5-point score for his 3.5-second buckoff of leading rookie Macaulie Leather (Calliope, Queensland). The effort earned Razor Sharp his fourth bull of the event honor of 2021.
Cattle King Boogers Beach was narrowly edged for the best score, tying for second in the bull pen when he was marked 44 points for his 5.49 seconds of work against seven-time PBR World Finals qualifier Lachlan Richardson (Gresford, New South Wales) in Round 2.
Following a three-week break, the 2021 PBR Australia Monster Energy Tour will continue Saturday, October 30 in Emerald, Queensland. Action for the PBR Emerald Invitational, presented by Kent Hire, at Emerald Showgrounds Rodeo Arena gets underway at 7:00 p.m. AEST. Tickets are still available and can be purchased at PBRAustralia.com.au.
Fans can watch LIVE all the remaining action in the race for the 2021 PBR Australia Championship on Facebook. For $4.49 AUD fans will be able to watch the LIVE stream of all the events, and the on-demand video of the tour stop which will publish in the days that follow. To purchase the Facebook LIVE stream of the events via Facebook Pay, fans should visit the official event page here, and select get access.
For more information, stay tuned to PBRAustralia.com.au and follow the tour on Facebook (PBR Australia), Twitter (@PBRAustralia), and Instagram (@PBRAustralia) for the latest results.
PBR Australia Monster Energy Tour – PBR Mackay Invitational, presented by Kent Hire
BB Print Stadium – Mackay, Queensland
Event Leaders (Round 1- Round 2-Event Aggregate-Australian Points-World Points)
1. Aaron Kleier, 84.5-0-84.50-65-15
2. Troy Wilkinson, 0-84-84.00-50-7.5
(tie). Joshua Jones, 84-0-84.00-47-7.5
4. Brady Fielder, 0-83-83.00-23.66-3
(tie). Caiden Sandilands, 83-0-83.00-19.16-3
(tie). Qynn Andersen, 83-0-83.00-19.16-3
7. Kurt Shephard, 0-82.5-82.50-13-1
8. Lawson Nobbs, 82-0-82.00-7-0
9. Sam Woodall, 0-79-79.00-8-0
Lachlan Richardson, 0-0-0.00-0-0
Macaulie Leather, 0-0-0.00-0-0
Dan Ruhland, 0-0-0.00-0-0
Mitchel Paton, 0-0-0.00-0-0
Taran Chirgwin, 0-0-0.00-0-0
Jake Curr, 0-0-0.00-0-0
Jack Keats, 0-0-0.00-0-0
Beau Willis, 0-0-0.00-0-0
Lane Howlett, 0-0-0.00-0-0
Brumby Brandenburg, 0-0-0.00-0-0