Team New South Wales and Team Queensland Announced Ahead of PBR Origin I in Newcastle July 3
By: Kacie Albert Friday, June 18, 2021 @ 11:18 AM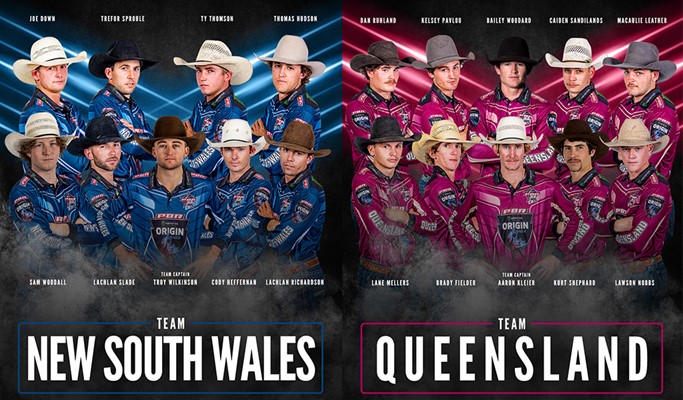 Ahead of the opening iteration of the 2021 PBR (Professional) Australia Origin event, the league has announced the complete 10-rider rosters that will represent Team New South Wales and Team Queensland at the state vs. state bull riding showdown.
Now a three-part series of tour stops, the PBR Origin is modeled after the State of Origin rugby league event that is considered Australian sport's greatest rivalry.
Through the trio of events held July 3 in Newcastle, New South Wales, July 10 in Brisbane, Queensland, and July 17 in Cairns, Queensland, Team Queensland and Team New South Wales will go head-to-head to determine which state is the supreme bull riding powerhouse. With more than $45,000 on the line, and crucial national points awarded to the competing athletes, the PBR Origin Champions will be the team that wins two or more events in the series.
Team New South Wales, set to be captained by 2017 PBR Australia Champion Troy Wilkinson (Upper Horton, New South Wales), will be rounded out by: Lachlan Richardson (Gresford, New South Wales), Lachlan Slade (Tamworth, New South Wales), Cody Heffernan (Singleton, New South Wales), Trefor Sproule (Singleton, New South Wales), Sam Woodall (Luddenham, New South Wales), Ty Thomson (Wee Waa, New South Wales), Joe Down (Muswellbrook, New South Wales), Thomas Hudson (Dungog New South Wales)and Luke Parkinson (Yarrawa, New South Wales).
Team Queensland, who will be guided by three-time and reigning Australian Champion Aaron Kleier (Clermont, Queensland), with the remainder of the team being: Macaulie Leather (Calliope, Queensland), Brady Fielder (Clermont, Queensland), Kurt Shephard (Mareeba, Queensland), Dan Ruhland (Mount Walker, Queensland), Lawson Nobbs (Moura, Queensland), Lane Mellers (Mundubbera, Queensland), Caiden Sandiands (Rockhampton, Queensland), Bailey Woodard (Dingo, Queensland), and Kelsey Pavlou (Gracemere, Queensland).
While the Captains were selected earlier in 2021, the aforementioned teams were determined based on the standings following the most recent PBR Australia Monster Energy Tour event in Rockhampton, Queensland, June 12.
PBR Australia held its first Origin event in 2019, when Team Queensland (682.5 points) defeated Team New South Wales (428.5 points) inside Sydney's ICC Theatre.
Among the standouts on Team Queensland who will be keen to defend their title of PBR Origin Champion are:
Current Australian No. 2 and leading Rookie of the Year contender Leather: Making his PBR debut at the 2021 season-launch event in Rockhampton, Leather has taken the bull riding world by storm. After finishing fourth at his career-first event, Leather captured his first victory at his very next outing to surge to No. 1 in the national standings. Registering a qualified ride at each of the four events he has competed in to date, Leather has firmly established himself as a rider to watch.
Reigning PBR Australia Grand Finals Winner Fielder: On the spurs of winning the 2020 PBR Australia Grand Finals, Fielder has been sensational thus far in 2021, registering three consecutive Top-5 finishes. Fielder is presently ranked No. 3 in the national standings, 45.5 points behind No. 1, and Team Queensland Captain Kleier. With past Origin event experience, Fielder contributed two ride scores to Team Queensland's winning effort in 2019.
PBR Rockhampton Invitational Champion Shephard: Only one rider will travel to Newcastle having won at their most recent PBR outing – Shephard. Marking his season debut, Shephard went a perfect 2-for-2 at the Rockhampton Invitational on June 12 to capture the victory and surge to No. 4 in the national standings. Shephard also qualified for the 2019 PBR Origin event, adding two qualified rides en route to Queensland's win.
Eager to avenge their loss from 2019, riders to note for Team New South Wales include:
Seven-time PBR World Finals qualifier Richardson: In 2020, Richardson turned his focus to PBR Australia competition, locked in a heated battle throughout the year with Kleier for the national title. However, Richardson had his season come to a heart-breaking end when a hematoma on his back sidelined him from the final day of the season. Returning in full health for the season-launch event in Rockhampton, Richardson was back in his championship-contending form, finishing second.
2016 PBR Australian Champion Heffernan: After a 14-month recovery, Heffernan returned from knee surgery in November 2020, mounting a last-minute surge to qualify for his third career PBR Australia Grand Finals. Finishing seventh at the season-culminating event, Heffernan finished just outside of the nation's Top 10, concluding the year No. 13 in the Australian standings. Having ridden at all four events held to date in 2021 in Australia, Heffernan was most recently sixth in Rockhampton.
Two-time PBR Australia Event Winner Slade: A nine-year veteran of the PBR, Slade has competed transcontinental, riding in Australia, Canada and the United States. After finishing a career-best No. 11 in the national standings in 2020, Slade will begin his second iteration of PBR Origin as a member of Team New South Wales fresh off a fifth-place finish at the most recent Australian tour stop in Rockhampton.
Tickets for all iterations of the 2021 PBR Origin are on sale now. They can be purchased at Ticketek.com.au or pbraustralia.com.au.  
All future PBR Australia events are subject to change, planned in accordance with directives issued by relevant government and health authorities given the evolving regulations during the COVID-19 (coronavirus) pandemic.