Three-Time PBR Australia Champion Aaron Kleier Wins Rockhampton Invitational to Further Extend His Lead atop the National Standings
By: Kacie Albert Saturday, July 31, 2021 @ 10:33 AM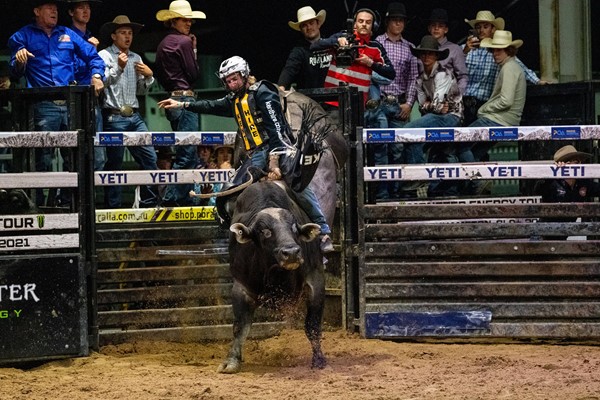 ROCKHAMPTON, Qld. – In front of a raucous, sold-out crowd at the Great Western Hotel in Rockhampton, Queensland, the already ferocious, and potentially historic, race for the 2021 PBR Australia Championship further intensified. Edging young gun, and current Australian No. 2 Macaulie Leather (Calliope, Queensland) by a mere one-point in the aggregate, three-time PBR Australia Champion Aaron Kleier (Clermont, Queensland) won the Monster Energy Tour's Rockhampton Invitational, extending his lead atop the national standings.
In Round 1, Kleier got off to a hot start, becoming the first rider to cover Vertical Limits (Dittmann Bucking Bulls) when he reached the requisite 8 for an 86.5-point score.
However, as the very next rider to erupt from the chutes, Leather delivered his own statement ride, going to distance aboard Ranga (Dittmann Bucking Bulls) for a Round 1-best 87 points. Leather also snapped Ranga's 10-out buckoff streak and became just the second rider in the striking bovine athlete's career to reach the whistle.
As the final two riders to compete in the championship round, Kleier and Leather battled it out to the very end of the Back to the Heartland Series event.
Drawing King Kong (Fred Kleier), a poised Kleier matched the bull jump-for-jump, logging a qualified ride, and leading the crowd to erupt in deafening cheer as he was scored an event-best 88 points.
Adding to the impressive nature of the ride, Kleier is the first rider since November 2019 to cover King Kong. Ending the bull's eight-out buckoff streak, Kleier joins seven-time PBR World Finals qualifier Lachlan Richardson (Gresford, New South Wales) as the only two riders to have ever successfully ridden King Kong.
Needing a score in excess of 87.5 points, Leather climbed aboard Cattle King King's Ransom (Dittmann Bucking Bulls). While Leather would cover the Dittmann Bucking Bulls' bovine, his 86.5-point effort was not enough to surpass Kleier on the leaderboard.
Kleier's perfect performance earned him 77 national points, allowing him to further extend his lead atop the national standings. He is now 82.33 points ahead of No. 2 Leather, who earned 65.5 points for his silver finish.
Attempting to make history in 2021, should Kleier win the national title an unprecedented fourth consecutive time, the Queensland sensation would tie David Kennedy (Kyogle, New South Wales) for most Australian national titles won by one rider in league history. Kennedy topped the national standings in 2009-2010, 2012 and 2014.
Third was Mitchel Paton (Nebo, Queensland) earning 43 national points.
Delivering a flawless performance in his home state, Paton punched his ticket to the championship round after riding Yellowstone (Brandenburg Bucking Bulls) for 83.5 points in Round 1.
Entering the final round tied for sixth in the event, Paton surged up the leaderboard when he punctuated his efforts with an 86.5-point score aboard Reloaded (Dittmann Bucking Bulls).
Paton, who travelled to Rockhampton unranked, is now No. 13 in the PBR Australia national standings, 250.33 points behind No. 1 Kleier.
Reigning PBR Australia Grand Finals event winner Brady Fielder (Clermont, Queensland) parlayed his own 2-for-2 effort into a fourth-place finish, his fourth Top-5 effort of the year.
In Round 1, Fielder rode Code Blue (Fred Kleier) for 84 points, and then covered Super Natural (Colin Fry) for 85.5 points in the championship round.
Fielder earned 32.33 national points, climbing from No. 5 to No. 3 in the standings. Seeking his first PBR Australia Championship in 2021, Fielder is now a mere 143.17 points removed from the top position.
Rounding out the Top 5 was Caiden Sandilands (Rockhampton, Queensland) and Daniel Rogan (Tamworth, New South Wales) who tied for fifth.
Both registering 84-point rides in Round 1, Rockhampton's own Sandilands rode Bang Ya Drum (Dunne Bulls), while Rogan covered Bang and Grind (Fred Kleier). For Sandilands, the score avenged a bitter buckoff from PBR Origin I – Brisbane earlier in July when Bang Ya Drum brought him down in a close 6.37 seconds.
Each earning 13.83 national points, Sandilands rose to No. 11 in the standings, while Rogan is now No. 17. They trail No. 1 Kleier by 239.5 points and 279.5 points, respectively.
In the bull pen, Cattle King Boogers Beach (Dittmann Bucking Bulls) continued his dominant season.
The captivating bull earned his seventh consecutive Bull of the Event title in Rockhampton, marked 44.5 points for his swift 2.69-second buckoff of Rogan in the championship round.
The 2021 PBR Australia Monster Energy Tour will continue Saturday, August 14 in Caboolture, Queensland. Action for the PBR Caboolture Invitational at QSEC Arena gets underway at 7:00 p.m. AEST. Tickets are still available and can be purchased at PBRAustralia.com.au.
PBR Australia Monster Energy Tour – PBR Rockhampton Invitational 4
Great Western Hotel – Rockhampton, Queensland
Event Leaders (Round 1- Round 2-Event Aggregate-Australian Points-World Points)
1. Aaron Kleier, 86.5-88-174.5-77-15
2. Macaulie Leather, 87-86.5-173.5-65.5-8
3. Mitchel Paton, 83.5-86.5-170-43-7
4. Brady Fielder, 84-85.5-169.5-32.33-4
5. Caiden Sandilands, 84-0-84-13.83-2.5
(tie) Daniel Rogan, 84-0-84-13.83-2.5
7. Dan Ruhland, 83.5-0-83.5-6.5-1
8. Kurt Shephard, 82-0-82-4-0
9. Kelsey Pavlou, 81.5-0-81.5-2-0
10. Joseph Down, 81-0-81-1-1-0
Lawson Nobbs, 0-0-0.00-0-0
Bailey Woodard, 0-0-0.00-0-0
Lachlan Richardson, 0-0-0.00-0-0
Lachlan Slade, 0-0-0.00-0-0
Sam Woodall, 0-0-0.00-0-0
Lane Mellers, 0-0-0.00-0-0
Jackson Gray, 0-0-0.00-0-0
Jake Curr, 0-0-0.00-0-0
Jack Keats, 0-0-0.00-0-0
Taran Chirgwin, 0-0-0.00-0-0
Wyatt Milgate, 0-0-0.00-0-0
Michael Smith, 0-0-0.00-0-0
Josh Cavanagh, 0-0-0.00-0-0
Eli Bee, 0-0-0.00-0-0
Beau Willis, 0-0-0.00-0-0
Joshua Jones, 0-0-0.00-0-0
Sam Payne, 0-0-0.00-0-0
Clay Hall, 0-0-0.00-0-0
Bryn Francis, 0-0-0.00-0-0
Cody Fraser, 0-0-0.00-0-0