PBR Australia Travels to Cairns, Queensland July 17 for Final Stop of 2021 Origins Event as Team Queensland and Team New South Wales Battle for Bull Riding Supremacy
By: Kacie Albert Friday, April 23, 2021 @ 3:48 PM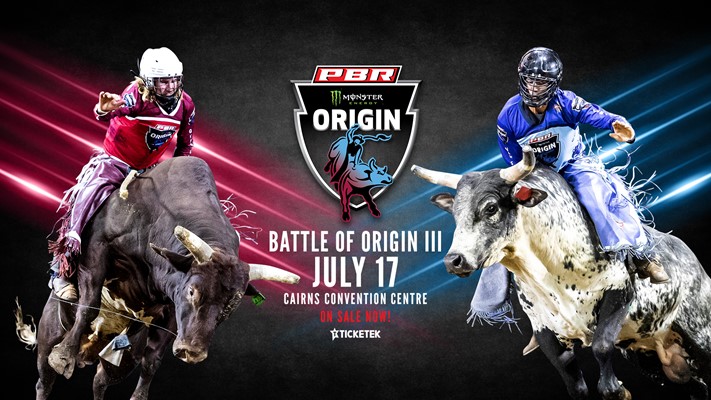 After holding the inaugural PBR (Professional Bull Riders) Origin event in 2019, the league will once again stage the highly anticipated state vs. state western sports showdown in 2021, holding the final installment of the three-part series of events July 17 in Cairns, Queensland, at Cairns Convention Centre. Team Queensland and Team New South Wales will go head-to-head to determine which state is the supreme bull riding powerhouse.
PBR Australia held its first Origin event in 2019, when Team Queensland (682.5 points) defeated Team New South Wales (428.5 points) inside Sydney's ICC Theatre. Now a three-part series of tour stops, the PBR Origin is modeled after the State of Origin rugby event that is considered Australian sport's greatest rivalry.
The 2021 PBR Origin lIl - Cairns will abide by a series of health standards and protocols as approved by Queensland Health, including:
Adherence to all contact tracing requirements by signing into the compulsory CheckIn QLD app.
Social distancing throughout the event, with all riders, stock contractors and staff maintaining 1.5-meter distance, except when crucial to the safe performance of bull riding.
Signage at venue entry instructing attendees not to enter the venue if they are unwell, have COVID-19 symptoms, have been overseas in the last 14 days, or have been in close contact with a confirmed case.
Social-distancing floor clings and barriers placed in high-traffic areas to prevent gatherings.
Increased sanitization of high-contact areas throughout the event.
Emphasis on digital tickets, and cashless concessions and merchandise sales.
For each iteration of the 2021 PBR Origin, each team will be comprised of 10 riders, including a Captain. Three-time, and reigning, PBR Australian Champion Aaron Kleier (Clermont, Queensland) will lead Team Queensland, while 2017 PBR Australia Champion Troy Wilkinson (Upper Horton, New South Wales) will return to captain Team New South Wales.
While the Captain will ride at each of the three events, the remaining nine positions will be filled based on world and national standings at preselected dates throughout the season. With more than $45,000 on the line, and crucial national points awarded to the competing athletes, the PBR Origins Champion will be the team that wins two or more events in the series.
The 2021 PBR Origin event will get underway in Newcastle, New South Wales on July 3 at Newcastle Entertainment Centre, followed by PBR Origin II in Brisbane, Queensland on July 10 at the Brisbane Entertainment Centre.
Historically, PBR Australia has held six events in Cairns, visiting the Queensland city annually from 2014-2019.
When PBR last travelled to Cairns in 2019, Team Queensland Captain Kleier went a near perfect 2-for-3 to claim the event win. The victory was one of five for the now 23-year-old that season en route to his second consecutive PBR Australia Championship.
The league's debut event in Cairns in 2014 was won by seven-time PBR World Finals qualifier Lachlan Richardson (Gresford, New South Wales). Still a dominant contender amongst the PBR ranks, Richardson was locked in a feverish battle alongside Kleier last season for the national championship before an injury on the final day of the season put a heart-breaking end to his quest for the 2020 PBR Australia Championship.  
Other past Cairns event winners include: Jason Mara (2018 – Cloncurry, Queensland); Kurt Shephard (2017 – Mareeba, Queensland); Edmilson Goncalves (2016 – Sao Jose do Rio Preto, Brazil); and Justin Paton (2015 – Nebo, Queensland).
The bull riding action for PBR Origin III – Cairns begins at 7:30 p.m. AEST on Saturday, July 17 at the Cairns Convention Centre. The event will feature three rounds of competition. After each of the 10 competing bull riders for both teams attempt one bull each in Round 1 and Round 2, the Top 4 riders from each team will advance to the bonus round for one final out. The event winner will be the team with the highest combined score in the event aggregate.
In addition to vying the title of PBR Australia Origin Champion and their share of the event purse, riders will also be competing for points towards the Australian national standings and broader PBR World Standings.
Tickets for the PBR Origin III – Cairns are on sale now, starting at $32.15, standard fees may apply, and can be purchased at Ticketek.com.au or pbraustralia.com.au.  
All future PBR Australia events are subject to change, planned in accordance with directives issued by relevant government and health authorities given the evolving regulations during the COVID-19 (coronavirus) pandemic.