PBR Australia Partners with North Queensland Elite Rodeo for May 29 Back to the Heartland Series Event in Townsville, Queensland
By: Kacie Albert Tuesday, April 27, 2021 @ 11:00 AM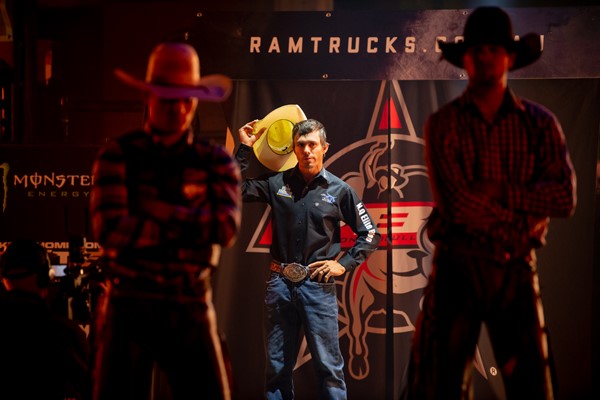 PBR (Professional Bull Riders) Australia has announced a new partnership with North Queensland Elite Rodeo, uniting with the May 29 event in Townsville, Queensland, to host a stop on the league's Back to the Heartland Series.
The North Queensland Elite Junior Rodeo will be held May 29 at the Hervey Range Rodeo Grounds in Townsville, Queensland. In addition to the first-ever PBR event held in tandem with the prestigious youth rodeo, the North Queensland Elite Junior Rodeo will feature a four-discipline junior rodeo and stop on Sammy White and Brooke Shubert's Talk About Tour concert series.
"PBR Australia's 2021 Back to the Heartland Series is not only about returning to locations where our sport first started, but also supporting those who helped us in the early days so we can continue to grow western sports in Australia, " said Glen Young,  General Manager of PBR Australia.
"Quentin and Sandy Kersh from North Queensland Elite Rodeo have been a part of the PBR in many ways since its inception in Australia, displaying unwavering support for the nation's rodeo athletes of all ages. Their undeniable commitment, coupled with our strong ties to the Townsville community, which hosts our Grand Finals, made this event a natural partnership as we seek to support the local community, and give back by aligning with a rodeo with a strong focus on junior development."
The 2021 North Queensland Elite Junior Rodeo will abide by a series of health standards and protocols as approved by Queensland Health, including:
Adherence to all contact tracing requirements by signing into the compulsory CheckIn QLD app.
Limited arena capacity to promote social distancing.
Social distancing throughout the event, with all riders, stock contractors and staff maintaining 1.5-metre distance, except when crucial to the safe performance of bull riding.
Signage at venue entry instructing attendees not to enter the venue if they are unwell, have COVID-19 symptoms, have been overseas in the last 14 days, or have been in close contact with a confirmed case.
Increased sanitization of high-contact areas throughout the event.
The 2021 North Queensland Elite Junior Rodeo will begin at 5:00 p.m. AEDT and feature four disciplines: Barrel Racing (Ages 17 & Under and Ages 12 & Under), Team Roping (17 & Under), Miniature Bull Riding (Ages 11-15 and Ages 10 & Under) and Steer Riding (Ages 11-15 and Ages 10 & Under).
Following the junior rodeo portion of the action-packed evening, the PBR event will get underway at 7:00 p.m. EDT. Featuring 20 of the nation's top bull riders, all riders will attempt one bull each in Round 1, with the Top 6 advancing to the championship round later that evening where they will attempt one additional bull in an effort to be crowned the event champion.
Positioned just prior to the start of the three-event PBR Origin state vs. state showdown, the Back to the Heartland Series event will be crucial for riders as they vie for one of 10 remaining positions on both Team Queensland and New South Wales for the event modeled after the State of Origin Rugby League event that is considered Australian sport's greatest rivalry.
The league's return to Townsville comes on the heels of the city welcoming the PBR for the 2020 Grand Finals, which punctuated one of the Australia's most competitive national title races in history.
After a season-long battle, Aaron Kleier (Clermont, Queensland) captured his third consecutive PBR Australia Championship, outlasting seven-time PBR World Finals qualifier Lachlan Richardson (Gresford, New South Wales). The season-culminating event was won by second-year pro Brady Fielder (Clermont, Queensland), while Jake Curr (Mount Isa, Queensland) captured the coveted Rookie of the Year honor courtesy of his eight-place finish at the Grand Finals.
Following the PBR event, the North Queensland Elite Junior Rodeo will come to a climatic end when Queensland native's White and Shubert take to the stage for the accompanying concert, part of their Talk About Tour, at 8:00 p.m. AEDT.
White is the 41st winner of Toyota Star Maker, joining an elite club whose alumni include the likes of Keith Urban, Lee Kernaghan, Travis Collins and Sam McClymont. Recently finalizing her Star Maker album Undone, White's singles include, "Drowning My Sorrows," "I Can't Outrun You," and "Lay It On Me."
Schubert was featured at Winton's Way Out West Fest, performing alongside artists such as Jon Pardi and Brett Eldridge. Additionally, Schubert, who has had a lifelong passion for country music, has toured with Urban on his Light The Fuse Australian Tour, and opened for both Tina Arena and Lee Kernaghan.
Tickets for the 2021 North Queensland Elite Junior Rodeo, which includes admission to both the PBR event and Talk Back Tour concert, are on-sale now and can be purchased at TryBooking.com.
All future PBR Australia events are subject to change, planned in accordance with directives issued by relevant government and health authorities given the evolving regulations during the COVID-19 (coronavirus) pandemic.