Queensland Sensation Jack McArthur Wins PBR Australia Monster Energy Tour's Historic Return to Competition in Caboolture
By: Kacie Albert Sunday, September 27, 2020 @ 11:29 AM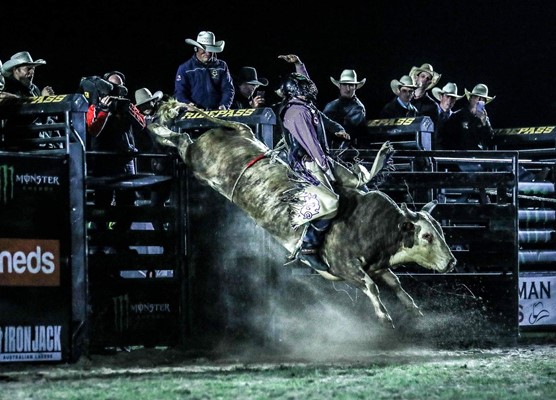 CABOOLTURE, Queensland – After a 203-day hiatus from competition, the premier PBR (Professional Bull Riders) Australia Monster Energy Tour made its historic return to competition Saturday afternoon with the fan-attended PBR Caboolture Invitational in Caboolture, Queensland, at QSEC Arena.
With an electric buzz filling the arena, with fans eager to watch the return of the "Toughest Sport on Dirt" in Australia, the 29 competing riders were quick to resume the fierce national title race that had begun to play out through the five events held prior to the shutdown.
Marking a career first, Queensland sensation Jack McArthur (Cooyar, Queensland) delivered a flawless 2-for-2 performance to capture his career-first PBR Australia event win.
The 25-year-old got off to a hot start in Round 1, making the 8 aboard Chasin Dragons (BK Bucking Bulls) for 78.5 points.
Punching his ticket to the championship round, McArthur drew Annihilation (Brandenburg Bucking Bulls) as his final bovine athlete opponent of the event.
Matching the powerful bull jump-for-jump, McArthur reached the 8 for a career-high 87.5 points to clinch the event win.
McArthur's efforts earned him a check for $1,694.22 in addition to a crucial 66 Australian national points.
Unranked prior to the event, McArthur catapulted to No. 7 in the national standings, now within 137.5 points of the top spot as he seeks his first PBR Australia Finals qualification.
Seven-time PBR World Finals qualifier Lachlan Richardson (Gresford, New South Wales) was second, earning $1,582.02 and 58 national points.
As the only other rider to go a perfect 2-for-2, Richardson covered Tiger King (Brandenburg Bucking Bulls) for 77 points in Round 1 before winning the championship round with an event-best 88.5-point score aboard Big Buck Hunter (Stuart Timm).
Furthering his stronghold on the No. 1 ranking in the nation as he seeks his first-ever PBR Australia Championship, Richardson gained further ground on No. 2 Aaron Kleier (Clermont, Queensland) who went 0-for-1 at the event. Richardson now leads Kleier by 85.5 national points.
Third was Sam Woodall (Heywood, Victoria).
The 22-year-old's event was highlighted by a Round 1-winning, 88-point ride on Jersey Joe (BK Bucking Bulls), propelling him to a $1,200.54 payday, while also earning him 45 national points.
The performance was a career moment for Woodall, tying for both his career-best finish and high-marked ride throughout his four-year tenure competing with the PBR.
Woodall is now No. 9 in the PBR Australia national standings, climbing from No. 28 at the start of the event. He trails No. 1 Richardson by 158.5 points.
Compliments of his 83-point ride atop Woomera (Dunne Bucking Bulls) in Round 1, veteran competitor Kurt Shephard (Mareeba, Queensland) was fourth.
He left QSEC arena $673.20 richer, having also netted 32 national points.
Shephard, who was also ranked No. 28 in Australia prior to the event, is now on the precipice of cracking into the Top 10. Now No. 12 in the nation, Shephard is within 3.5 points of the Top 10, and 171.5 points of No.1 Richardson.
Rounding out the Top 5 was Sam Champ (Meldale, Queensland) in fifth.
He rode Moves Like Jagger (Brandenburg Bucking Bulls) for 82 points in Round 1 to collect $460.02 and 19 national points.
Champ is now No. 16 in PBR Australia's national standings, 184.5 points behind the top spot, after beginning the event unranked.
In the bull pen, Home Grown (Dunne Bucking Bulls) was the high-marked bull of the event. Delivering an event-best, 45-point score, the powerful bovine athlete made swift work of Tyler Morgan (Mount Larcom, Queensland) dispatching the cowboy in 4.31 seconds in Round 1.
Fans can relive all the action for the 2020 PBR Australia Monster Energy Tour's Caboolture Invitational on RidePass starting at 8:00 a.m. AEST on Sunday, September 27 at RidePass.com or via the RidePass app available on iOS, Android and Roku.
The PBR Australia Monster Energy Tour is anticipated to next travel to Bundaberg, Queensland, and the Bundaberg Showgrounds with the 2020 PBR Bundaberg Invitational on Saturday, October 3. The tour stop will once again feature a double-header competition, with action getting underway at both 1:00 p.m. AEST and 6:00 p.m. AEST. Stay tuned to PBRAustralia.com.au for the latest event information.
PBR Australia Monster Energy Tour – PBR Caboolture Invitational 1
QSEC Arena – Caboolture, Queensland
Event Leaders (Round 1- Round 2-Event Aggregate-Payout-Australian Points)
1. Jack McArthur, 78.5-87.5-166-$1,694.22-66
2. Lachlan Richardson, 77-88.5-165.5-$1,582.02-58
3. Sam Woodall, 88-0-88-$1,200.54-45
4. Kurt Shephard, 83-0-83-$673.20-32
5. Sam Champ, 82-0-82-$460.02-19
6. Brady Fielder, 79.5-0-79.5-$0-11
7. Brendan Buckholz,76-0-76-$0-6
8. Caiden Sandilands, 72.5-0-72.5-$0-4
Aaron Kleier, 0-0-0.00-$0-0
Beau Willis, 0-0-0.00-$0-0
Brumby Brandenburg, 0-0-0.00-$0-0
Clay Hall, 0-0-0.00-$0-0
Jack Keats, 0-0-0.00-$0-0
Jackson Gray, 0-0-0.00-$0-0
Jake Curr, 0-0-0.00-$0-0
Jay Borghero, 0-0-0.00-$0-0
Joseph Down, 0-0-0.00-$0-0
Lane Mellers, 0-0-0.00-$0-0
Lawson Nobbs, 0-0-0.00-$0-0
Matt Hollis, 0-0-0.00-$0-0
Michael Smith, 0-0-0.00-$0-0
Mitchel Paton, 0-0-0.00-$0-0
Sonny Schafferius, 0-0-0.00-$0-0
Ty Thomson, 0-0-0.00-$0-0
Tyler Morgan, 0-0-0.00-$0-0
Zane Hall, 0-0-0.00-$0-0
Lucas McKenzie, 0-0-0.00-$0-0
Dan Ruhland, 0-0-0.00-$0-0
Kelsey Pavlou, 0-0-0.00-$0-0