PBR Australia's Monster Energy Tour Grand Finals Return to Townsville, Queensland for Third-Consecutive Season on November 20-21
By: Kacie Albert Tuesday, September 29, 2020 @ 1:07 PM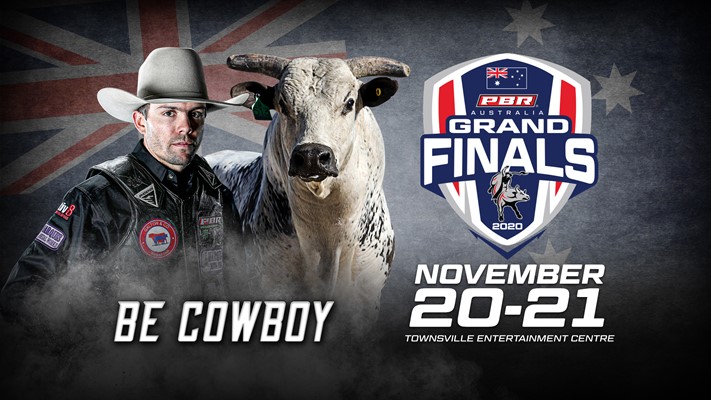 Tickets for the two-day, season-culminating event on sale Wednesday, September 30 at midday
TOWNSVILLE, Queensland – For the third consecutive year, PBR (Professional Bull Riders) Australia will return to Townsville, Queensland and the Townsville Entertainment Centre for the elite Monster Energy Tour's Grand Finals on November 20-21 when the 2020 PBR Australia Champion will be crowned.
Season long, riders will have had the opportunity to compete at 19 Monster Energy Tour and Touring Pro Division events across Australia to earn points towards the Australian National Standings, all in an effort to be the No.1-ranked cowboy at year's end and earn the coveted PBR Australia title.
The 2020 PBR Australia Grand Finals will abide by a series of health standards and protocols as approved by Queensland Health, including:
PBR will only sell up to 50% of arena capacity to separate fans, increase distancing amongst patrons and minimize fan crossover when entering and exiting.
All PBR riders, staff and contractors will be required to download the COVIDsafe app, and be subject to CDC-informed screenings.
Social distancing throughout the event, with all riders, stock contractors and staff maintaining 1.5 meter distance, except when crucial to the safe performance of bull riding.
Social-distancing floor clings and barriers placed in high-traffic areas to prevent gatherings
Increased sanitization of high-contact areas throughout the event.
Emphasis on digital tickets, and options for cashless concessions and merchandise sales.
The 2020 PBR Australia Monster Energy Tour Grand Finals will mark the third consecutive season the event has been held in Townsville.
"Townsville is the events capital of Northern Australia. We are in the perfect position to host some of the most exciting sporting events in the country this year, including a Supercars double header, the Horn v Tszyu fight, and now the PBR Grand Finals," Cr Jenny Hill, Mayor of Townsville said. "For our hospitality and tourism industries, the PBR Grand Finals are more than just the event. It's about visitors staying in hotels, going out for meals at our great restaurants and cafes, and visiting our beautiful local attractions."
"As with all of our sporting and cultural events, staying COVID-safe is a focus for us here in Townsville. The PBR Grand Finals will be a COVID-safe event, and I ask everyone visiting Townsville for the event to practice responsible behavior and good hygiene while enjoying our city."
"PBR Australia has worked relentlessly to return to competition safely and responsibly during these challenging times," said Glen Young, General Manager of PBR Australia.  "We are now overjoyed to announce that our 2020 season will come to a conclusion in Townsville, with the city's Townsville Event Centre welcoming our Grand Finals for the third consecutive season, a venue known for its unparalleled, up-close experience that has been the home to many of the nation's most historic rides. We couldn't think of a more apt city to hold the Grand Finals, which will conclude a season of action unlike no other in front of one of our most enthusiastic fan bases."
In 2018, PBR Australia's Grand Finals were first held in Townsville. While now world No. 5 Lucas Divino (Nova Crixas, Brazil) rode to the event win, Aaron Kleier (Clermont, Queensland) finished third to capture his first national championship.
The next season, while Lachlan Richardson (Gresford, New South Wales) rode to victory at the season-culminating event, Keleier once again exited the Townsville Event Centre as the PBR Australian Champion, defending his national title with a twelfth-place result.
Prior to the PBR Australia Grand finals relocation to Townsville, the title-determining event was held in Sydney from 2011-2017, Tamworth in 2009-2010 and Melbourne in 2008.
Other past PBR Australia Grand Finals event winners are: Nathan Burtenshaw (2017) Robinson Guedes (2015, 2015); Joe Polkinghome (2014); Chris Lowe (2013); Chase Outlaw (2012); Ben Jones (2007, 2010, 2011); Rocky McDonald (2009); Pete Farley (2008) and Denny Farley (2006).
This season, PBR Australia had held five events, when the sport was shut down in mid-March due to COVID-19 restrictions. The sport resumed competition on September 26 in Caboolture, Queensland, following a 203-day hiatus.
Holding a double-header event in the Queensland city on Sept. 26, PBR Australia's elite Monster Energy Tour has scheduled similar double-up, Queensland events in Bundaberg (Oct. 3), Mackay (Oct. 10), Rockhampton (Oct. 17), Beaudesert (Oct. 31), Glenvale (Nov. 7) and Airlie Beach (Nov. 14) prior to the Grand Finals.
Thus far in 2020, the dominant athlete has been current No. 1 Richardson, currently with an 85.5-point lead atop the PBR Australia national standings.
Richardson, who is seeking his first PBR Australia Championship, has won one event, topping the field in Ballarat, Victoria, while also logging three additional Top-10 efforts to date in 2020.
The seven-time PBR World Finals qualifier's most recent podium finish, a second-place result in Caboolture, was highlighted by a commanding 88.5-point ride atop Big Buck Hunter (Stuart Timm).
Richardson's top competitor is No. 2 Kleier, the two-time and defending PBR Australia Champion.
Kleier's season has been headlined by three Top-5 efforts logged consecutively at the start of the 2020 campaign. Beginning the year with a fourth-place finish at the Tamworth Iron Cowboy, the 22-year-old followed that with a second-place result at the Melbourne Invitational and third-place finish at the Great Western New Years Eve PBR in Rockhampton, Queensland.
The Queensland cowboy made history in 2019 becoming the second cowboy in league history to win back-to-back national championships, joining David Kennedy (Kyogle, New South Wales), a four-time PBR Australia Champion (2009-2010, 2012 and 2014). 
Other past PBR Australia Champions are: Troy Wilkinson (2017); Cody Heffernan (2016); Fraser Babbington (2015); Lowe (2013); Kevin "Jock" Connolly (2007, 2011); Farley (2008); and Tim Wilson (2006).
The bull riding action for the 2020 PBR Australia Monster Energy Tour Grand Finals begins at 8:00 p.m. AEST on Friday, November 20, and at 7:30 p.m. AEST on Saturday, November 21.
Tickets for the two-day event are on sale now and start at $35. They can be purchased at the Townsville Entertainment Centre box office, online at Ticketek.com.au and PBRAustralia.com.au, or by calling Ticketek at 13 28 49.
All future PBR Australia events are subject to change, planned in accordance with directives issued by relevant government and health authorities given the evolving regulations during the COVID-19 (coronavirus) pandemic
About PBR (Professional Bull Riders) Australia:
PBR (Professional Bull Riders), which has events in five countries, has competed in Australia since 2005, where it operates two tours, producing approximately 20 events annually, visiting cities such as Sydney, Brisbane, and Townsville as well as regional Victoria and New South Wales. For more information on PBR Australia, go to www.pbraustralia.com.au or follow on Facebook at Facebook.com/pbraustralia and Instagram at Instagram.com/pbraustralia.
###
For PBR information, contact: Amanda Tuimalealiifano (07) 4724 0218/ amandat@pbr.com