PBR Australia's Elite Monster Energy Tour Bucks Into Mackay for Double-Header, Fan-Attended Event on Oct. 10
By: Kacie Albert Wednesday, September 30, 2020 @ 11:15 AM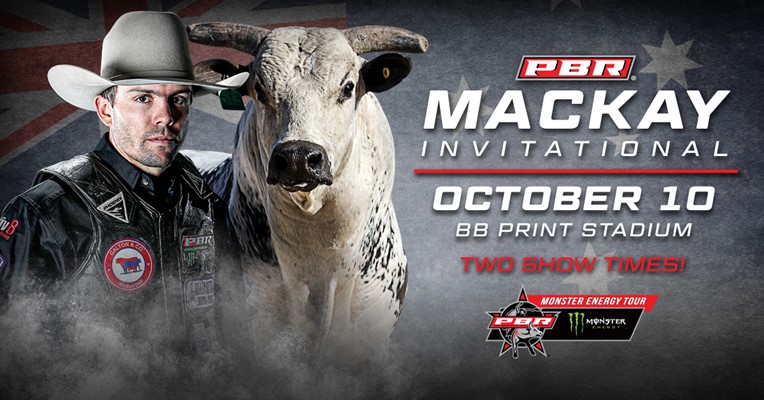 MACKAY, Queensland – For the ninth time in league history, PBR (Professional Bull Riders) Australia will travel to Mackay, Queensland, bucking into BB Print Stadium for the double-header PBR Mackay Invitational, part of the nation's elite Monster Energy Tour, on Saturday, October 10.
The Monster Energy Tour regularly features Australia's best bull riders squaring off against the rankest bucking bulls from across the nation. Fans will witness exhilarating 8-second rides and wrecks throughout the action-packed event as the PBR's courageous bull-riding athletes face off against their 800 kilogram opponents bred to buck.
Held amidst the evolving COVID-19 (coronavirus) pandemic, the 2020 PBR Mackay Invitational will abide by a series of health standards and protocols guided by Queensland state government industry framework for safe events, including:
PBR will only sell up to 55% of grandstand capacity to separate fans, increase distancing amongst patrons and minimize fan crossover when entering and exiting.
All PBR riders, staff and contractors will be required to download the COVIDsafe app, and be subject to CDC-informed screenings.
Social distancing throughout the event, with all riders, stock contractors and staff maintaining 1.5 meter distance, except when crucial to the safe performance of bull riding.
Social-distancing floor clings and barriers placed in high-traffic areas to prevent gatherings
Increased sanitization of high-contact areas throughout the event.
Emphasis on digital tickets, and options for cashless concessions and merchandise sales.
Travelling to Mackay the past six consecutive seasons, in 2019, Brady Fielder (Clermont, Queensland) delivered a dominant 2-for-2 performance to claim the event victory. After riding Top Deck for 84.5 points in the opening round, Fielder covered POA Fully Locked & Loaded for an event-high 89 points to cement his victory.
Marking one of Fielder's six Australian event wins in 2019, the Queensland-native finished the year No. 3 in the national standings.
Fielder's championship-contending ways have continued in the 2020 season, leading him to travel to the United States and compete on the elite PBR Unleash The Beast, featuring the Top 35 bull riders in the world. Currently ranked No. 69 in the broader PBR world standings, Fielder's year to date has been headlined by a an eighth-place finish on the premier series in Manchester, New Hampshire.
The 2019 edition of the Monster Energy Tour's PBR Mackay Invitational also featured a runner-up effort from current Australian No. 1 Lachlan Richardson (Gresford, New South Wales), and fourth-place finish by two-time and reigning PBR Australia Champion Aaron Kleier (Clermont, Queensland).
Both going 2-for-2, Richardson rode Indian Outlaw for 84.5 points and Iron Jacket for 88 points, while Kleier logged 8-second efforts aboard Cowboy Cash for 83 points and Watch This for 84.5 points.
Other past PBR Mackay Invitational event winners include: Ryan Storey (Mackay, Queensland) – 2018; Fraser Babbington (Gisborne, New Zealand) – 2018 and 2015; Guy Ford (Capella, Queensland) – 2017; Cody Heffernan (Singleton, New South Wales) – 2016; Ben Seeds (Dingo, Queensland) – 2014; and Aaron Sutton (Laurieton, New South Wales) – 2006.
The forthcoming double-header event in Mackay will mark the tenth and eleventh events, respectively, of the 2020 PBR Australia season.
After holding the first event of the season in Tamworth, New South Wales, where American rider Brady Sims (Holt, Missouri) rode supreme, the tour most recently visited Ballarat, Victoria prior to the shutdown in March. Seven-time PBR World Finals qualifier Richardson continued his dominant season and won the event as the only rider to go a perfect 2-for-2, capping his flawless effort with an event-high, 89.5-point effort aboard The D.O.C..
Prior to travelling to Mackay, PBR Australia's Monster Energy Tour will also hold double-headers in Caboolture, Queensland on Sept. 26 and Bundaberg, Queensland on Oct. 3.
Ahead of the 2020 PBR Mackay Invitational, Richardson is No. 1 in the PBR Australia national standings as he seeks his first-ever national championship, 27.5 points ahead Kleier. In addition to Richardson's Ballarat event win, he has logged two additional Top-10 efforts on home soil, finishing third in Melbourne, Victoria, and sixth in Marrabel, South Australia.
Kleier, who is looking to make history in 2020 as the first-ever rider in league history to win the Australian national title in three consecutive seasons, has competed three times in his home country thus far.
After beginning the year with a fourth-place finish in Tamworth, Kleier delivered a runner-up and third-place result in Melbourne and Rockhampton, Queensland, respectively.
The bull riding action begins at 1:00 p.m. AEST and 6:00 p.m. AEST on Saturday, October 10 at BB Print Stadium. For both events, all riders will attempt one bull each in Round 1. The Top 8 will then advance to the championship round for one more out and a chance at the event title. In addition to competing for points towards the Australian national standings, riders will also vie for crucial points towards the World Finals.
Tickets for the PBR Mackay Invitational are on sale now for $51.50, standard fees may apply, and can be purchased at www.TheMECC.com.au.
All future PBR Australia events are subject to change, planned in accordance with directives issued by relevant government and health authorities given the evolving regulations during the COVID-19 (coronavirus) pandemic.