PBR Australia's Monster Energy Tour to Debut in Airlie Beach with Fan-Attended, Double-Header Event on Nov. 14
By: Kacie Albert Thursday, October 22, 2020 @ 8:47 AM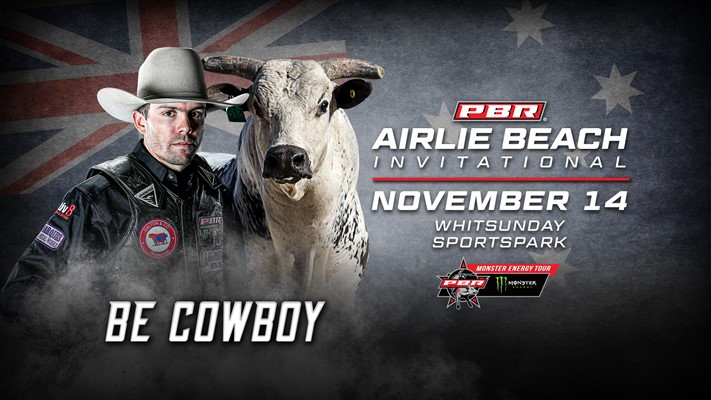 Highlights
Tickets for the 2020 PBR Airlie Beach Invitational, the final regular-season event of the year, on-sale now.
AIRLIE BEACH, Queensland – For the first time in league history, PBR (Professional Bull Riders) Australia will travel to Airlie Beach, Queensland, bucking into Whitsunday Sportspark for the double-header PBR Airlie Beach Invitational, part of the nation's elite Monster Energy Tour, on Saturday, November 14.
In addition to marking the first-ever PBR event in the city, the back-to-back events will also serve as the final regular-season tour stops prior to the 2020 PBR Australia Monster Energy Tour Grand Finals on November 20-21 in Townsville, Queensland at the Townsville Entertainment Centre when the 2020 PBR Australia Champion will be crowned.
The Monster Energy Tour regularly features Australia's best bull riders squaring off against the rankest bucking bulls from across the nation. Fans will witness exhilarating 8-second rides and wrecks throughout the action-packed event as the PBR's courageous bull-riding athletes face off against their 800 kilogram opponents bred to buck.
The 2020 PBR Airlie Beach Invitational will abide by a series of health standards and protocols created in consultation with the Airlie Beach Regional Council, and guided by the Queensland state government industry framework for safe events during COVID-19 (coronavirus), including:
Reduced seating capacity to increase distancing amongst patrons and minimize fan crossover when entering and exiting.
All PBR riders, staff and contractors will be required to download the COVIDsafe app, and be subject to CDC-informed screenings.
Social distancing throughout the event, with all riders, stock contractors and staff maintaining 1.5 meter distance, except when crucial to the safe performance of bull riding.
Social-distancing floor clings and barriers placed in high-traffic areas to prevent gatherings.
Increased sanitization of high-contact areas throughout the event.
Emphasis on digital tickets, and options for cashless concessions and merchandise sales.
As the final two regular-season events of the 2020 PBR Australia season, the PBR Airlie Beach Invitational will be critical in the race to crown the 2020 PBR Australia Champion.
The 2020 PBR Australia season is featuring one of the tightest national title races in league history. No. 1 Lachlan Richardson (Gresford, New South Wales) and No. 2 Aaron Kleier (Clermont, Queensland) are locked in a feverish battle atop the standings, separated by a mere 102.5 points. 
Richardson's season has been highlighted by two event wins, logged in Ballarat and Bundaberg, along with six additional Top-10 efforts on home soil.
In the past three events, the seven-time PBR World Finals qualifier has logged consecutive runner-up efforts. Concluding the PBR Mackay Invitational with a silver finish in the evening event, Richardson was most recently second at both events for the PBR Rockhampton Invitational double-header.
Hot on his spurs, Kleier is chasing what would be his historic third PBR Australia title.
Should two-time and reigning Champion Kleier once again win the PBR Australia Championship in 2020, he would become the first rider in league history to win the nation's championship in three consecutive seasons.
Additionally, Kleier would be on the precipice of tying Kennedy for winningest rider in Australian history. Kennedy is a four-time PBR Australia Champion, winning the title in 2009-2010, 2012 and 2014.
Thus far in 2020, Kleier's campaign has included two event victories, complementing his five Top-5 finishes logged throughout the season.
In addition to Richardson and Kleier, both of whom are anticipated to compete in Airlie Beach, the 2020 season has seen the break-through performance by Sam Woodall (Heywood, Victoria), presently No. 3 in the national standings, 258 points behind No. 1 Richardson, and Jake Curr (Mount Isa, Queensland), the current No. 4-ranked rider in Australia, who is within 272 points of No. 1 Richardson.
For 22-year-old Woodall, his season has been highlighted by his career-first PBR event victory, notched at the most recent double-header in Rockhampton, Queensland.
With 2020 marking his third season competing amongst the PBR ranks, 21-year-old young gun Curr has gone 8-for-16 through 10 events in Australian competition to hold an impressive 50% riding average, all the while logging four Top-5 finishes.
The forthcoming double-header event in Airlie Beach will mark the 18th and 19th events, respectively, of the 2020 PBR Australia season.
Prior to travelling to Airlie Beach, PBR Australia's Monster Energy Tour will have also held double-headers in Caboolture, Queensland on Sept. 26, Bundaberg, Queensland on Oct. 3, and Mackay, Queensland on Oct. 10, Rockhampton, Queensland on Oct. 17, Beaudesert, Queensland on Oct. 31, and Toowoomba, Queensland on Nov. 7.  
The bull riding action begins at 1:00 p.m. AEST and 6:00 p.m. AEST on Saturday, November 14 at Whitsunday Sportspark. For both events, all riders will attempt one bull each in Round 1. The Top 8 will then advance to the championship round for one more out and a chance at the event title.
Tickets for the PBR Airlie Beach Invitational are on sale now for $48, standard fees may apply, and can be purchased at www.tix.pbraustralia.com.au.  
All future PBR Australia events are subject to change, planned in accordance with directives issued by relevant government and health authorities given the evolving regulations during the COVID-19 (coronavirus) pandemic.