Qualifying Riders Announced for 2020 PBR Australia Monster Energy Tour Grand Finals on Nov. 20-21 in Townsville, Queensland
By: Kacie Albert Wednesday, November 18, 2020 @ 11:08 AM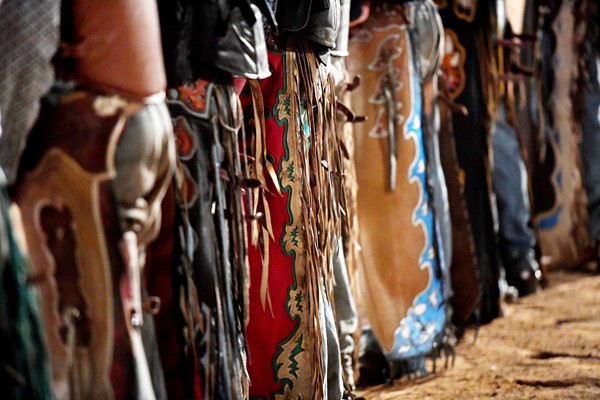 Highlights
Separated by a slim 56 points, No. 1 Aaron Kleier and No. 2 Lachlan Richardson enter season-culminating event locked in a heated 2020 PBR Australia Championship race
TOWNSVILLE, Queensland – Ahead of the 2020 PBR (Professional Bull Riders) Australia Monster Energy Tour Grand Finals on Nov. 20-21 in Townsville, Queensland, at the Townsville Entertainment Centre, the league has announced the 22 riders that have qualified to compete at the season-culminating event in an effort to be crowned the 2020 PBR Australia Champion and earn the $10,000 bonus.
Locked in a heated battle atop the national standings, Aaron Kleier and Lachlan Richardson will begin the two-day event as the Top-2 contenders for the national championship, separated by a slim 56 national points.
Two-Time PBR Australia Champion Kleier trailed the No. 1 national ranking for the majority of the season, however, will enter the 2020 PBR Australia Grand Finals atop the standings after he leap-frogged Richardson compliments of his victory at the final regular-season event of the year in Airlie Beach, Queensland.
Should Kleier once again win the PBR Australia Championship in 2020 he would become the first rider in league history to win the nation's championship in three consecutive seasons. Additionally, Kleier would be on the precipice of tying David Kennedy (Kyogle, New South Wales) for winningest rider in Australian history. Kennedy is a four-time PBR Australia Champion, winning the title in 2009-2010, 2012 and 2014.
Throughout the 2020 season, Kleier won four PBR events on home soil, along with notching nine additional Top-10 finishes. Going 19-for-32, the 22-year-old covered a head-turning 59.37% of Australia's rankest bovine athletes.
Seven-time PBR World Finals qualifier Richardson will seek his career-first PBR Australia Championship in Townsville.
Despite travelling to the Queensland event No. 2 in the nation, Richardson, who led the national standings for a vast portion of the unique 2020 season, logged three event wins and six accompanying Top-10 efforts on home soil throughout the year. Going 17-for-29 during the regular season, Richardson converted aboard an impressive 58.62% of his draws.
The No. 3 contender in the race, Jake Curr (Mount Isa, Queensland) will not only be seeking the 2020 PBR Australia Championship, but also the coveted title of 2020 PBR Australia Rookie of the Year
Curr's season was highlighted by his career-first event win witnessed in Beaudesert, Queensland.
The 21-year-old who will be making his PBR Australia Grand Finals debut on Nov. 20-21 trails No. 1 Kleier by 278.5 points.
Among the 22 qualifiers anticipated to compete are two returning veterans in Kurt Shephard and Cody Heffernan.
For two-time PBR Australia Grand Finals qualifier Shephard, his 2020 qualification to the event will mark his first appearance at the season-culminating tour stop since he earned a berth in back-to-back seasons in 2017-2018.
Shephard, who is presently No. 4 in the national standings, 287.5 points behind No. 1 Kleier, he earned his berth compliments of two event victories and five additional Top-5 finishes.
Heffernan, PBR Australia's 2016 national champion, will return to the PBR Australia Grand Finals after reconstructive knee surgery kept him out of competition for more than 14 months, sidelining the New South Wales native from August 2019 until November 2020.
In his return to PBR action on Nov. 7 in Toowoomba, Queensland, Heffernan made a statement finishing third and cementing his third career qualification to the PBR Australia Monster Energy Tour Grand Finals.
The 22 qualifiers via the PBR Australia national standings who will put it all on the line in Townsville are:
Aaron Kleier (Clermont, Queensland)
Lachlan Richardson (Gresford, New South Wales)
Jake Curr (Mount Isa, Queensland)
Kurt Shephard (Mareeba, Queensland)
Sam Woodall (Heywood, Victoria)
Brady Fielder (Clermont, Queensland)
Lane Mellers (Mundubbera, Queensland)
Bailey Woodard (Dingo, Queensland)
Jackson Gray (Barcaldine, Queensland)
Ty Thomson (Mount Walker, Queensland)
Mitchel Paton (Nebo, Queensland)
Jay Borghero (Beaudesert, Queensland)
Braydon Wellby (Townsville, Queensland)
Kelsey Pavlou (Toora, Victoria)
Lawson Nobbs (Moura, Queensland)
Brendan Buckholz (Bundaberg, Queensland)
Joseph Down (Warrnambool, Victoria)
Caiden Sandilands (Rockhampton, Queensland)
Lachlan Slade (Tamworth, New South Wales)
Brody Woodard (Dingo, Queensland)
Cody Heffernan (Singleton, New South Wales)
Rohan Markham (Ravenshoe, Queensland)
The five alternates on hand for the two-day, season-culminating event are:
Sonny Schafferius (Dysart, Queensland)
Michael Smith (Tully, Queensland)
Jack Keats (Cloncurry, Queensland)
Budd Williamson (Ayr, Queensland) 
Beau Willis (Bowen, Queensland)
Each rider will get on two bulls per night in Rounds 1-2 on Friday, November 20, and Rounds 3-4 on Saturday, November 21. Following Round 4 on Saturday evening, the Top 8 riders will then advance to the championship round. In addition to the $10,000 2020 PBR Australia Champion bonus, $15,000 will be on the line for the competing riders throughout the four-day event.
RidePass will also bring viewers LIVE coverage of all the action. Streaming will begin at 8:30 p.m. AEST on Friday, November 20, and at 7:30 p.m. AEST on Saturday, November 21 at RidePass.com or via the RidePass app available on iOS, Android and Roku.
The bull riding action for the 2020 PBR Australia Monster Energy Tour Grand Finals begins at 8:00 p.m. AEST on Friday, November 20, and at 7:30 p.m. AEST on Saturday, November 21.
Tickets for the two-day event are on sale now and start at $35. They can be purchased at the Townsville Entertainment Centre box office, online at Ticketek.com.au and PBRAustralia.com.au, or by calling Ticketek at 13 28 49.