New Tickets Released! PBR Australia's Monster Energy Tour Grand Finals set for full capacity crowd in Townsville this weekend
By: Olivia Ientile Tuesday, November 17, 2020 @ 9:03 AM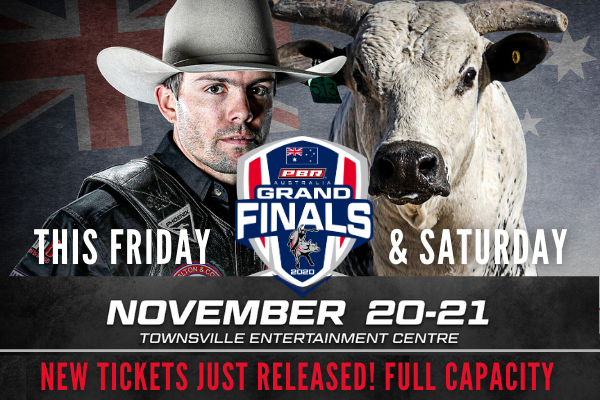 Highlights
Following announcement of eased restrictions in Queensland, the PBR Grand Finals opens more seats for full capacity event.
TOWNSVILLE, Queensland is THE place to be this weekend, November 20-21, for the PBR Australia's Monster Energy Tour Grand Finals. The Queensland Premier's announcement of eased COVID-19 restrictions will give thousands more bull riding fans the chance to see the 2020 PBR Australia Champion be crowned in person. With the Townsville Event Centre now approved for 100% capacity under the new Queensland Health guidelines, all remaining available seats have now been released for sale for what was shaping up to be a full sell out event.
General Manager of PBR Australia, Glen Young was thrilled the announcement would allow more fans in on the action. "Townsville is home to some of our most passionate bull riding fans and with the competition heating up between (insert rider name & insert rider name) over the last few weeks we can't think of a better way to finish the 2020 season than with a full stadium"
"With no restrictions on Queensland travel and the NSW border relaxed for those outside of Greater Sydney we are hoping to see more of our PBR community make the last-minute trip to Townsville to experience all the up close live action, bring some noise and atmosphere to the TECC and of course get to experience all the incredible food, hospitality, attractions and entertainment on offer."
Australian Country Music stars, James Johnston and Josh Setterfield, will be headlining with live music with plenty of entertainment on offer for families and locals eager for a night out.
In what has been a tough, long and interrupted season, riders have had the opportunity to compete at 19 Monster Energy Tour and Touring Pro Division events across Australia to earn points towards the Australian National Standings, all in an effort to be the No.1-ranked cowboy at year's end and earn the coveted PBR Australia title.
Who will join previous PBR Australia Champions; Aaron Kleier (2018, 2019); Troy Wilkinson (2017); Cody Heffernan (2016); Fraser Babbington (2015); David Kennedy (2009 2010, 2012, 2014); Chris Lowe (2013); Kevin "Jock" Connolly (2011); Pete Farley (2008); Ben Jones (2007), and Tim Wilson (2006). Be there this Friday and Saturday to find out.