Kent Hire Partners with PBR Australia
By: PBR Australia Wednesday, November 4, 2020 @ 4:17 PM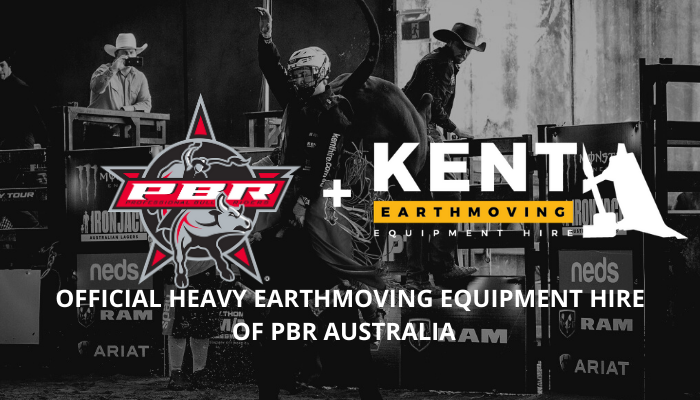 A love of bull riding and a passion for bringing events to the regional areas in which they operate were the key drivers for Kent Hire's recent decision to Partner with PBR Australia for the remainder of the 2020 PBR Australia Monster Energy Tour.
Additionally, the Heavy Earthmoving Equipment Hire Company, which has fleet operations throughout Australia with an especially heavy presence in the coal mining areas of Central Queensland and the Hunter Valley, will sponsor two-time Australian PBR champion Aaron Kleier.
As part of the PBR partnership, Kent Hire will also award a cash bonus to the No.1-ranked athlete at the end of the 2020 PBR Grand Finals in Townsville on November 21st.
"The PBR tour visits many of the regional areas in which we operate, and this partnership allows us to share in enjoying the action with several of our key stakeholders whilst engaging with the wider community in these areas – after all, everybody loves a Bull Ride!  We have already begun working with the PBR to add some stops to their tour in a couple of our locations which they are currently missing," said Kent Hire Managing Director Martin Albert.  "We are especially excited to be bringing two-time Australian PBR Champion Aaron Kleier home from the USA and back to the Australian tour this year.  He's a great young man from Central Queensland with an enormous future in this sport so the joint alliance with Aaron and the PBR is going to make the shows in those areas a lot of fun when we get behind him."
Should two-time and reigning Champion Kleier once again win the PBR Australia Championship in 2020, he would become the first rider in league history to win the nation's championship in three consecutive seasons.
"We are very pleased to have Kent Hire come on board and support our northern tour events, provide a year-end rider award, and get behind one of the biggest stars in professional bull riding, Aaron Kleier," said PBR Australia General Manager Glen Young. "It's always great to have a partner come on board and support our sport as well as our individual riders."
About PBR (Professional Bull Riders) Australia:
PBR (Professional Bull Riders), which has events in five countries, has competed in Australia since 2005, where it operates two tours, producing approximately 20 events annually, visiting cities such as Sydney, Brisbane, and Townsville as well as regional Victoria and New South Wales. For more information on PBR Australia, go to www.pbraustralia.com.au or follow on Facebook at Facebook.com/pbraustralia and Instagram at Instagram.com/pbraustralia.
###
For PBR information, contact: Amanda Tuimalealiifano (07) 4724 0218/ amandat@pbr.com