PBR Australia and Ariat Commit to Five-Year Partnership
By: Ariat Friday, July 31, 2020 @ 12:40 PM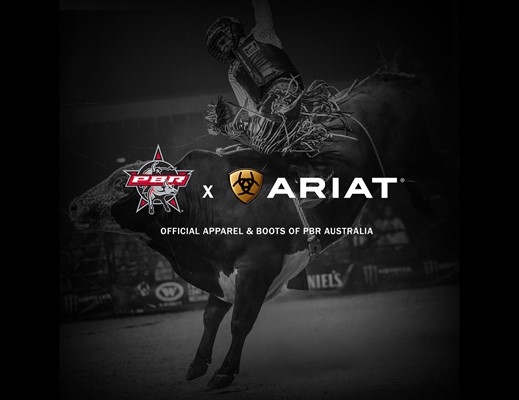 Highlights
PBR Australia and Ariat to partner until 2025
Ariat has today committed to a partnership with PBR (Professional Bull Riders) Australia, making the company the official Apparel and Boots partner with PBR Australia until 2025.
With the five-year partnership, Ariat will receive in-event branding and corporate hospitality along with social media campaigns and the ability to access riders for individual sponsorship and in-store promotions.
"Ariat Australia are thrilled to partner with the PBR as the sport's Official Footwear and Apparel," said Terry Donohue, Managing Director of Ariat Operations Australia/NZ.  "We are honored to partner with the PBR along with the sport's dedicated athletes and fans across Australia and the world. This is an exciting partnership for Team Ariat, now encompassing both the USA and Australian Tours."
Ariat became a partner of the PBR's premier Unleash The Beast series, which competes in the U.S., in 2009.
Ariat International was founded in 1992, and distributed in Australia by Just Country Australia since 1995. Ariat is a leading manufacturer of innovative performance equestrian footwear, apparel, accessories and belts. Featuring a patented technology designed to deliver stability, durability and comfort, Ariat pioneered the application of advanced athletic shoe technology into English riding boots and authentic Western boots.
"It's an absolute pleasure to be able to partner PBR Australia with such an iconic and quality brand such as Ariat, which shares our values of innovation, quality, integrity, teamwork and respect," said PBR Australia General Manager, Glen Young. "Ariat are great supporters of PBR globally, and western culture sports in general. The 5-year arrangement is a true testament to their ongoing commitment to the PBR, and it's a partnership that we are extremely excited about working with moving forward."
Ariat products are sold in a network of retail outlets globally. For more information about Ariat products or for the Ariat retailer nearest you, contact Ariat at 1800 427 428 or visit www.ariat.com.au
About PBR (Professional Bull Riders) Australia
PBR (Professional Bull Riders), which has events in five countries, has competed in Australia since 2005, where it operates two tours, producing approximately 20 events annually, visiting cities such as Sydney, Brisbane, and Townsville as well as regional Victoria and New South Wales. For more information on PBR Australia, go to www.pbraustralia.com.au or follow on Facebook at Facebook.com/pbraustralia and Instagram at Instagram.com/pbraustralia.
For more information, contact:
Amanda Tuimalealiifano
PBR Australia Consumer Marketing Manager
amandat@pbr.com