Team Australia, Canada and Mexico Finalize 2020 PBR Global Cup USA Rosters
By: Kacie Albert Thursday, January 23, 2020 @ 9:55 AM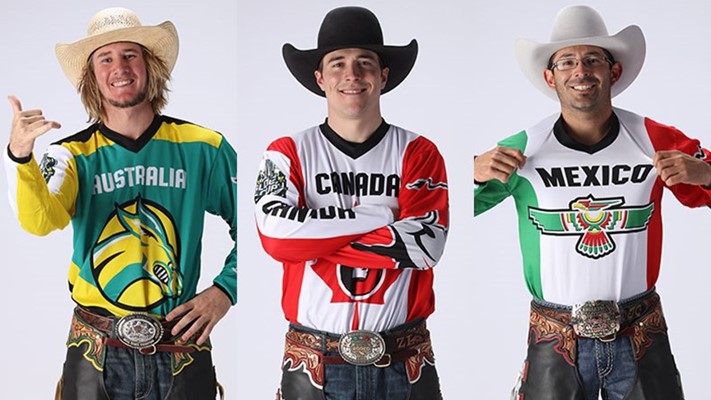 Five national champions among 11 newly minted national team competitors for highly anticipated 2020 PBR Global Cup USA
PUEBLO, Colo. – On the hunt for their first PBR Global Cup Championship, Team Australia, Canada and Mexico have finalized the seven-man rosters representing their home nations at the 2020 WinStar World Casino and Resort PBR Global Cup USA, presented by Monster Energy.
The fourth edition of the PBR Global Cup, the only nation vs. nation bull riding competition, will make its second stop at AT&T Stadium in Arlington, Texas, on February 15-16, 2020. The new team tournament debuted in Edmonton, Alberta, in November 2017, visited Sydney, Australia, in June 2018, and most recently stopped in Arlington this past February.
Team Australia head coach Troy Dunn (Bloomsbury, Queensland, Australia) with the assistance of Brendon Clark (Morpeth, New South Wales, Australia) drafted two-time PBR Australia Champion Aaron Kleier (Clermont, Queensland, Australia), Brady Fielder (Clermont, Queensland, Australia), Nathan Burtenshaw (Coonamble, New South Wales, Australia) and alternate Troy Wilkinson (Upper Horton, New South Wales, Australia).
The already announced Australian national team riders include: Cliff Richardson (Gresford, New South Wales, Australia), Lachlan Richardson (Gresford, New South Wales, Australia) and Ky Hamilton (Mackay, Queensland, Australia).
First-ever PBR Canada Champion Scott Schiffner (Strathmore, Alberta, Canada) and assistant Tanner Girletz (Cereal, Alberta) filled Team Canada's three open positions with two-time PBR Canada Champion Zane Lambert (Ponoka, Alberta, Canada), Brock Radford (De Winton, Alberta, Canada) and alternate Jake Gardner (Fort St. John, British Columbia, Canada).
They join the powerhouse quartet of Jordan Hansen (Okotoks, Alberta, Canada), Jared Parsonage (Maple Creek, Saskatchewan, Canada), Dakota Buttar (Kindersley, Saskatchewan, Canada) and Shay Marks (Sunnybrook, Alberta, Canada).
As the last team to complete its roster, Team Mexico, led by head coach Gerardo Venegas (Juarez, Mexico) and assistant Jerome Davis (Archdale, North Carolina), is finalized with the additions of Alfonso Orozco (Salamanca, Mexico), 2016 PBR Mexico Champion Juan Carlos Contreras (Huichapan, Mexico), two-time PBR Mexico Champion Gustavo Pedrero (Jalisco, Mexico) and alternate Javier Garcia (Baja, Mexico).
In December, Venegas and Davis announced Edgar Durazo (Moctezuma, Mexico), Alvaro Aguilar Alvarez (La Punta, Mexico) and two-time PBR Mexico Champion Francisco Garcia Torres (Sal, Mexico) as the initial national team riders. 
Both Team Australia and Team Canada will be attempting to rebound from performances that kept them from the podium at the most recent edition of the event in Texas in Feb. 2019.
A now four-time Team Australia selection, Kleier headlines the latest additions to the contingent preparing to represent Aussie Land. Fresh off his second consecutive PBR Australia Championship, Kleier has experienced great success thus far in 2020 on the elite Unleash The Beast. A competitor at the first three elite tour events of 2020, Kleier has advanced to the championship round twice, now ranked No. 12 in the world.
Much like Kleier, Fielder, set to make his second consecutive appearance for Team Australia, has also been a force thus far in 2020 on the premier Unleash The Beast. He has been a presence on tour since the season-launch in New York City, steadily climbing the leaderboard week-to-week, most recently finishing a career-high eighth in Manchester, New Hampshire.
In his Global Cup tenure, Fielder has been perfect for Team Australia, adding one score to the nation's fourth-place finish inside AT&T Stadium in 2019.
Both Burtenshaw and alternate Wilkinson will return to Team Australia after competing for their homeland at the first two editions of the event in Edmonton and Sydney.
For Team Canada, Lambert, a 15-year veteran of the PBR, will add ample experience to a roster that contains some of the nation's newest talent.
Now a four-time national team competitor, Lambert is a five-time PBR World Finals qualifier and a former Unleash The Beast regular.
Radford joins the team for the third time in his career, and first since Sydney in 2018, after a knee injury relegated him to the sidelines for the most recent PBR Global Cup.
One of the nation's most determined competitors, Radford mounted a strong second-half surge in 2019, first competing on July 4, to qualify for his fifth PBR Canada Finals and finish No. 6 in the nation.
Gardner will ride for the Maple Leaf for the first time since he was a part of Team Canada at the inaugural PBR Global Cup in Edmonton in Nov. 2017. In 2019, Gardner finished a career-high No. 9 in Canada, winning one event, in addition to logging 11 Top-10 efforts.
Team Mexico will look to continue their momentum from Feb. 2019 when they recorded the nation's best finish at a PBR Global Cup, fifth out of six teams.
Orozco returns to the national team after competing for Mexico in both Edmonton and Sydney. In his last out at the event akin to the "Olympics of bull riding," Orozco recorded his first qualified ride at the international competition, covering Big Bucks for 81.75 points.
Marking his fourth career selection to Team Mexico, Contreras added one score to the nation's historic performance in Arlington at the 2019 PBR Global Cup USA. Active on American soil thus far in 2020, Contreras most recently recorded a Top 10 finish on the Pendleton Whisky Velocity Tour, tenth in Portland, Oregon.
Pedrero returns to Team Mexico for the first time since 2018 after nearly capturing his third PBR Mexico Championship in 2019.  Riding to two event wins, Pedrero was edged by fellow Team Mexico rider Torres by 515 national points for the title.
Alternate Garcia completes the team, preparing to make his Global Cup debut.
Tickets for the 2020 WinStar World Casino and Resort PBR Global Cup USA, presented by Monster Energy are on sale now and can be purchased at the AT&T Stadium Box Office, online at ATTStadium.com or SeatGeek.com, or via the phone at (800) 732-1727.
For more information on the event, including premium experience and elite seats offerings, visit PBR.com/GlobalCup.