Final Roster Changes Announced for 2020 PBR Global Cup USA
By: Kacie Albert Friday, February 14, 2020 @ 2:54 PM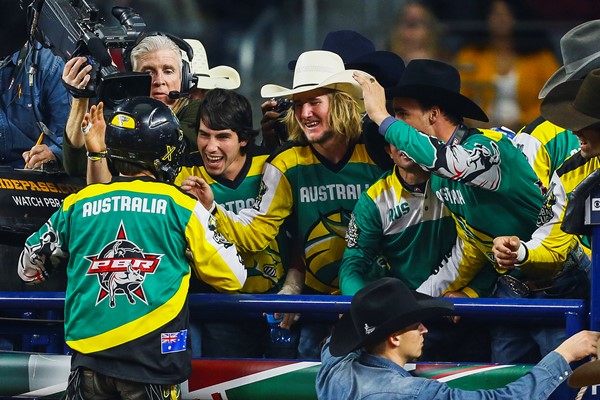 Team USA Eagles and Wolves both welcome one new rider, while 2016 PBR World Champion Cooper Davis and Chase Outlaw join Eagles contingent as honorary Assistant Coaches
ARLINGTON, Texas – Ahead of the 2020 WinStar World Casino and Resort PBR Global Cup USA, presented by Monster Energy, changes have been announced to the rosters for Team USA Eagles and Wolves, in addition to the international contingent set to represent two-time, and defending, PBR Global Cup Champions Team Brazil.
Additionally, the coaching lineup for both Team USA Eagles and Australia have been modified, with the host nation's contingent welcoming 2016 PBR World Champion Cooper Davis (Jasper, Texas) and Chase Outlaw (Hamburg, Arkansas) as honorary assistant coaches.
The fourth edition of the PBR Global Cup, the only nation vs. nation bull riding competition, will make its second stop at AT&T Stadium in Arlington, Texas, on February 15-16, 2020. The new team tournament debuted in Edmonton, Alberta, in November 2017, visited Sydney, Australia, in June 2018, and most recently stopped in Arlington this past February.
As one of Justin McBride (Whitesboro, Texas) and J.W. Hart's (Overbook, Oklahoma) final selections, 2019 PBR Rookie of the Year Dalton Kasel (Muleshoe, Texas) will be unable to make his Global Cup debut after re-aggravating a pre-existing groin injury at last weekend's Iron Cowboy, presented by Ariat, Major event in Los Angeles.
Cole Melancon (Paris, Texas) will replace Kasel. The Texan made history last weekend in winning his Unleash The Beast debut at the Iron Cowboy at STAPLES Center.
Going an impressive 3-for-5, Melancon was crowned the 2020 Iron Cowboy, becoming the second rookie in PBR History to win an Unleash The Beast Major. The 25-year old vaulted from No. 29 to No. 6 in the world.
Joining Team USA Eagles, Melancon is no stranger to the competition he'll be part of in the "Olympics of bull riding." At the inaugural Global Cup in Canada in November 2017, Melancon was a late edition to the American roster, tapped by McBride just days prior to the event, also in place of an injured rider.
Inside Rogers Place, Melancon was perfect, going 2-for-2, in Team USA's march to the Global Cup Championship.
For Team USA Wolves, Ted Nuce (Stephenville, Texas) and Mike "Bo" Vocu (Oglala Lakota – Kyle, South Dakota) will replace veteran rider Ryan Dirteater (Cherokee – Hulbert, Oklahoma) with Dakota Louis (Northern Cheyenne & Black Feet – Browning, Montana).
Dirteater is unable to compete after sustaining fractures of his upper thoracic spine on the elite Unleash The Beast last weekend in Los Angeles. He is anticipated to be out of competition for a minimum of three months.
Despite not being able to compete, Dirteater will still travel to Arlington, however in the role of honorary assistant coach.
Louis joins the contingent after being selected as Team USA Wolves' alternate in 2019.
Two-time and defending Global Cup Champions Team Brazil will also see Claudio Montanha Jr. (Pacaembu, Brazil) replacing Alan de Souza (Taubate, Brazil).
Montanha has been an integral member of both event-winning national contingents in Sydney and Arlington. In Australia, Montanha added two scores to the team's total, but failed to reach the 8-second whistle last February inside AT&T Stadium.
Apart from the rosters of the competing riders, the coaching lineups for the 2020 PBR Global Cup USA also underwent change, with Team Australia set to travel stateside with a new assistant coach, and Team USA Eagles welcoming two honorary assistant coaches.
Currently afflicted by an illness, Brendon Clark (Morpeth, New South Wales, Australia) will be replaced by Will Watson (Swan Hill, Victoria, Australia) as Team Australia's assistant coach.
After making his PBR debut in 2008, Watson competed until 2019, last riding in February at the Shepparton, Victoria, Monster Energy Tour event. Watson has since been assisting Team Australia as the nation's strength and conditioning coach.
For the Eagles, both Davis and Outlaw will ascend to the role of honorary assistant coach after injury relegated them to the sidelines. Davis is currently recovering from a fractured neck, while Outlaw remains out as he recovers from reconstructive shoulder surgery.
The complete roster for each team is:
Team USA Eagles: Head Coach Justin McBride, Assistant Coach J.W. Hart, Honorary Assistant Coach Cooper Davis, Honorary Assistant Coach Chase Outlaw, Jess Lockwood, Boudreaux Campbell, Cody Teel, Matt Triplett, Cole Melancon and Sage Kimzey
Team USA Wolves: Head Coach Ted Nuce, Assistant Coach Mike "Bo" Vocu, Honorary Assistant Coach Ryan Dirteater, Stetson Lawrence, Keyshawn Whitehorse, Cody Jesus, Colten Jesse, Cannon Cravens, Wyatt Rogers and Dakota Louis
Team Australia: Head Coach Troy Dunn, Assistant Coach Will Watson, Cliff Richardson, Lachlan Richardson, Ky Hamilton, Aaron Kleier, Brady Fielder, Nathan Burtenshaw and Troy Wilkinson
Team Brazil: Head Coach Guilherme Marchi, Assistant Coach Robson Palermo, Jose Vitor Leme, Kaique Pacheco, Luciano De Castro, Eduardo Aparecido, Claudio Montanha Jr., Dener Barbosa and Ramon de Lima
Team Canada: Head Coach Scott Schiffner, Assistant Coach Tanner Girletz, Jordan Hansen, Jared Parsonage, Dakota Buttar, Shay Marks, Zane Lambert, Brock Radford and Jake Gardner
Team Mexico: Head Coach Gerardo Venegas, Assistant Coach Jerome Davis, Edgar Durazo, Alvaro Aguilar Alvarez, Francisco Garcia Torres, Alfonso Orozco, Juan Carlos Contreras, Gustavo Pedrero and Javier Garcia
Tickets for the 2020 WinStar World Casino and Resort PBR Global Cup USA, presented by Monster Energy are on sale now and can be purchased at the AT&T Stadium Box Office, online at ATTStadium.com or SeatGeek.com, or via the phone at (800) 732-1727.
For more information on the event, including premium experience and elite seats offerings, visit PBR.com/GlobalCup.