Sims crowned Australian Iron Cowboy
By: Josh Hanson Monday, November 25, 2019 @ 4:31 PM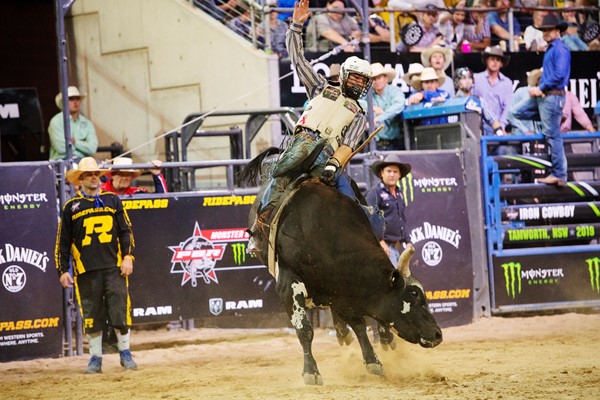 At the first event of the 2020 PBR Australia season, it was American bull rider Brady Sims who outlasted a field of 28-riders to win the 2019 Tamworth Iron Cowboy.
Despite bucking off his Round 1 and Round 2 bulls, the 26-year-old used the bracket-style format to his advantage, covering Wrangler's Volatile (Kasper Bucking Bulls) for 83.5 points in the Championship Round.
The win was Sims' fourteenth of his eight-year PBR career and his first on Australian soil.
"It was great," Sims told Glen Morgan during the presentation ceremony on RidePass.
"This crowd were on the edge of their seats the whole time, making us ride better, being so loud, and it makes a guy want to step up and ride."
Sims' night did not start well, bucking off Black Elastic (John Gill & Sons) in 7.91 seconds. He was initially eliminated by his Round 1 opponent Robert Hicks, who lasted 7.95 seconds aboard SW (John Gill & Sons). However, Hicks was unable to take his second-round ride due to injury, so the Missouri bull rider was reinstated in the draw.
In Round 2, Sims faced The D.O.C. (Brandenburg/MJ Bucking Bulls), with the bull winning in 7.79 seconds. The buck off time was enough to progress past Will Purcell who could only manage 5.79 seconds aboard Big Buck Hunter (ST Bucking Bulls).
The left-handed Sims then made no mistakes in the final round, covering Wrangler's Volatile into his hand. He won $6,600.00 in prizemoney despite his seventh-place finish in the aggregate.
Sims held off Eduardo Aparecido who was the only other rider to receive a score in the Championship Round.
The Brazilian cowboy combined with oOh! Kit Carson for 83 points in the final ride of the night to not only finish runner-up but also take home the aggregate title after earlier posting a qualified ride in Round 2.
Aparecido was also lucky to advance from the opening round after he bucked off High Flying Akubra (John Gill & Sons) in 1.03 seconds. His opponent, Brody Woodard could only manage 0.82 seconds on Claybo (John Gill & Sons) which would see the 29-year-old through to Round 2.
A matchup with Cattle King Ray Ban (Dittmann Bucking Bulls) and American Cody Rodeo Tyler awaited in the second round, and Aparecido applied the pressure with an 86-point ride. Tyler's buck off came at 7.96 seconds at the hands of POA Lock n Load (Dittmann Bucking Bulls).
With his Championship Round score added, Aparecido move to 169-points to win the 2019 PBR Australia Iron Cowboy aggregate title. He earned 515 points and $6,533.33 to take the early lead in the 2020 PBR Australian National Standings.
Finishing close behind on 168-points was Rubens Barbosa who recorded qualified rides in Round 1 and Round 2.
The 36-year-old fan favourite defeated Caiden Sandilands in the opening round with an 82-point effort aboard Midnight Hour (Maynes Bucking Bulls) to kick off the night. The Rockhampton young-gun was eliminated with a 6.58-second buck off against Ranch Hand (Maynes Bucking Bulls), but Sandilands time was enough to make it back for the second chance bracket. 
Barbosa's Round 1 ride set up a matchup with fellow Brazilian Kaique Pacheco. The veteran was first to ride, dominating the clockwise spinning Maximum Rat (George Hempenstall) for 86-points. Pacheco couldn't defeat Freckles Brown (Wallace Bucking Bulls), hitting the Tamworth dirt at 2.03 seconds.
In the short-round, Barbosa drew Gangatino (Brandenburg/MJ Bucking Bulls), but he was down early at 4.09 seconds to end his night. He collected 330 points to sit second in the Australian Standings following the first event of the new season.
Finishing the best on one bull, and winning Round 2 was the dual PBR Australian National Champion Aaron Kleier.
The Clermont cowboy had the capacity AELEC crowd on their feet when he combined with POA Palooka (Dittmann Bucking Bulls) to produce the high-marked ride of the night. The bull turned back to the right and away from Kleier's hand with great timing to score 88.5 points.
Kleier sits third in the early National Standings, after picking up 280 points to begin his title defence and quest for a three-peat.
Also finishing with scores on the board, were Will Purcell and Nathan Burtenshaw, who shared the Round 1 win with 84.5-point rides.
Purcell rode Ramblin Ways (Klabe/Farley) while Burtenshaw covered Double XL (Wallace Bucking Bulls). The pair split fifth place in the aggregate standings and picked up 165 National Standings points each.
Cliff Richardson was the only other rider to cover a bull on the night, finishing sixth after he was marked 84-points aboard Cliffhanger (Throsby & Russell Bucking Bulls) in Round 1.
Kaique Pacheco was the last rider featured on the eight-man leaderboard. The 2018 PBR World Champion progressed through to the second round with an 82-point score on Twisted X (Maynes Bucking Bulls). 
Boogers Beach won the Bull of the Night award in his PBR debut for Dittmann Bucking Bulls. He was marked 43.5 points in his 3.67-second opening round trip against Lachlan Richardson.
Brandenburg and MJ Bucking Bulls won their first Bull Team award in Tamworth. The winning team consisted of High Class Hooker (42.5 points), Gangatino (43 points) and The D.O.C. (42 points).
Next weekend the 2020 PBR Australia Monster Energy Tour heads back to Victoria for the 2019 Melbourne Invitational.