PBR BRINGS BIGGEST EVENT OF THE YEAR TO TOWNSVILLE
By: PBRA Friday, November 2, 2018 @ 2:06 PM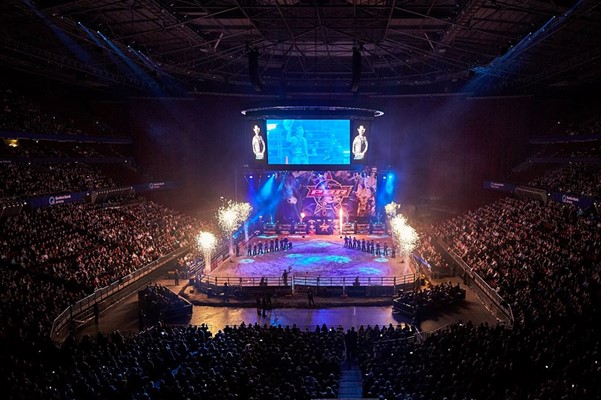 With sporting finals season in full swing, only three weeks remain until the adrenalin-fueled Professional Bull Riders (PBR) Grand Finals hit the heart of North Queensland for two nights of make-or-break action.
Nineteen years after the PBR began staging events in Townsville, the deciding chapter of the year will be staged at Townsville Entertainment Centre on November 23 & 24.
The much-anticipated event will bring twenty-two of the country's best bull riders, along with international stars and champion bulls, to Townsville for a head-to-head battle that will decide the National Champion and Stock Contractor of the Year titles.
"It's a great privilege to stage our biggest event of the year in the same town as our headquarters. The city of Townsville has embraced the PBR and our events since we first launched here in 1999, and we're thrilled to be able to bring such a marquee event to the region," said PBR Australia General Manager, Glen Young.
"As with previous years, we're expecting the 2018 title battle to attract diehard PBR fans from all over Australia. It is anybody's title this year, and with one more event to go, and the bonus points on offer at the Grand Finals, fans can expect a very tight battle," he added.
Since the inception of the PBR in Townsville nearly two decades ago, more than $1 million dollars in prize money has been paid out.
This year, the Grand Finals are expected to bring thousands of PBR fans to Townsville, contributing a significant economic benefit to the region.
Townsville Acting Mayor Cr Les Walker said big events like the PBR Grand Finals bring a huge economic boost to Townsville and create jobs for locals. "The PBR Grand Finals are expected to bring around 10,000 people to the Entertainment Centre over two nights, which is great for our city," Cr Walker said.

"More than half of these bull riding fans come from out of town and stay in our hotels and eat in our local eateries – which is great for creating local jobs for our city.

"Council is invested in big events to bring people to our city, that's why we are committed to contributing financially to events like the PBR Australia Grand Finals.
"It's really exciting to have the PBR Grand Finals being held in Townsville – we are the events capital of Northern Australia and it's great to see the diversity of events coming to our city."
"The event is a great opportunity for local athletes like Budd Williamson and Braydon Welby who are in the running to qualify and compete in front of their hometown crowd. With over $70 000 up for grabs in prize-money and bonuses for riders, and an additional $14 000 in bonuses for stock contractors, it is the richest standalone bull riding competition of its kind in Australia - apart from the newly introduced Global Cup, which is a teams' event," added Glen Young.
With just one event remaining until November's PBR Grand Finals in Townsville, the battle for the Australian title remains neck-and-neck between four key riders –#1 Aaron Kleier (Clermont, Qld), #2 Cliff Richardson (Hunter Valley, NSW), #3 Fraser Babbington.(New Zealand) and #4 Cody Heffernan (Hunter Valley, NSW).
All of the top contenders have the pedigree to take out the national title. Both Babbington and Heffernan have secured Australian titles in the past, and Kleier and Richardson have been in striking distance before.
And while it's unlikely that 2017 National Champion Troy Wilkinson will have the points to qualify to defend his title following major elbow surgery earlier this year, he's still not entirely ruled out of returning to Townsville this November.
One of the biggest events on the PBR Australia calendar, and the biggest to ever be staged in Townsville, the 2018 PBR Grand Finals will be choreographed with pyrotechnics, lasers, concert sound system and mega screen replays, with multiple camera angles that will take the capacity crowd behind-the-scenes and inside the bucking chutes as riders prepare for the ride of their life.
The Queensland Government, via Tourism and Events Queensland, is proud to support the PBR Australia Grand Finals which features on the It's Live! in Queensland events calendar. Your perfect next event is in Queensland where live events combine with the most incredible destinations, and life is beautiful one day, perfect the next.
The event is also supported by Townsville City Council, who along with the Queensland Government, were instrumental in securing the PBR title event for Townsville – with it previously being staged at Qudos Bank Arena in Sydney.
Tickets are on sale for the Professional Bull Riders (PBR) Monster Energy Tour Grand Finals in Townsville at www.TECC.net.au
Tickets are already selling faster than they ever have in the history of the event, with locals encouraged to get in now to secure their tickets!