PBR ANNOUNCES PENULTIMATE INTERNATIONAL COACHES PICKS FOR FIRST-EVER GLOBAL CUP USA
By: PBR Saturday, November 10, 2018 @ 7:34 PM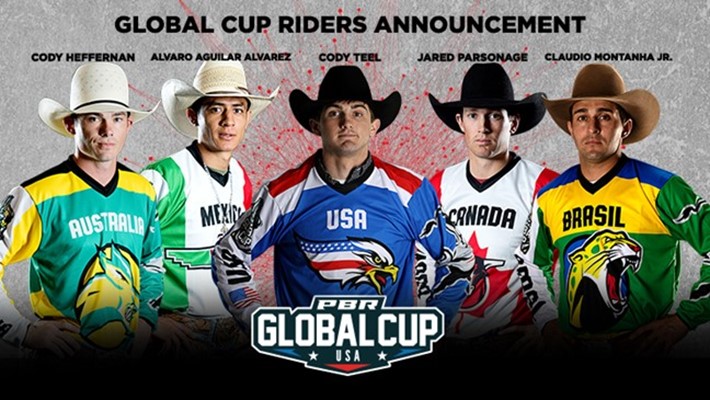 Highlights
Five riders were added to their respective teams for the 2019 Global Cup USA.
1998 PBR World Champion and Team Australia coach selects Cody Heffernan as the fourth member of Team Australia.
LAS VEGAS – Ahead of the 2019 WinStar World Casino and Resort Global Cup USA, Team USA-Eagles coach Justin McBride (Elk City, Oklahoma) has revealed his fourth competitor set to ride at the first-ever edition of the international bull riding spectacle to be held on American soil, while coaches for the visiting nations have announced their penultimate picks for the international rosters.
The PBR Global Cup, the only nation vs. nation bull riding competition, will make its US debut, and third stop, at AT&T Stadium in Arlington, Texas on February 9-10, 2019.  The new team tournament debuted in Edmonton, Alberta, Canada in November 2017 and then visited Sydney, Australia in June 2018.
Two-time PBR (Professional Bull Riders) World Champion McBride, who as part of his home-team advantage gets to hand pick his entire roster, announced Cody Teel (Kountze, Texas) as the fourth competitor for the Team USA-Eagles contingent.
Teel brings past Global Cup experience to the contingent as a member of Team USA, which won at the inaugural stop in Edmonton. 
Inside Rogers Place, the 26-year-old added an 83.25-point ride aboard Springer Mountain (Dakota Rodeo/Chad Berger/Clay Struve) to his nation's total on the final night of competition, helping the American squad make a come-from-behind surge to win the first leg of the Global Cup. 
Teel joins already selected Cooper Davis (Buna, Texas), Cody Nance (Paris, Tennessee) and Chase Outlaw (Hamburg, Arkansas) on Team USA-Eagles.
For the visiting nations, Cody Heffernan (Singleton, New South Wales) has been added to Team Australia, while Claudio Montanha Jr. (Pacaembu, São Paulo) joins Team Brazil, Jared Parsonage (Maple Creek, Saskatchewan) returns to represent Team Canada, and Alvaro Aguilar Alvarez (La Punta, Jalisco) is welcomed to Team Mexico.
The Australian team, led by coach, and 1998 PBR World Champion, Troy Dunn (Bloomsbury, Queensland) will be looking for vengeance after suffering a narrow, 0.75-point defeat to Team Brazil on home soil at the most recent Global Cup in Sydney Australia.
After he was not selected to the Aussie contingent for the Edmonton stop, 2016 PBR Australia Champion Heffernan made his Global Cup debut in Sydney, going 1-for-3. He will join already announced teammates Lachlan Richardson (Gresford, New South Wales), Nathan Burtenshaw (Coonamble, New South Wales) and Cliff Richardson (Gresford, New South Wales) as they seek to capture the nation's first Global Cup event victory inside AT&T Stadium.
Much like Australia's latest addition, Team Brazil's Montanha Jr. also brings past Global Cup experience to the contingent from the Sydney stop.
The 29-year-old went a flawless 2-for-2 inside Qudos Bank Arena, making the 8 aboard Big Bucks (Stuart Timm) for 82.25 points and Bee Sting (Throsby & Russell Bucking Bulls) for 85.5 points, to help propel the South American nation to its first Global Cup win.
The Brazilian contingent, helmed by 2010 PBR World Champion Renato Nunes (Buritama, São Paulo), already includes Eduardo Aparecido(Gouvelândia, Goiás), Kaique Pacheco (Itatiba, São Paulo) and Jose Vitor Leme (Ribas do Rio Pardo, Mato Grosso do Sul).
In selecting Parsonage, three-time PBR Canada Champion Aaron Roy (Yellow Grass, Saskatchewan) also used his penultimate coach's pick for Team Canada to choose a rider from his Sydney contingent who delivered a perfect performance.
Making his Global Cup debut in Sydney, Parsonage was 3-for-3 Down Under, riding Jack Rabbit (Peter Wallace) for 68.5 points, Bring The Action (Throsby & Russell Bucking Bulls) for 82.5 points and 5th Battalion (Dunne Bulls) for 80.5 points.
At the U.S. stop, Team Canada, which already boasts Tanner Byrne (Prince Albert, Saskatchewan), Dakota Buttar (Kindersley, Saskatchewan) and Zane Lambert (Ponoka, Alberta), will be looking to improve upon their back-to-back bronze finishes on home soil in Edmonton and most recently in Sydney.
Rounding out the international contingents is Coach Gerardo Venegas'(Juárez, Chihuahua) addition of Alvarez to Team Mexico, who attempted one bull at the Sydney leg of the Global Cup. He joins teammates Juan Carlos Contreras (Huichapan, Hidalgo), Jorge Valdiviezo (La Misión, Baja California) and Edgar Durazo (Moctezuma, Sonora).
In Arlington, the PBR Global Cup will debut a new competitive element for the international competition. The home team, which in the past has received an advantage by fielding more riders whose qualified ride scores contributed to the overall team aggregate, will now be split into two teams of seven bull riders.
For the U.S. stop, the host country will add a team comprised exclusively of Native American riders, Team USA-Wolves, competing against the other American team, the Eagles, and all visiting teams.
That team will be led by coach Wiley Petersen (Fort Hall, Idaho; Shoshone Bannock), and already named riders Ryan Dirteater (Hulbert, Oklahoma; Cherokee), Stetson Lawrence (Williston, North Dakota; Chippewa and Sioux), Keyshawn Whitehorse (McCracken Springs, Utah; Navajo) and Cody Jesus (Window Rock, Arizona; Navajo).
Tickets for the WinStar World Casino and Resort Global Cup USA are on sale now and start at just $10. They can be purchased at SeatGeek.com, PBR.com, or by calling PBRDirect at (800)732-1727.