BABBINGTON TAKES TOP HONOURS AT BENDIGO INVITATIONAL
By: PBRAdmin Monday, March 5, 2018 @ 1:48 PM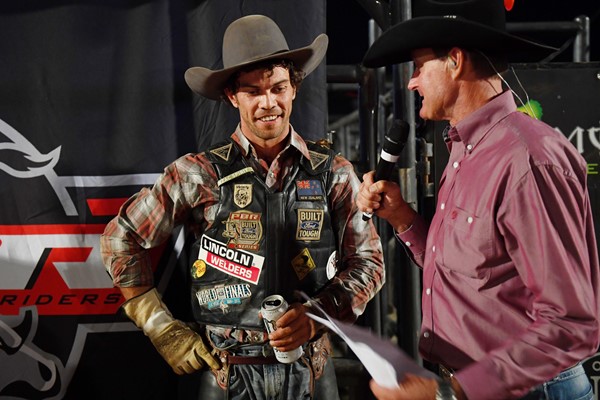 Australia's best bull riders competed down to the wire for top honours at the PBR Monster Energy Tour Bendigo Invitational on Saturday evening (March 3).
A battle royale ensued between Aaron Kleier and Fraser Babbington, the #1 and #2 riders on the current Australian Standings.
Going backbreaking ride-for-ride, it was Babbington who came out on top, with a capacity crowd cheering him on from an all-new, state-of-the-art mobile stadium that made its debut in Bendigo.
"We were thrilled with the turn out in Bendigo, so I would like to say a big thank you to all the locals that came to the event and got behind the riders and bulls," said Glen Young, PBR Australia General Manager.
"The atmosphere was great, and Bendigo showed us just how happy they were to be hosting their first ever PBR tour event. 
"We've been receiving requests to come to Bendigo for the past five years, so it's great to have finally make it there. Bendigo marked some big milestones for us – with the very first use of our new stadium, and the first time PBR Australia has toured to regional Victoria.
"We're off to Shepparton next and we're hoping to receive the same warm welcome we enjoyed in Bendigo."
While Babbington took out the Bendigo Invitational title, Kleier's runner-up performance saw him remain the overall standings leader – albeit with a dwindling gap.
Kleier arrived in Bendigo looking to cement his top ranking following a breakout 2017 season which saw him crowned Rookie of the Year and narrowly pipped to the PBR Australia title.
Kleier is one of only three Australians so far who have qualified for the second leg of the inaugural PBR Global Cup in Sydney on June 9-10. The Global Cup is the sport's most prestigious team title, contested by the world's premier bull riding nations USA, Canada, Australia, Mexico and Brazil.
Babbington, who was 2015 PBR Australia champion, went into Bendigo gunning for qualification points to make Australia's Global Cup team. 
Twenty nine top calibre bull riders, also including Cliff Richardson, Cody Heffernan, Bailey Woodard and Budd Williamson, competed in the Bendigo Invitational over the weekend.
The competition was hotly contested by two of the top billed bulls on the night with TNR's Sweetpro's 'Call Me Joe' scoring top marks, followed closely by Maynes' Sweetpro's 'Hillbilly Deluxe'.
The event after party was as epic as the bull riding action, with country music sensation Casey Barnes taking to the stage to perform a bumper live set with fresh tracks from his newly released album.
Tickets for the Monster Energy PBR Tour Shepparton Invitational event on March 24 are on-sale at www.pbraustralia.com.au. with reserved seating selling fast. Event organisers are encouraging fans to get in quick to avoid having to stand.