MT ISA PBR ATTRACTS TOP RIDERS
By: PBRA Thursday, June 28, 2018 @ 2:00 PM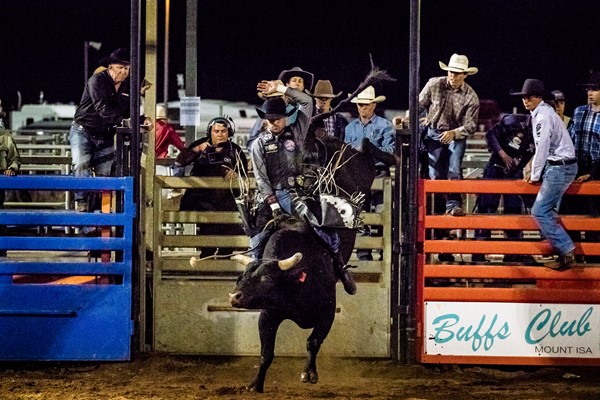 Despite a gruelling month on the PBR Monster Energy tour, the PBR's top riders were all keen to head to Mount Isa on the weekend and showed no sign of fatigue.  In round one Friday night, 14 riders made the eight second whistle with the top honours going to six times PBR World Finals qualifier Lachlan Richardson. Richardson scored 84 points on Ayers Kudu Child ahead of three cowboys all on 83 – Justin Paton (Mixed Culture), Michael Smith (Scene of the Crash) and Ethan Watts (Bad Egg).
In to the championship round and again the Richardson name topped the field – This time 2018 PBR Australia title contender Cliff Richardson marked the highest score, an 86 on a good bull from Brandenburg Bucking Bulls – Rings Ransom.  Bailey Woodard was next with his ride on Superstitious (83.5) ahead of rookie Lane Mellers on Hot Thing (82.5) and Northern Territory rider Darcy McBean on Django with 80.5 points.
After all the points were tallied the event winner was Bailey Woodard with 164.5 points narrowly ahead of Cliff Richardson (164), Lane Mellers (161) and Darcy McBean (160.5).
Onto Saturday night in round one the big winner, who received huge cheers from the crowd, was  Doomadgee cowboy Peter Gregory with his ride on Brandenburg's Red Man Chew for 83.5 points.  World ranked number 26 Nathan Burtenshaw was just .5 point behind following his ride on Oooh Yah ahead of rookie Toby Leake  on Juicy Wiggle (82.5) and two cowboys both on 82 points – Lachlan Richardson aboard Off the Chain and Sam Woodard on Chilli Beans.
The championship round took its toll on the riders – Nebo cowboy Mitch Paton matched up against Wallace Bucking Bulls Iron Jacket and marked an 84.5 ahead of Nathan Burtenshaw for 83 points (Hot Thing). Mr Consistent over the weekend Lachlan Richardson on Superstitious for 80 was the only other rider to make a qualified ride in the round.
The winner for the night was Nathan Burtenshaw with a total of 166 points, moving him up the PBR world standings to number 24.  Lachlan Richardson was the runner up with 162 points.  Both these talented riders will head back to the USA in the coming weeks to continue the long hard road to the PBR World Finals in November at Las Vegas, USA.
Many PBR riders will welcome the short break on the PBR Monster Energy Tour to rest up their sore and tired bodies before heading to Newcastle Entertainment Centre Saturday 11 August, for another great event that will feature not only the best line up of riders, but also top notch bucking bulls from across the country.